News > Spokane
'I'm going to take power from Washington': Libertarian presidential nominee stumps in Spokane
July 17, 2020 Updated Sat., July 18, 2020 at 10:28 p.m.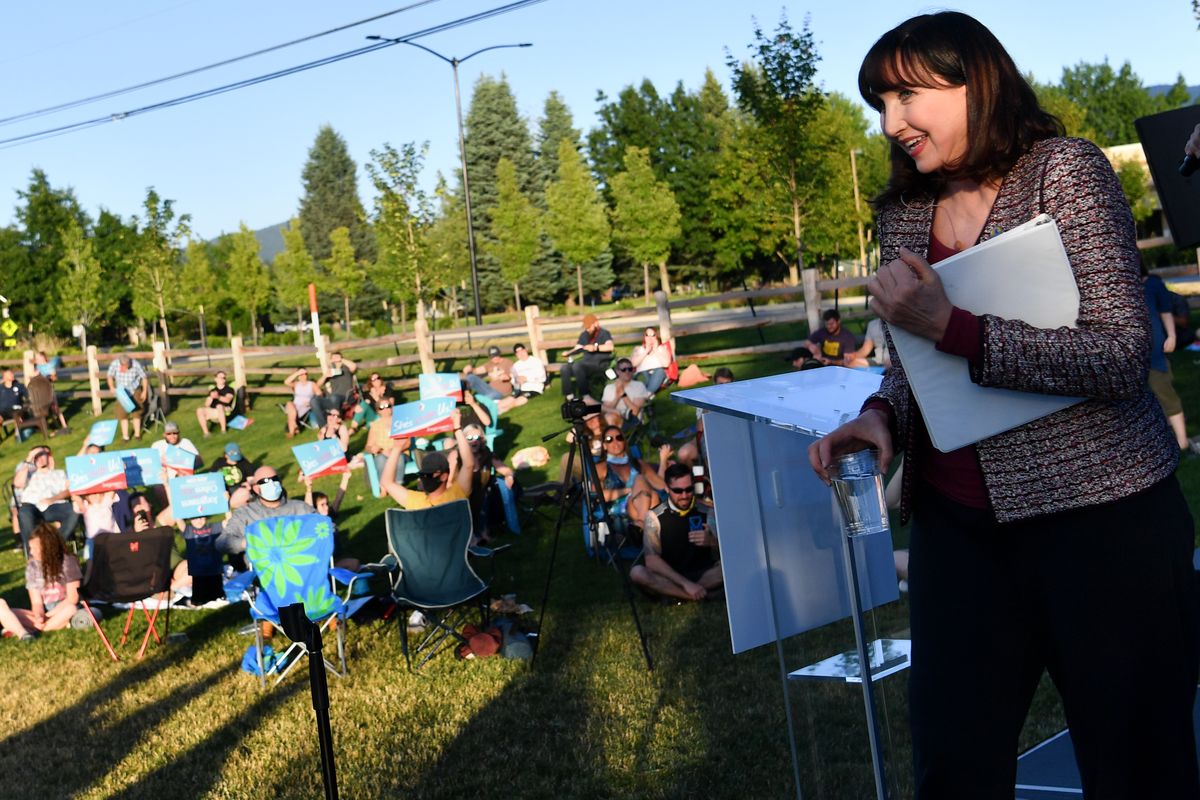 Libertarian presidential candidate Jo Jorgensen smiles as she exits the stage (Tyler Tjomsland/THE SPOKESMAN-REVIEW)
Libertarian presidential candidate Jo Jorgensen brought her case to voters in Spokane on Friday, arguing the country has more choices than Joe Biden and Donald Trump.
Jorgensen attended several fundraisers in Spokane and joined local libertarian candidates and a few area comedians for an outdoor town hall in Liberty Lake at night. Around 150 people attended the event.
Currently a psychology lecturer at Clemson University, Jorgensen has been active in the party for decades, running for a seat in South Carolina's 4th Congressional District and as the Libertarian vice presidential nominee in 1996.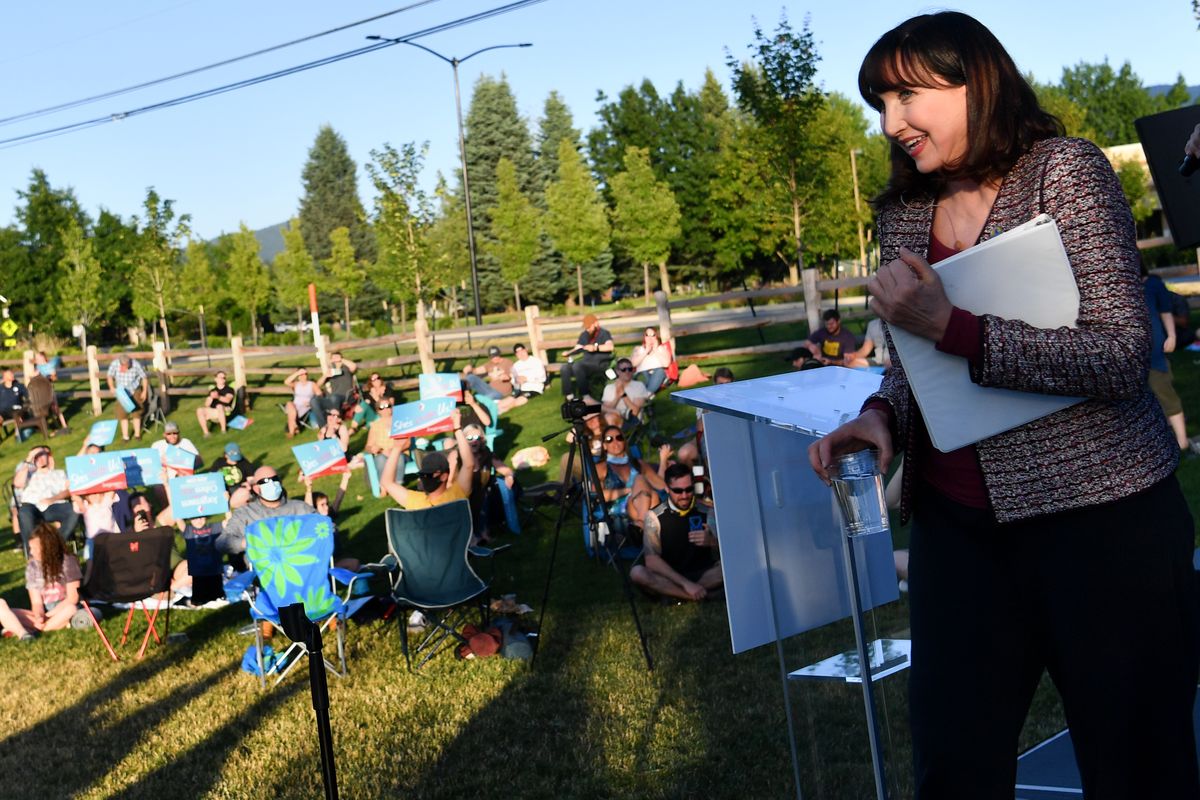 Libertarian Presidential Candidate Jo Jorgensen smiles as she exits the stage to head to Seattle after she spoke to supporters during a Town Hall on Friday, July 17, 2020, at Trailbreaker Cider in Liberty Lake, Wash. (Tyler Tjomsland/THE SPOKESMAN-REVIEW)
Jorgensen is also the Libertarian party's first female presidential nominee, but said she's not trying to play "identity politics" and hopes people will focus on her qualifications for the job and the proposals she puts forward.
"I know I am by far offering the best plan where I'm going to take power from Washington and give it back to the individuals to make their own decisions," she said during an afternoon interview. "It really doesn't matter if a woman is spreading that message or a man."
Jorgensen said she's hoping social media will help her gain the same historic traction previous Libertarian presidential candidate Gary Johnson garnered during his past presidential runs. He won about 4 million votes in 2016, about 3% of the total votes.
Jorgensen said COVID-19, which has frustrated many campaigns' efforts to reach voters across the country, may give her campaign a shot at a level playing field. She said she knows she won't be treated the same as a major party candidate , but she won't have to compete with filled stadiums. Trump has held far less campaign rallies than he did in 2016, and Biden has done most of his appearances on television or online.
"It might have helped us," she said. "We've got Joe Biden doing interviews in his basement, and people say my background looks a lot better than his background."
Jorgensen is also critical of recent public mask mandates and shutdowns of businesses due to COVID-19, saying those decisions should be left up to individuals.
She said she's hoping the major differences between her, Trump and Biden will attract more frustrated voters.
Jorgensen is against war, mass incarceration and large government. She said Biden's record of championing the Iraq war shows he clearly is not a true anti-war candidate. She also said Trump campaigned as an outsider, but has acted in office as any Republican would and has not shrunk government.
"Republican voters have clearly said they want smaller government, but the Republican party keeps giving them bigger government, even with a supposed outsider, Donald Trump," she said.
During her campaign event, Jorgensen promised her first act as president would be to bring troops back to the U.S.
She also said she would end the Internal Revenue Service, defund federal policing efforts, end the war on drugs and pardon federal prisoners incarcerated for drug crimes.
Jorgensen argued the war on drugs was racist and called it a "carbon copy" of Prohibition.
"There should be no law to prevent you from owning an object, whether that be a gun to protect yourself, or a drug," she said.
When Jorgensen left the stage, organizers set off a smoke machine and many stood and cheered. Supporters also rushed to introduce themselves or take a selfie with her.
Jorgensen spent most of the day in Spokane and Liberty Lake and will spend most of the weekend in Western Washington.
Jorgensen received support from several Libertarian candidates from around the state, including insurance commissioner candidate Anthony Welti; Ryan Cooper, who is running against Dan Newhouse in the 4th Congressional District; and Brett Borden, a state House candidate in the 9th Legislative District in the Pullman area.
Welti said Jorgensen's presence and support helped all the Libertarians running for office in the state.
Local journalism is essential.
Give directly to The Spokesman-Review's Northwest Passages community forums series -- which helps to offset the costs of several reporter and editor positions at the newspaper -- by using the easy options below. Gifts processed in this system are not tax deductible, but are predominately used to help meet the local financial requirements needed to receive national matching-grant funds.
Subscribe now to get breaking news alerts in your email inbox
Get breaking news delivered to your inbox as it happens.
---