A&E
Painting the city: 'We need to capitalize on this thing now – the whole world is watching," Spokane artist Bob Lloyd, 76, says
July 23, 2020 Updated Tue., July 28, 2020 at 2:05 p.m.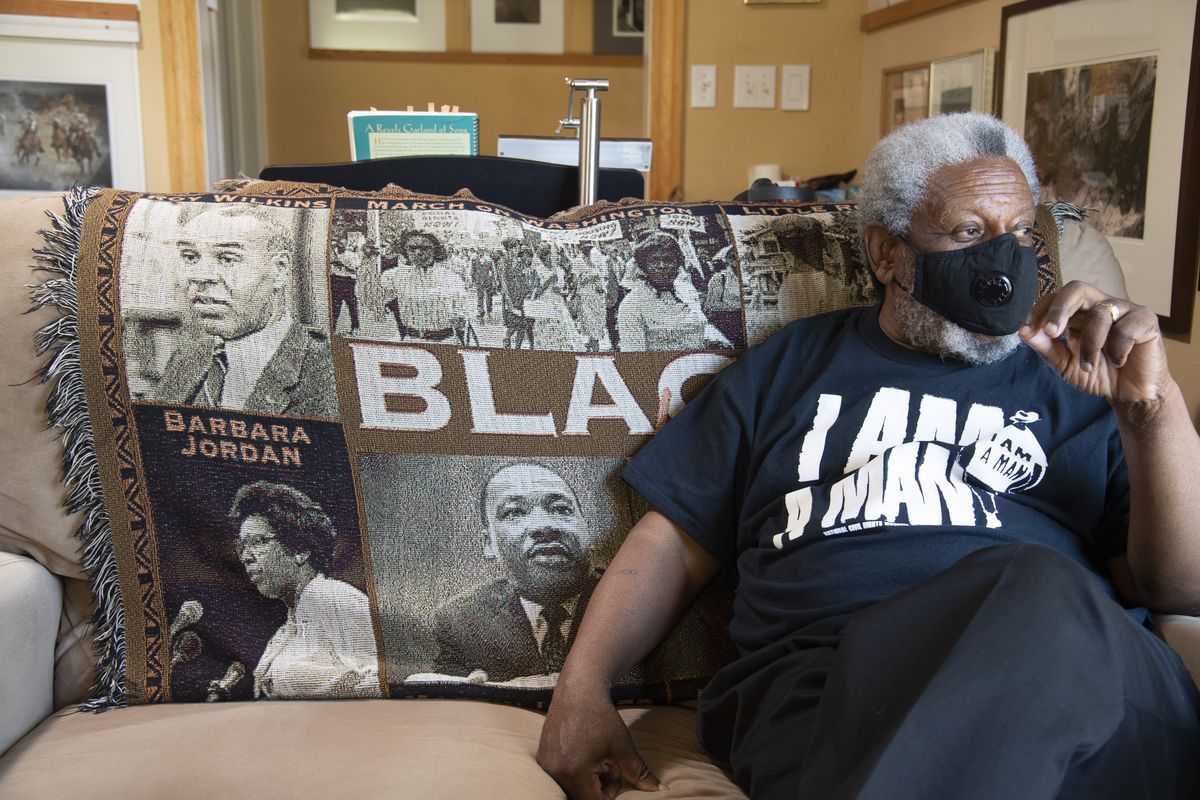 Artist Bob Lloyd sits in his Spokane living room on July 16. Lloyd recently completed painting in the "L" in the Black Lives Matter mural in downtown Spokane. (Jesse Tinsley/The Spokesman-Review)
Local artist Bob Lloyd, 76, has shown up at the site of a new Black Lives Matter mural in downtown Spokane almost every day since painting began three weeks ago on the massive outdoor installation.
He and 15 other artists of color were chosen by Terrain to interpret, design and paint the towering letters spelling BLACK LIVES MATTER along the 140-foot-wide building at 244 W. Main Ave.
The problem is that Lloyd, who taught photography and digital imaging at Eastern Washington University for 30 years, liked the mural better before it was painted in.
"I think the sign was at its best when it was just white on a gray wall," Lloyd said as he sat wearing a mask and a black TED Talks T-shirt in the living room of his South Hill home. "Because now you want to talk to me about color, shape and form. As an artist, I don't mind that, but I'm more interested in the mural's political impact. And can we get some change?"
The blanket draped on Lloyd's favorite chair bears the names of civil rights heroes. Every inch of available wall space of the two-story residence he shares with his wife, Diane, a retired Spokane Falls Community College librarian, is filled from top to bottom with works by local artists.
Lloyd acquired most of the pictures from shows he curated himself at the two photography galleries he founded and operated for years in Spokane – the Grand Photography Gallery at EWU and the Lloyd Gallery at the now-defunct arts and punk venue 123 Arts.
"When the letters were white, before the color went in, it was a different conversation, OK?" Lloyd said, his voice growing more frustrated. "This mural is not about George Floyd, it's about must we die in order to be heard? Are we going to wait for another death before we come out again and say no?!"
Lloyd's biggest concern is that the mural will be the extent of the city's commitment to social justice. The mural will languish as merely a symbol rather than a jumping-off point for community activism and government reform.
With Spokane County's local sheriff recently giving a speech proudly telling the local NAACP president that he "doesn't like activists," it's no small thing in Spokane to call yourself one. But Lloyd has never been one to back down.
"My ancestors would be turning over in their graves, they would have died for nothing if we don't get something more than this. I'm looking for equal justice! I'm looking for economic development!"
Lloyd has interviewed everyone he has encountered at the mural site about the Black Lives Matter mural and its message. "The people I've interviewed say how proud they are that Spokane is doing this mural, but not a single one of them has any idea how to participate in implementing change," Lloyd said. "My question is: 'What are you going to do about it?' "
While Lloyd laments the lack of political action, he doesn't pretend to have all the answers. "I don't know how to clean up this mess. I'm a photographer and an artist, and I happen to live here in Spokane. My education is in photography and design," Lloyd said.
"That's all I have is my experiences, and my experiences are not the same as those young artists down there. They've been very nice and very friendly to the old man." Despite his modesty, Lloyd's experiences make him more qualified than most to tackle issues of police reform, social justice and economic equality.
From 1996-2000, he founded and published the Black community newspaper the Spokane African American Voice. He has been a member of the Human Rights Commission, the Task Force on Race Relations, the NAACP and several other civic organizations. He has traveled and photographed all over the world, from South Africa, Kenya and Uganda to China and Japan.
Fighting for civil rights has been a lifelong pursuit for the retired academic and community activist. Born and raised in Chicago, Lloyd worked for the Congress of Racial Equality and the Southern Christian Leadership Conference from 1962-1967 as an office manager, organizing tenant unions and doing documentary photography.
He was arrested more than 50 times while living and marching in demonstrations in Chicago. Lloyd fell into activism by accident shortly after graduating from high school in 1962. He was wearing a suit for a job he had at the time selling insurance when he missed his bus.
A woman approached him, commented on how professional he looked and asked if he could enter a building across the street to get her some information since she was barred from entry. Lloyd went inside to a room where he found a large map of Chicago up on a wall.
Next to the map was a grease pencil and a stack of index cards used to track and mark where Black children lived in order to adjust the school district boundaries to ensure segregation. "That graphic representation of racism explained the number of times I had changed schools although my address had not changed," Lloyd said.
"The woman who had asked that I go in was Dr. Faith Rich, who was helping bring a lawsuit against the Board of Education. She was a member of CORE, the Congress of Racial Equality, and she invited me to a meeting. I became an advocate for civil rights and social justice."
One of Lloyd's first political actions was to protest the Chicago Board of Education's segregationist policies. He joined other CORE members in taking over the board's seats when they went on break during a meeting.
"We sat down for a few minutes, and it turned into seven days," Lloyd recalled, laughing. "We didn't have a clue. We didn't know what we were going to eat or what we were going to do. The press comes in and asks us what we want. We chant: 'We want our freedom! We want our freedom!' "
The group removed the strings from the board room's venetian blinds and lowered them into the street to retrieve food from supporters. "The Urban League members saw our demonstration on television and all us talking about all we want is freedom," Lloyd chuckled.
"The Urban League sent us facts and statistics and reports. We had freedom school that night, and when the reporters came back the next day, we were articulate and ready."
"That's what I think when I see these young people making these murals," Lloyd said. "They need to go to freedom school, if you know what I mean. I want them to become interested in something bigger than themselves. I do not want them to change their paintings. I want them to change their lives."
Lloyd credits mentors for sending him down the path of advocacy for others. He got to meet Martin Luther King Jr. when the civil rights icon stayed in Chicago for a time to bring attention to substandard housing conditions.
One day Lloyd complained to co-workers about having been arrested again because he was accidentally in the wrong place at the wrong time. King, who was in the room, looked up from his work and said, "Put yourself in places where good accidents can happen to you and not bad ones."
"I told Dr. King, 'I can't leave Chicago,'" Lloyd recalled. "King said to me, 'You can be poor anywhere.' "
Not long after that, when opportunity arose to join his then-girlfriend (now wife Diane), in California, Lloyd made the leap.
"I grabbed a garbage bag, put all I had in it and got a ride to California," he said.
After working and completing his MFA in design and photography, Lloyd moved to Spokane in 1974 to teach photography at Eastern Washington University. He is now combining photography, digital imaging and acrylics to create mixed-media pieces. His work can be seen at the website he runs called 4comculture.com.
As with most of Lloyd's life, his website veers into dialogue regarding solutions and strategies for action. "I'd like to see 100 coffee groups form in Spokane. Just small groups of five to 10 people who meet in public places, discuss the issues and come up with strategies and plans of actions," Lloyd said.
"I want the folks at the next table to hear these conversations. I want the protesters with the nice signs who show up at mobilizations in the park to walk up and down the streets with those signs in the neighborhoods where they live."
Local journalism is essential.
Give directly to The Spokesman-Review's Northwest Passages community forums series -- which helps to offset the costs of several reporter and editor positions at the newspaper -- by using the easy options below. Gifts processed in this system are not tax deductible, but are predominately used to help meet the local financial requirements needed to receive national matching-grant funds.
Subscribe to the Spokane7 email newsletter
Get the day's top entertainment headlines delivered to your inbox every morning.
---