News > Washington
Tortoise left for dead could have another 90 years to live, thanks to her neighbors
Thu., July 23, 2020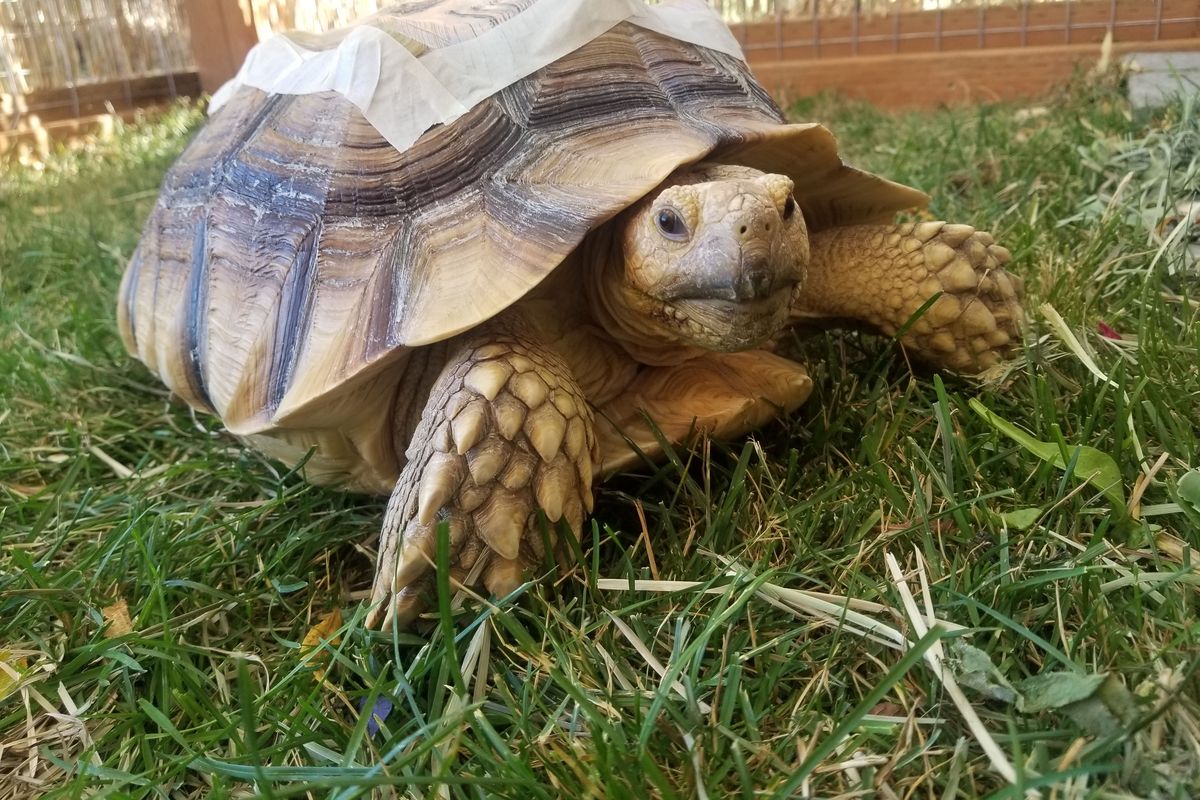 Terri the tortoise was injured in March in Benton City, Washington. Kyley Ackerson and David Copper drove 2.5 hours to get Terri, who they'd just found, the veterinary hospital at WSU, where they ultimately paid over $3,000 in medical expenses for her. (Courtesy Kyley Ackerson)
Terri the tortoise was left for dead in a Benton City driveway in March after being run over by her owner as he drove to work.
Ten-year-old Terri, an African spur-thighed tortoise, was found by a maintenance man who took the injured animal to Kyley Ackerson and her fiance, David Cotton. She had suffered a crushed shell and part of her spine was exposed.
"There was basically an eight-inch-by-four-inch-wide section, three humps on there just got ripped off, just gone, laying in the driveway," Cotton said. "It was pretty brutal."
Lucky for Terri, Ackerson and Cotton have a habit of rescuing animals. They've rescued six so far, including a dog, two cats and turtles. Ackerson said "within two seconds" they were out the door and starting the two and a half hour drive from Benton City to Washington State University's Veterinary Teaching Hospital.
They decided then to pay for Terri's medical costs too, expecting a $1,500 bill.
Veterinarian Marcie Logsdon, on the exotics team at the hospital, said "by miracle" Terri's spinal cord wasn't damaged. She'd ultimately need three months of physical therapy to regain proper movement in her back legs and to grow new bone on her shell, but she'd be OK. Tortoises are amazing, she said, and they can heal almost anything. Tortoises like Terri can live 100 years and grow as large as 200 pounds.
But then they found the rocks. Terri wasn't defecating, Logsdon said, and an X-ray showed she'd eaten over 70 stones that were blocking her digestion. Through treatment with lots of fluids and regular enemas, Terri started to pass the rocks.
Her treatments didn't come cheap. Logsdon said it was "shocking and amazing" that Ackerson and Cotton committed to pay for her medical expenses. Through a fundraiser on Facebook, family, friends and co-workers helped raise over $1,000. The couple fronted another $2,000.
"I feel like if we wouldn't have done it, she would've died," Ackerson said. "You have to think of her species as well. She's supposed to live another 90 years. She's still very young, she still has a full life to live – it doesn't seem fair to leave her to die and bleed to death scared and shocked and in pain."
Ackerson and Cotton live in a double wide manufactured home with their many rescues. They set up a pen in the backyard for Terri to "mosie" about in. She's got a big personality, Cotton said, and she likes to cuddle up on Ackerson's chest while she naps.
She's also surprisingly active. Logsdon said Terri became a favorite of staff at the hospital as she regained movement in her legs and roamed on the lawn.
"They do have personalities, definitely, and for everything she went through she remained a remarkably good sport," Logson said.
Cotton said Terri can also get into trouble. She will pick up speed and cross their backyard, about 50 feet, in three minutes or so.
"You'd be surprised," Cotton said. "It's like a little toddler pretty much, making sure she doesn't get into stuff."
The couple said anyone could do what they did by sticking to it. They were amazed by the people who came together to fundraise for Terri. But any animal is a lifetime commitment.
Cotton and Ackerson said they intend to keep her as long as she lives and that could be close to a century.
Local journalism is essential.
Give directly to The Spokesman-Review's Northwest Passages community forums series -- which helps to offset the costs of several reporter and editor positions at the newspaper -- by using the easy options below. Gifts processed in this system are not tax deductible, but are predominately used to help meet the local financial requirements needed to receive national matching-grant funds.
Subscribe now to get breaking news alerts in your email inbox
Get breaking news delivered to your inbox as it happens.
---