News > Pacific NW
Skydiver hospitalized after crash-landing onto Sandpoint home
UPDATED: Mon., July 27, 2020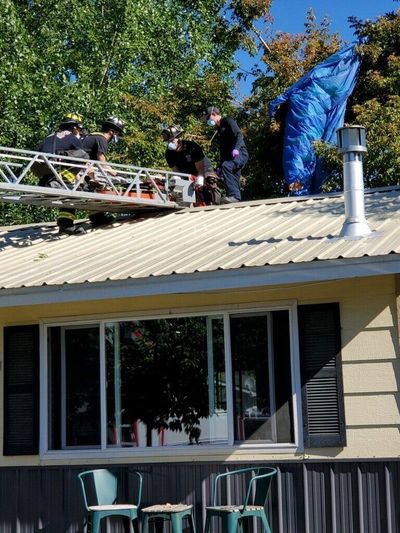 A skydiver was hospitalized and expected to make a full recovery after crash-landing onto the roof of a home in Sandpoint over the weekend.
The man was one of four experienced skydivers who jumped from a plane above the Sandpoint Airport on Sunday morning, according to Prosser, Washington-based Rattlesnake Mountain Skydiving.
All of the jumpers successfully opened their main parachutes, but none could navigate back toward the airport and instead landed south of the property, the company said in a statement.
Bonner County EMS, an ambulance service, said one of its crews responded to an address on Larch Street with personnel from Selkirk Fire, Rescue and EMS at about 8:45 a.m.
The first responders found the skydiver with "traumatic injuries" and got him off the roof using a ladder truck. An ambulance took the man to the Sandpoint Airport, and a Life Flight helicopter took him to Kootenai Health in Coeur d'Alene for treatment.
Rattlesnake Mountain Skydiving said the man collided with a tree before landing on the roof, sustaining injuries to an elbow and a leg.
"After debriefing the incident with the injured jumper, we learned that the jumper decided to land on the roof rather than risk injury to others by landing on a busy road or going near power lines," the company said.
"The owners of the house the jumper landed on were extremely helpful during the incident. Rattlesnake Mountain Skydiving is relieved that events such as this are rare and that the injuries the jumper sustained were not more severe."
Local journalism is essential.
Give directly to The Spokesman-Review's Northwest Passages community forums series -- which helps to offset the costs of several reporter and editor positions at the newspaper -- by using the easy options below. Gifts processed in this system are not tax deductible, but are predominately used to help meet the local financial requirements needed to receive national matching-grant funds.
Subscribe to the Coronavirus newsletter
Get the day's latest Coronavirus news delivered to your inbox by subscribing to our newsletter.
---