News > Higher education
George Frederickson, former EWU president, dies at age 86
Thu., July 30, 2020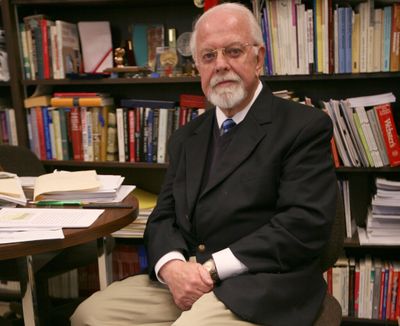 Mount St. Helens erupted during George Frederickson's decade as president of Eastern Washington University, showering the region with ash that reached the EWU campus by that afternoon.
Author Paul Delaney, in his upcoming book "Taking Flight" about EWU football, pointed to the explosion as a metaphor for the "tectonic" shifts EWU experienced during Frederickson's time at the university's helm.
Frederickson died Friday at age 86 surrounded by family in his home in Lawrence, Kansas, having lived a life full of travel, learning and leading, according to an obituary released by the family.
During his tenure in Cheney, students and staff saw the school shift from Eastern Washington State College to Eastern Washington University. Fredrickson pushed for the school's elevation from the National Association of Intercollegiate Athletics to the National Collegiate Athletic Association.
More than 20 years after he left EWU, Frederickson traveled from Texas to Spokane to attend a parade and rally celebrating Eastern's first national football title, according to an obituary released by EWU.
Frederickson was born July 17, 1934, in Twin Falls, Idaho, and spent his childhood years helping his parents at their family-owned drive-in and candy store.
At first, Frederickson "did not show too much promise as a scholar," the family's obituary read. "Teachers sent the unruly boy to the library for talking out of turn, where George began reading books to pass the time. Exposure to the world of ideas contained in books sparked a love of learning."
After two years at Brigham Young University, Frederickson served a mission for the Church of Jesus Christ of Latter-day Saints in South Africa, where apartheid left an impact that influenced future research into social justice.
Back at BYU, he fell in love with Mary Williams, who became his wife of 62 years.
The couple loved theater and travel. They traveled to New York to see plays and made an annual voyage to the Utah Shakespeare Festival. Due to visiting professorships, they lived abroad in Oxford, England, and Shanghai.
Fredrickson earned a master's degree from University of California Los Angeles and his doctorate from the University of Southern California. By the time he accepted his first teaching job at the University of Maryland, the Fredericksons had started their family.
The couple had four children together, Thomas, Christian, Lynne and David, as they zigzagged across the country.
Fredrickson held faculty positions at the University of Maryland and Syracuse University, and was the founding associate dean of Indiana University's School of Public and Environmental Affairs and the dean of the University of Missouri's School of Community Affairs.
At 42, he was appointed president of EWSC in Cheney.
Under his leadership, the university changed its name and expanded to include a campus in Spokane. He also oversaw the creation of the schools of Health Sciences, Public Affairs, and Mathematical Sciences and Technology.
Frederickson also established the EWU Foundation and transitioned the school to Division 1 athletics.
After leaving Cheney, Frederickson dedicated himself to full-time scholarship when he was appointed the Edwin O. Steen Distinguished Professor of Public Administration at the University of Kansas. While at KU, he founded the Journal of Public Administration Research and Theory.
Last year, despite increasing health problems, Frederickson finished his final book, "Hot Tickets," about a basketball ticket scandal at KU.
The final work became one on a list of hundreds of scholarly articles and dozens of books written by Frederickson.
Frederickson's family will celebrate his life next spring at a memorial service open to all family and friends. They suggest memorials go to the H. George and Mary Frederickson Fellowship at the School of Public Affairs and Administration at the University of Kansas or to the EWU Foundation.
Local journalism is essential.
Give directly to The Spokesman-Review's Northwest Passages community forums series -- which helps to offset the costs of several reporter and editor positions at the newspaper -- by using the easy options below. Gifts processed in this system are not tax deductible, but are predominately used to help meet the local financial requirements needed to receive national matching-grant funds.
Subscribe to the Coronavirus newsletter
Get the day's latest Coronavirus news delivered to your inbox by subscribing to our newsletter.
---