Perry Farrell talks Lollapalooza, Dionne Warwick and Garry Shandling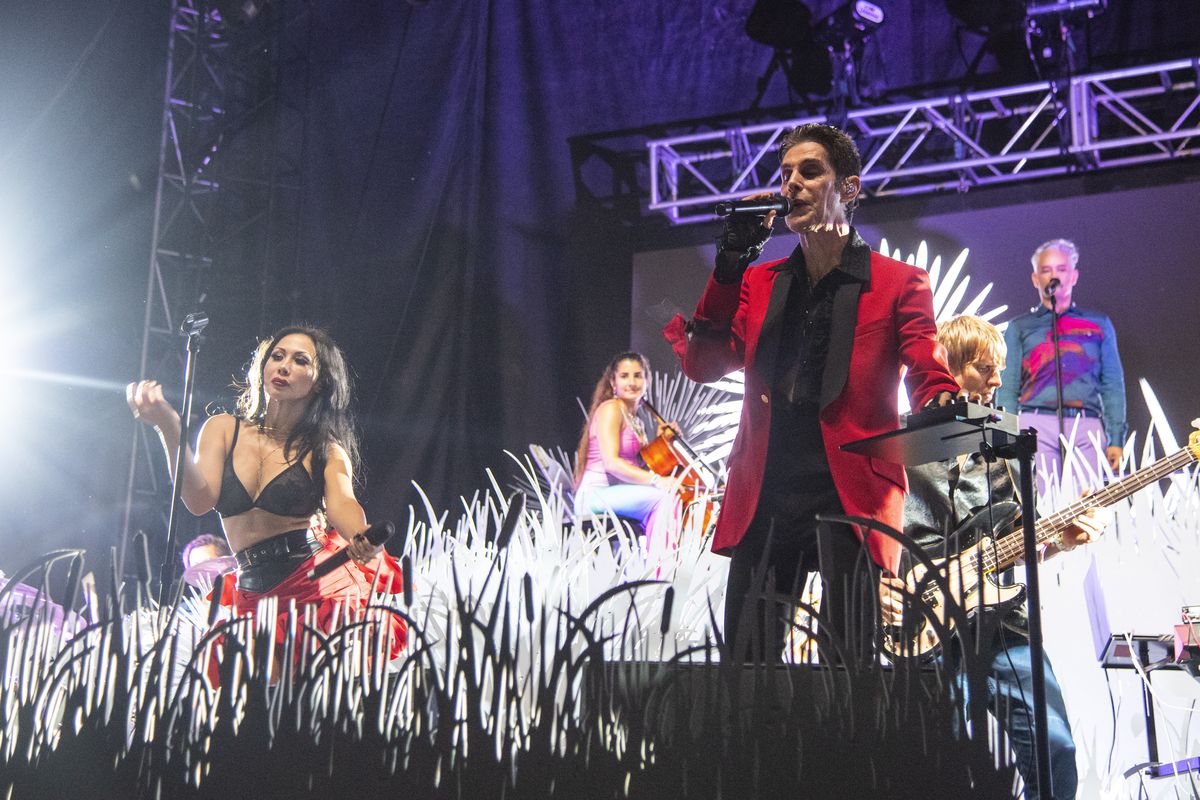 Perry Farrell has always been restless. The singer-songwriter, who founded the music festival Lollapalooza, has been compelled to leave successful bands.
Jane's Addiction yielded two popular and influential albums over the course of seven years before the iconic band dissolved. Porno for Pyros released two potent albums before calling it a day after a half decade.
Farrell, 61, has had no problem waving goodbye to those bands, but the charismatic provocateur can't give Lollapalooza a break even during a pandemic. The novel coronavirus has caused such mega festivals as South by Southwest and Governor's Ball to pause.
However, Lollapalooza, which turns 30 in 2021, will run through Sunday as a virtual event courtesy of YouTube. The event, which used to tour the country but resurrects the last weekend of July in Chicago every year, will combine footage shot last week and archival concert film.
Farrell, who called from his home in Santa Monica, California, details why Lollapalooza must happen, why Jane's Addiction ended at its peak and which of his celebrity friends rear-ended his mother-in-law.
Why work on Lollapalooza when you could easily take a break?
Off the top, man, the world needs beautiful music right now. The world needs protest music, outrageous music, and it needs love songs. I felt we as messengers, it's our time, regardless of money, to make a statement. I saw an incredible opportunity to combine new material with archival footage.
How do you pick favorites when sifting through the Lollapalooza vault?
We have our favorites. We had, like, 150 groups to go through, and it's really wonderful. I went all the way back to Paul McCartney, which is crazy since my first memory as a human being is singing "I Want to Hold Your Hand." I go from that footage to reuniting with Porno for Pyros in a backyard performing island style. We have our moments.
We see what's up with (Queens of the Stone Age singer-songwriter) Josh Homme and (Foo Fighters drummer) Taylor Hawkins, and then you have me speaking with Chicago Mayor Lori Lightfoot. I just want to tell you, Ed, I always want to hear what people are listening to, and when I heard what the mayor was listening to, it put a smile on my face.
What is Mayor Lightfoot listening to?
The Pretenders.
What are you listening to?
A lot of Dionne Warwick. I've been listening to Curtis Mayfield, Mahalia Jackson and Cab Calloway. Cab has these two people tap dancing. It was back in the early '40s when jazz was breaking and orchestras were fierce. That music soothes me, and I'm trying to soothe people with music. I love what's happening this second. We have a purpose. We need to send a good message. We need to inspire, and that's what we're doing with Lollapalooza.
You mentioned Chuck D. When his Public Enemy and Jane's Addiction were emerging a generation ago, it was an incredible time for music – 1988 is one of the greatest years in music. With albums like Jane's "Nothing's Shocking," P.E.'s "It Takes a Nation of Millions to Hold Us Back" and Sonic Youth's "Daydream Nation," it's an underheralded year.
I totally agree. Some amazing music came out then. I remember the energy of those days. I could be outrageous and do what I wanted to do since I wasn't that popular. People wouldn't have issues with me (laughs).
Jane's, P.E. and Sonic Youth, such seminal artists, were underground in '88.
We couldn't be above ground yet. It wasn't the time yet. I was just charging ahead back then. I remember the electricity, that undercurrent. The power and the whirlwind was so strong that we could blow down Trump's walls.
What's it like looking back at "Nothing's Shocking" and "Ritual de la Habitual?"
Every day I'm prouder of those Jane's Addiction albums.
Why did the band, at the height of its powers, go on a farewell tour, on the first Lollapalooza, in 1991?
It was just time for it to end. When I got back from Hawaii after that last show of Lollapalooza, I had no idea what I was going to do. I wanted to do other things.
You formed Porno for Pyros. My favorite thing you did was not do any proper late-night chat shows. But you opted to perform on the fictional and brilliant talk show "The Larry Sanders Show."
(Laughs) Yes. We were high. We were so high in the green room before we went on.
I think that's the way it once was. Burt Reynolds once told me that he was given one stiff drink after another before he went on to chat with Johnny Carson.
Yes, Burt was a funny drunk. He was so good.
Garry Shandling was hilarious on "The Larry Sanders Show." What was he like?
I have a funny story. My mother-in-law, this little old lady from Shanghai, came over a few years ago to tell me that she was hit by someone, and they knew me. It was Garry Shandling. He just asked her not to take it to insurance, and he would pay for the damage. He was a great guy. That was then.
And now is a very different time.
Yes, back then you couldn't stop the world, but the world finally did stop. We have to make some changes, but we also have to give the world music to get it back going again, and that's what we're doing with Lollapalooza. If you check it out, it'll make you feel better.
---