News > Family
Cool down safely at these 15 beaches near Spokane
Fri., July 31, 2020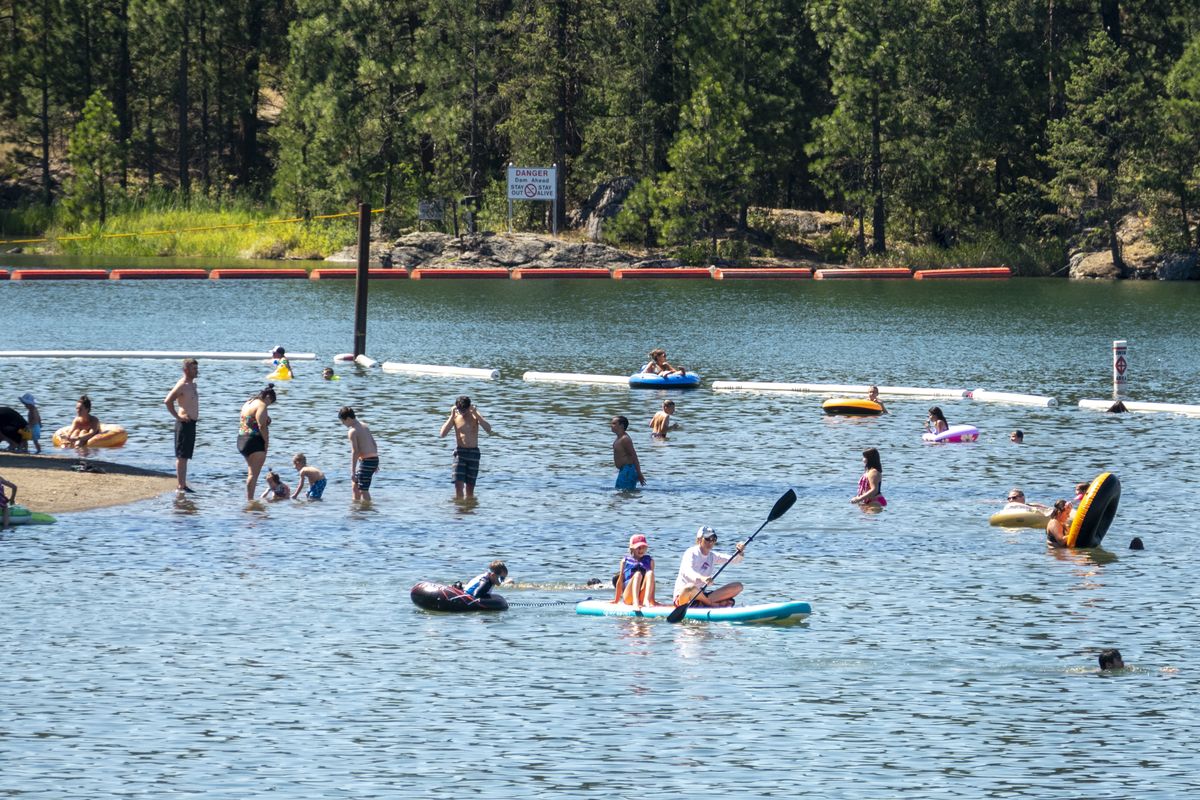 Swimmers flock to the swimming area at Q'Emiln Park beach on the Spokane River in Post Falls on Monday, where temperatures rose past 90 degrees in the midafternoon. (JESSE TINSLEY)
A quick Google search doesn't inspire much confidence that going to the beach is safe during the coronavirus pandemic. But with some indoor entertainment options likened to petri dishes for disease, outdoor recreation could be summer 2020's saving grace.
Katie Swagerty, 16, and Bret Oversby, 17, dodged the 100-degree heat Thursday by launching themselves into the Spokane River via rope swing at Boulder Beach. Oscar, Swagerty's Australian shepherd and border collie mix, chewed on a minibasketball nearby.
Nothing inspires a dip in cool water like dangerously high temperatures. Friday's forecast high is 103 degrees, matching Spokane's record high temperature for the date in 1929.
But pools are closed. Generally, the risk of transmitting the virus is much lower outdoors than it is indoors, experts have said. And Dr. Anthony Fauci has encouraged socially distanced outdoor activity as a safe way to have some fun midpandemic.
In late May, Fauci responded to a question about photos of crowded beaches without condemning beachgoers. But, he said, in areas with viral activity, seeing people crowded in bars or on boardwalks, "where they're very, very close to each other, I do get concerned."
The CDC has released beach guidelines for avoiding COVID-19, which say staff and beach visitors will be at lowest risk of spreading the virus if they all stay at least 6 feet away from people they don't live with. Staff and beach visitors also should not share food, equipment, toys or supplies with people they don't live with, per the guidelines.
Oversby, at Boulder Beach for the third time this week, said it's stayed busy amid coronavirus fears, probably because there's enough room for social distance between beachgoers.
"Get in the water and stay in the water," Oversby said. "You're pretty far from everybody that way."
The CDC also recommends wearing a mask while out of the water, though social distance could be more practical in the heat.
So how can you avoid busy beaches? Try a less populated option, maybe one you've never heard of. Here's a list of favorite public swimming holes, plus a few other lesser-known destinations.
Washington
Boulder Beach, Spokane Valley. This spot along the Spokane River may be as close as you will get. It's free, it's sandy and it's about a 15-minute drive from downtown Spokane. Located right off Upriver Drive, the beach is nestled next to the Centennial Trail, meaning you can interrupt your scenic walk with a dip in the water. Be warned: crowds are a reality at this popular stretch of river.
Pine River Park, Spokane. This very small but very sweet beach right in Spokane is perfect for families with young kids who don't want to worry about deep waters and strong undercurrents. This minibeach is surrounded by greenery and sits across a thin line of river from some wilderness-level flora. No need to leave Fido at home for this outing either, he's welcome to splash alongside the kiddos. Your dip in the water could be the cherry on top of a stroll through wooded trails.
Granite Point Resort on Loon Lake. Granite Point has close to a mile of private sandy beach front on Loon Lake. The beach includes a wading area, deep water, a swim dock with diving board and amenities including a cafe, all surrounded by mature evergreens and Pacific Northwest goodness. About an hour's drive from Spokane, the private beach is open for day use until it reaches capacity, which is limited to prevent the spread of COVID-19. A day pass costs $10 for adults and $5 for children under 13. But remember, pets aren't allowed.
Deer Lake Resort on Deer Lake. If the thought of a crowded beach makes you shiver as COVID-19 cases are climbing, Deer Lake will cost a little more but guarantee some space between beachgoers. About an hour north of Spokane, the resort has closed its beaches to the public to maintain distance on the shore. Beach access comes with a stay in the RV spots for $55 per night or cabins that range from $110 to $195 per night, both with a two-night minimum. Given the 4.3 star rating based on over 200 Google reviews, Deer Lake is a safe bet.
Fish Lake, Cheney. This little lake features a great little stretch of sand and a perfect spot to go for a swim. Motorized boats are prohibited, so really good swimmers can do laps around the lake if they choose. It pulls in the crowds, so it's not the best option for immunocompromised folks, but it's great for a summer splash.
Liberty Lake Regional Park. The No. 1 destination on the lake used to be the aptly named Sandy Beach Resort, but that spot now is just a warm memory. This park is its worthy successor. The beach is so large that it makes a magnificent starting point for the annual Valley Girl Triathlon. The vast beach, peppered with evergreens, does allow boats and has been known to draw a crowd.
Fisk State Park, Spokane County. This park is a large property on the southern bank of the Spokane River, located about 30 miles northwest of downtown Spokane. A loop trail through forested areas attracts rock climbers, while a shorter spur trail connects the parking lot with an area called "the cove," which is closer to the river. You're liable to find some teens blasting hip-hop from boats around this area. While there isn't a sandy beach, there are massive boulders to lay a towel on. Smaller boulders are popular to jump from. But the park's website warns: be careful near the cliffs here. Drops can be deadly.
Bear Lake Regional Park, Chattaroy. Bear Lake Regional Park contains 166 acres about 15 miles north of Spokane, adjacent to the Newport Highway. Of those 166 acres, the lake takes up about 35. The park has 175 parking spaces, play equipment, hiking trails, shelters, barbecue areas and, of course, a beach. The option to fish with the scent of pine hanging in the air doesn't hurt either.
Waterfront Park on Medical Lake. About a 20-minute drive from Spokane, Medical Lake is a fan favorite. Located on the south end of Medical Lake, with trees all around, the sandy beach and large picnic areas of Waterfront Park make it one of the most popular parks in Spokane County. The beach isn't huge, so be prepared for it to be bustling with kiddos.
Idaho
Honeysuckle Beach, Hayden Lake. Hayden Lake's beach is a gem for locals and tourists. The spectacular view of Honeysuckle Bay and the rest of the picturesque lake drops jaws. But the popular spot will sometimes require a hike in because parking is limited, so plan accordingly. Hayden's City Council President Roger Saterfiel at a recent council meeting even vented frustration about out-of-state cars filling up parking spots. His concerns just show the popularity of this beach.
Beaver Bay Beach, Farragut State Park, Athol. In the same city as Silverwood Theme Park, you can get a taste of nature. The beach is shielded from Lake Pend Oreille by a narrow spit, making its waters shallower and warmer than the larger lake. Across the spit lies Idlewilde Bay, an arm of Lake Pend Oreille. Swimmers can choose either body of water from the spit. But keep in mind that pets, glass bottles, canoes and kayaks aren't allowed.
City Beach, Sandpoint. This 22-acre park lies at the end of 102 Bridge St. in Sandpoint, about an hour and 20 minutes away from Spokane. The park is one of the focal points of Sandpoint, and City Beach is the busiest park in the system, which would normally be used for community special events before the days of social distancing. If you need more than simple relaxation, the beach and park offer plenty of recreation. On any given day you will find every imaginable type of ball being thrown, batted or spiked.
Q'emiln Park, Post Falls. This sandy shoreline 30 minutes east of Spokane sits along the Spokane River. It's shielded from the current, so the stretch makes for an excellent swimming spot for swimmers of all kinds. The park features all the amenities you need for a day at the beach, including barbecue pits and picnic areas, plus an extensive trail system for a midday hike.
Coeur d'Alene City Park Beach, Coeur d'Alene. If you don't mind crowds, love a good beach and long for myriad recreational options, this might be your spot. Coeur d'Alene City Park has a swimming beach, basketball courts, a large picnic shelter, grills, drinking fountains, sand volleyball courts, restrooms, picnic tables throughout the park and easy off-street parking. All in the beautiful Idaho city that welcomes fun in the sun.
Local journalism is essential.
Give directly to The Spokesman-Review's Northwest Passages community forums series -- which helps to offset the costs of several reporter and editor positions at the newspaper -- by using the easy options below. Gifts processed in this system are not tax deductible, but are predominately used to help meet the local financial requirements needed to receive national matching-grant funds.
Subscribe now to get breaking news alerts in your email inbox
Get breaking news delivered to your inbox as it happens.
---