Sports
A Grip on Sports: As June dawns, we wonder what the next few months will hold
Mon., June 1, 2020 A GRIP ON SPORTS • The number one is once again in a prominent spot on my computer screen. The calendar at the bottom of my screen sits there, mocking me. It's the first day of another month. June this time. Before you know it, summer will be on us. Can you name five sports-related things you love to do in summer and you can't do any other time?
•••••••
• I can, or I wouldn't have asked.
– The last weekend in June: Wander around Hoopfest. I've said this many times. I don't think there is a better weekend in Spokane than Hoopfest weekend. It is a celebration of a sport I love, sure. But it's more than that. It's an event that brings, on a normal year, people rarely seen in the downtown streets to Spokane. And shows them our city can be something special. Something fun. Something safe. Thousands upon thousands cram into the blocks near the river and, despite the heat, despite the competition, despite the raging testosterone, there is rarely an outbreak of stupidity. Like everything else, everywhere, it is not perfect. But it's pretty darn close for a basketball fan. Hoopfest has been postponed to late August for now, which means it may still happen this summer. But it's hard to imagine it being the same as it has been every summer since 1990.
– July 4: Hike somewhere fun. You may have noticed, I rarely write on that day. It's because I get up early, pack up the Rav-4 and Kim and I head out. We find a long, eventful hike in the area we haven't taken before and haul our aging behinds somewhere secluded and majestic. It's not as if we don't walk all the time. Heck, I've averaged nearly 15,000 steps a day for the past year and would probably be beyond that number if not for the debilitating (and still undetermined) sickness I dealt with between Christmas and into the New Year. And part of my daily walking includes (when I'm not asked to stay home to stay healthy) wanderings around Dishman Hills, Glenrose and other hikes close to the homestead. Kim, on the other hand, gets her steps in around the region's largest medical complex and its intimidating – to me, anyway – stairs. But the Fourth hike is different. We do it together. And we try to find a spot where we can be alone. No, not for that. Jeez, you people. No, so we can give our thanks for our lives in this country. It's the perfect day for it. The idea people came together at a time when it was unheard of to put together a nation in which the governed had power over the government. No matter how flawed it has turned out, their efforts awe me to this day. Is it perfect? Is anything people do perfect? But taking one day a year to be thankful for all the sacrifices our ancestors went through to try something revolutionary, seems appropriate to us. They hoped for something better for their children, grandchildren and ensuing generations they would never see. So do we.
– Any warm day: Attend an Indians game. Let's amend that. Attend any baseball game at which you can eat a hot dog. It might even be a youth tournament contest, where the hot dogs are barbecued on a grill brought from someone's backyard. But watching a baseball game while eating a hot dog? That says summer to me. Who cares if the people playing aren't all that skilled? It's the game, the sunshine and, of course, the hot dog that matters.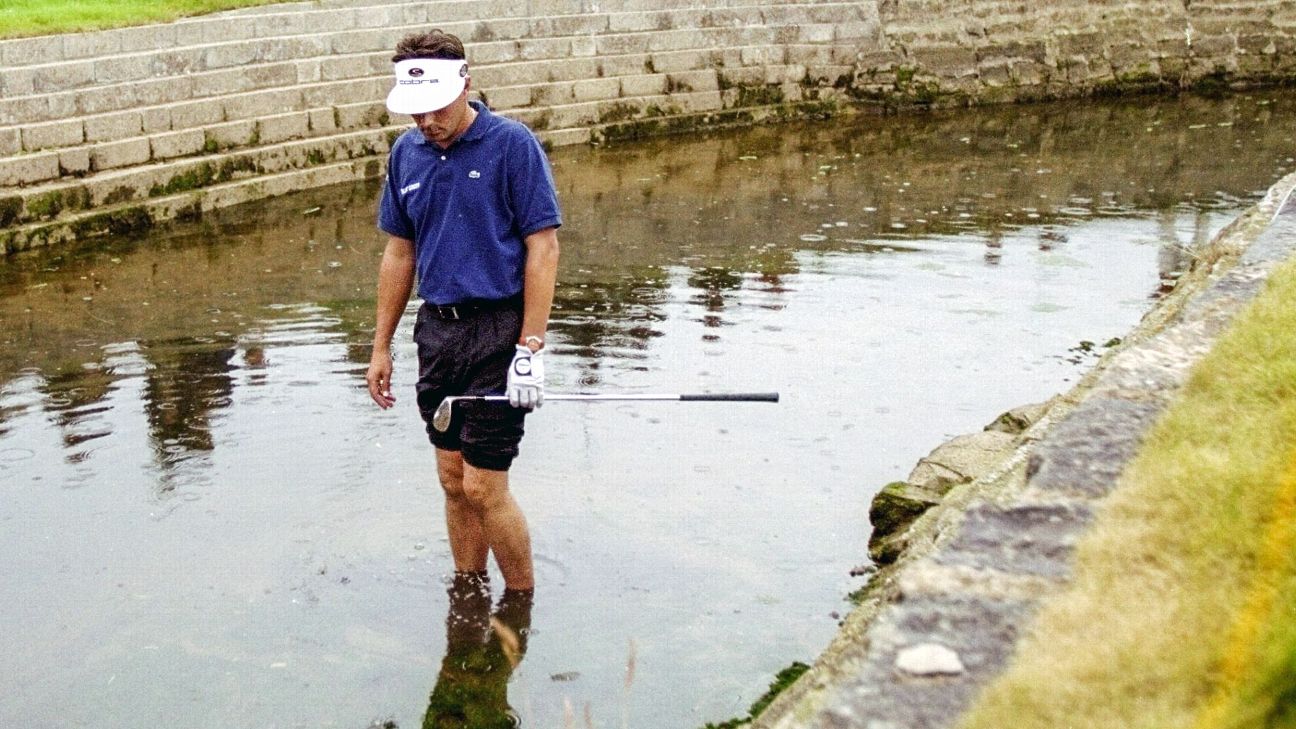 – A rainy Sunday in late July: Why rain? So know one can entice you to leave your comfortable living room where you have been sitting since the wee hours of the morning, watching the British Open on your widescreen. The British isn't the best major golf tournament in my eyes, it's just the most fun to watch. Has been ever since we had kids running around the house so many years ago. Watching televised weekend sports isn't easy for the haggard parent. There are constant interruptions. Unless the little ones are asleep, angel-like, in another room. With the British, that was always the case. Until the final few holes. When Jean van de Velde was throwing the Claret Jug into the Barry Burn at Carnoustie in 1999, I wasn't watching. I was packing up to go to one of my kid's games. But the holes leading up to that epic collapse? I watched in utter and complete solitude.
– Early September: Sit in the stands at a football game. Yep, football begins in the summer. (As an aside, it's why I hate the term "fall camp." It happens in the summer, the games begin in the summer and it's "fall camp?" No, it isn't.) Those first games, before the fall equinox (or whatever it's called) are the best games, fan-wise. I know many people love a beautiful autumn afternoon, with the leaves floating to the ground and all that. And I know others think football isn't perfect if it isn't snowing, but I'm not one of them. I like watching live football in shorts and a short-sleeved shirt. Sunscreen on. A hat to shield my balding head. Why? Simple. It's more comfortable. And when you bring a cold beverage back from the concession stand, it always feels so great going down.
None of these may happen this summer, of course. We may be engaged in a battle a microscopic coronavirus well into next winter. Maybe even beyond. But, hopefully, the pandemic will pass. And summer will not only be the days of heat, but days of fun once again. I have my list. Do you?
•••
WSU: Five Cougars were named track and field All-Americans. That news, and more, is contained in our weekly local briefs. … Elsewhere in the Pac-12, the protests welling up due to George Floyd's death (and others from similar circumstances) have engaged many in the sporting world, from players to coaches to others. Most every school has someone, or everyone, speaking out. Here are a few of the stories on their comments. … Should there be college football in the fall? … A popular former Oregon State assistant football coach had died. … USC has its usual quintet of outstanding offensive linemen in its program. … If you like to place a friendly wager or two concerning who will win the conference title, there is good value out there. … Finally, Oregon State is trying to deal with the budget fallout from the pandemic.
Chiefs: I'm not sure this might be the best thing to be doing right now, health-wise, but many Chiefs players, past and present, are getting their ice-time in at a Post Falls' rink. Dan Thompson has the story.
Preps: Ryan Collingwood has a story on grassroots track events organized by a University High runner. The same concerns are applicable with this story, considering some of the participants in the events held at local high schools traveled to them from areas still in Phase 1 of the coronavirus guidelines. It's hard to see such travel as "essential" under the governor's mandates. … The same could be said concerning this basketball event in Arizona.
Seahawks: How is the pandemic influencing the Seahawks? … As we mentioned above, the protests around George Floyd's death have been supported by many in the sports community, including Seahawk players and coaches.
Mariners: The players association responded to the owner's proposal with one of its own. They players want more games and no financial changes beyond what they have already agreed to. This is the key week.
Sounders: The MLS players seem to have agreed to what the owners want, allowing a truncated season to begin in the near future.
•••
• Of the five summertime traditions I passed along today, the one I would miss the most if it doesn't come to pass is the hot dog at the baseball game. It's a ritual that dates back to 1965 – at least. That's a long time ago. Until later …
Local journalism is essential.
The journalists of The Spokesman-Review are a part of the community. They live here. They work here. They care. You can help keep local journalism strong right now with your contribution. Thank you.
Subscribe to the sports newsletter
Get the day's top sports headlines and breaking news delivered to your inbox by subscribing here.
---