Mask masters: With her magazine on hold, editor teams with stepmom to create 'ideal' cloth face coverings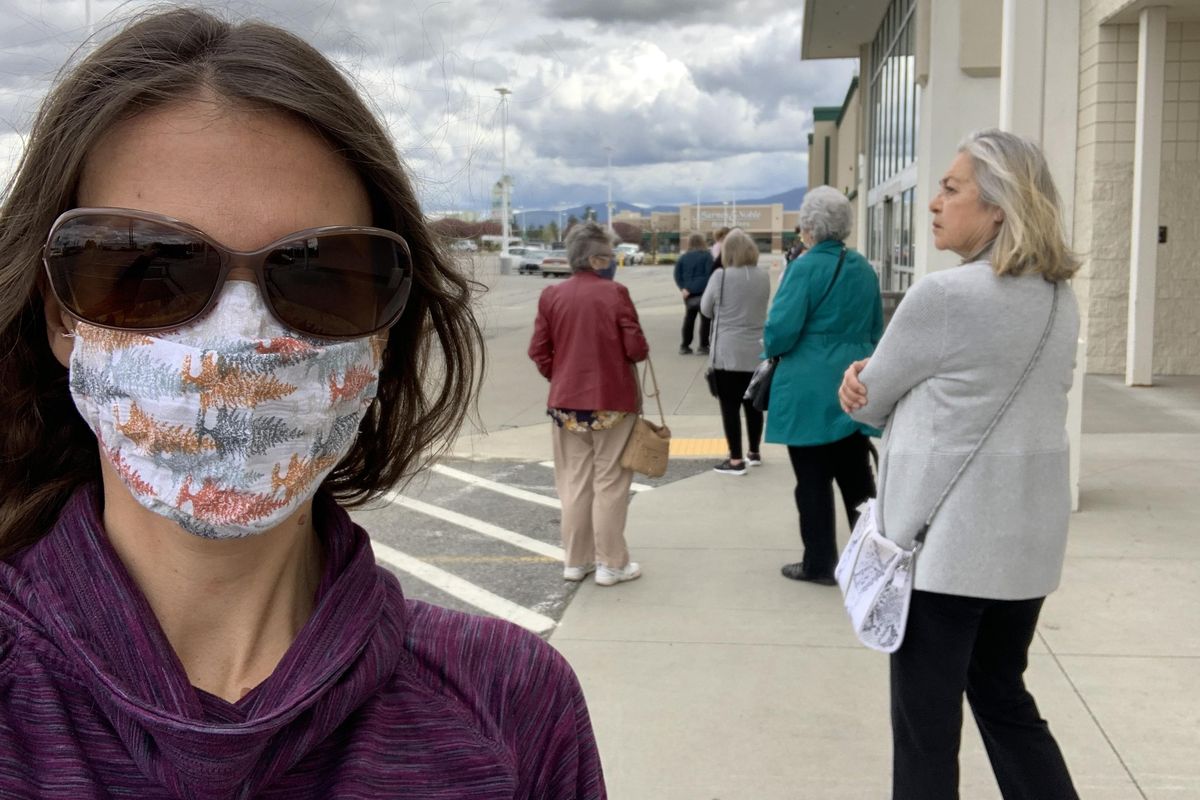 Necessity is the mother of invention is a proverb that a mother in West Central embraces.
After businesses were shuttered in March due to the spread of the novel coronavirus, Shallan Knowles was prescient enough to know that advertisements for Out There Outdoors, the magazine she publishes with her husband, Derrick Knowles, would be few and far between.
Knowles also was aware that she had to prepare for quarantine. While searching for masks for her family, Knowles had an epiphany. The mother of 5-year-old Remi was less than happy with the quality of face coverings.
"We needed comfortable masks, which would stay on, and I wasn't happy with anything I found," Knowles said. "Then I thought of my father's wife."
Knowles' stepmother, north sider Marylou Dawson, a professional seamstress, was tapped to craft masks in late March.
"What she was making was ideal since I wanted a beautiful batik mask," Knowles said. "I was thrilled with what she came up with."
After noticing the demand for masks online, Knowles and her stepmother went into business establishing Spokane Masks. "I told Derrick that we could sell these masks, and he told me to go for it," Knowles said. "Why not try it?"
Her products, which all are cotton, come up high on the nose and tuck under the chin at spokanemasks.com, found a market. Knowles started taking orders for her stepmother via Facebook. Dawson has become a very busy seamstress creating four sizes from kids to large.
Some 870 masks were made during the last week of May, and nearly 4,000 have been sold in just more than two months. The masks, which are $10 to $14, can be personalized. Masks emblazoned with the Gonzaga Bulldog, the Seattle Seahawks and the Seattle Mariners are popular.
Some companies, such as Porter's Barber Shop and Rocket Market, are buying in bulk. The latter ordered 36 masks with the store's logo, a green artichoke, for its employees
"I like the design and the fit," Rocket Market owner Alan Shepherd said. "It feels great around the ears. You can wear their mask all day and not be bothered. They knocked it out of the park in terms of comfort."
Shepherd plans to sell the masks in store. "Masks are the new T-shirts," Shepherd said. "It's a great way to get the word out about the store. You can't help but notice what's on the mask. Another great thing is that I'm supporting a manufacturer and the guy who does the printing of the masks (Five Mile's Devon Corbit) since they're both from the area."
Knowles is mailing masks around North America. Folks in Florida, California, New York, Illinois and Canada have purchased her product. However, much of her business is local. She even hand delivers masks.
"Patronizing local merchants now is what it's about more than at any other time. It's about where we live. Sure, you can buy a mask on Amazon and it'll be functional, but why not buy your mask locally? It's not about what we're doing," Knowles said.
"There are plenty of other local mask makers. It's about keeping all of your funds in your own community, and it's about making the best product possible. We've done our best to produce a high-quality mask that's affordable for everyone."
While sizing up the competition, Knowles recently purchased a mask at a big-box store. "It was $4, and when I opened it up, it said made in China," Knowles said. "I put it on, and it fell off my face. It was so massive that it wouldn't do any good. You get what you pay for. We aim to produce the best masks possible. We've received a lot of good feedback, especially from the people living in our community."
West Central's Jessie Norris, who is the secretary of the nonprofit REACH West Central, gives Spokane Masks a thumbs up.
"The mask covered my face well, and, best of all, it was really comfortable to wear," Norris said. "The elastic is nice and soft and wide enough that it doesn't cut into the back of my ears. The design, with the extra fold at the top and bottom, ensures that the mask completely covers my lower face and chin and also that it stays up on my nose without needing some kind of wire to hold it in place."
The June edition of Out There Outdoors is out, but Knowles also is focused on her burgeoning side gig.
"It's great to be up and running with the magazine again," Knowles said. "We're busier than ever, though, with the masks, and that's a good thing. We thought this would last a month or two, but it's obviously going to last a lot longer."
Knowles and Dawson figure they're going to be busy for quite a while. "As long as (Spokane County Health Officer) Bob Lutz continues to recommend that we wear masks, there should be quite a bit for us to do," Knowles said.
"But maybe face coverings will be the norm here now. Look at Asian countries where it's been culturally appropriate to wear face coverings for years. Maybe a cultural shift is upon us. Maybe instead of handshakes, there will be face coverings. We'll be making masks as long as there is a demand. It's been an amazing experience so far."
---