News > Spokane
'I want you to feel me': Woodward, Meidl hear youth speak at downtown protest
June 3, 2020 Updated Wed., June 3, 2020 at 10:41 p.m. For Spokane's fourth straight evening of protests following the death of George Floyd, an unarmed Black man killed by Minneapolis police, teens took the mic and spoke directly to the city's leaders and a crowd of about 200.
At the start of the evening, Mayor Nadine Woodward joined young people and the event's organizer, local Black activist Kitara Johnson, in dancing the cupid shuffle by the Big Red Wagon, where Sunday's protests began.
"I love that the energy has become positive," Woodward said. "I think it's a great way to channel anger into something positive. A lot of people are angry right now. They're frustrated and they're hurting. They need to know how to channel that into something positive that leads to change."
Johnson invited officials and Spokane Police Chief Craig Meidl to sit by the stage so young speakers could address them directly.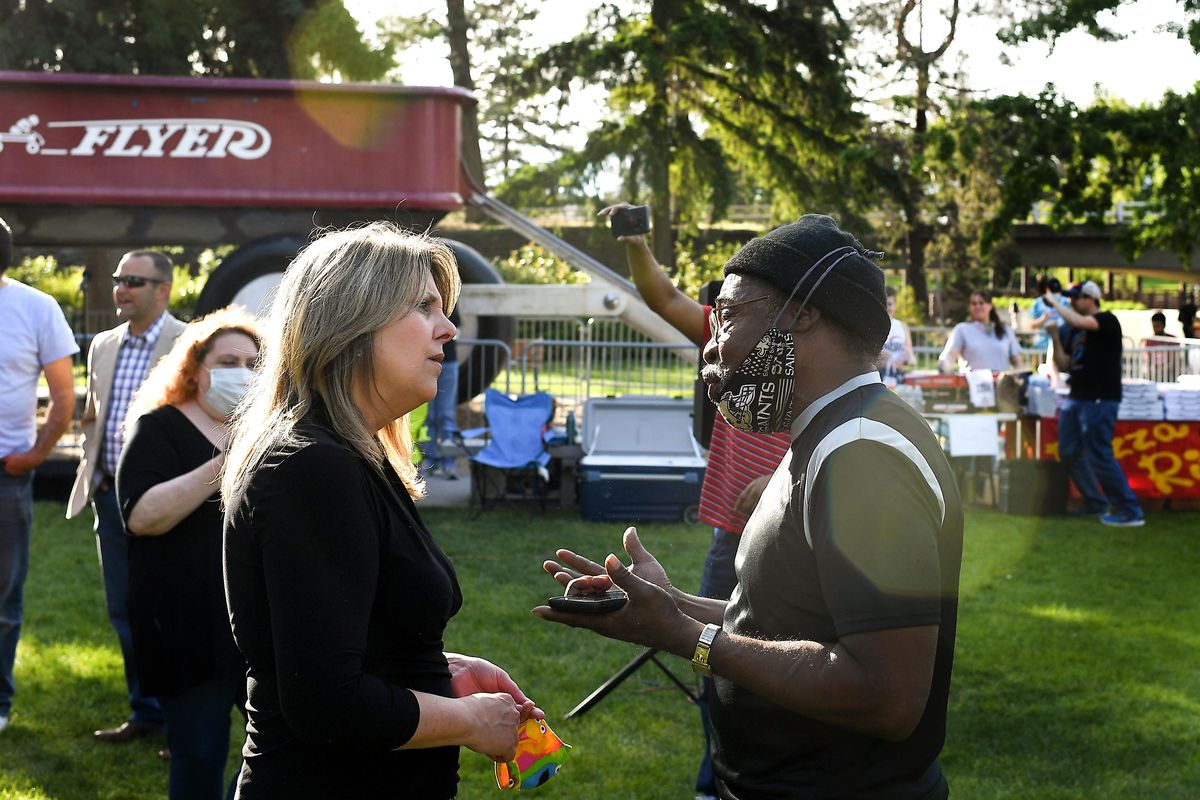 Nadine Woodward talks with Bertram Price, right, during a protest on Wednesday, June 3, 2020, at Riverfront Park in Spokane, Wash. 'We talked about change," Price said. "There is so much positivity with these kids." (Tyler Tjomsland / The Spokesman-Review)
Before passing the mic to local high school students, Johnson spoke about her teen years in Chicago, when she said she sidestepped coagulated blood on her way to school everyday. Johnson, who endorsed Rep. Cathy McMorris Rodgers in 2018, said the event was for people from both sides of the aisle.
"One thing we all have in common is human life. The other thing we have in common is how much we love our young people," Johnson said. "You will not be filtered. Whatever you have to say, just say it. They have thick skin, they believe you and they want to hear from you."
Protesters stood and sat in the grass, holding signs that read, "Mama, Mama, I can't breathe," "How many were not filmed," "United States, United People," and "Black Lives Matter."
Black teen Samiah Kuntz was one of the first to take the stage, and she told the crowd racism has affected her her whole life. In Spokane, she's been surrounded by white people and felt uncomfortable.
"Seeing all of this, it makes me feel like I'm at home here," Kuntz said, tearing up and looking at the row of officials. "I have a lot of people behind me supporting me through this."
Meidl stood among the crowd, listening to, and talking with, people who approached him. Despite Wednesday being one of his days off, he said he wanted to come to hear from young people.
"People might think we are not talking about George Floyd," Meidl said. "I just want people to know, yeah, we absolutely are. We're talking about what are the next steps for long-term results."
One marked police car and three unmarked police vehicles were parked around the block. Two cars were empty, and two unmarked ones sat with engines running and officers in the driver and passenger seats.
Brian Coddington, spokesperson for Woodward, said the police presence was meant to keep protesters safe.
Meidl said he was delighted by the relaxed atmosphere because it meant the community could get work done to find solutions. He said he's not a police chief for Republicans only or Democrats only. Instead, he said, he serves everybody.
"This is by no means condoning what happened in Minneapolis. What it means is, let's go forward in love and work together," Meidl said. "That's not possible in some circles, but we find by working together with love and respect, you get so much farther than if one group is talking at the other. You get so much more traction."
Jada Richardson, a 16-year-old Black daughter of a Black Spokane police officer, said the event was a compliment, not a replacement, to other protests. Mostly, it was a reaction to the protest Sunday.
She said she's lucky to have close relationships with SPD officers, but other Black teens don't. Jennifer Deruwe, a Spokane police officer who specializes in youth outreach, has been one of her "biggest cheerleaders," Richardson said.
"The least police can do is reach out to marginalized communities," Richardson said. "And they need to – they must – acknowledge the history."
She said she watched a video of a Black 8-year-old on PBS responding to her father who asked, "What do you do when police come?"
"She put her hands up and she said her name and she said, 'I don't have anything that's going to harm you or anyone else,' " Richardson said. "I just started crying because those are really the conversations we have in our house. You see a lot of white people and non-Black people protesting. We are so used to it, and it's sad."
Keyonie Brown, a Black 16-year-old who spoke at the protest, has had much more negative experiences with police.
She took the mic, looked Woodward in the eyes, and said that less than a week ago, Spokane police raided her home without a search warrant. Police pointed a gun at her head.
"They don't use the N-word anymore," Brown said through tears. "They use 'criminal' on us, and that hurts me."
She struggled to speak at one point. People from the crowd shouted out, "We hear you. We're here for you."
"I want you to feel me," Brown said. "I want you to feel my pain. I marched with you. I get why they rioted because I was angry. I was so angry, but I was good. I was calm. I was peaceful."
She said when police took a knee at Sunday's protest, she felt something. When she got off the stage, she hugged officials. Mayor Woodward embraced Brown for close to a minute.
Local journalism is essential.
Give directly to The Spokesman-Review's Northwest Passages community forums series -- which helps to offset the costs of several reporter and editor positions at the newspaper -- by using the easy options below. Gifts processed in this system are not tax deductible, but are predominately used to help meet the local financial requirements needed to receive national matching-grant funds.
Subscribe now to get breaking news alerts in your email inbox
Get breaking news delivered to your inbox as it happens.
---