News > Idaho
Armed presence in North Idaho towns questioned by some politicians, business owners
June 4, 2020 Updated Fri., June 5, 2020 at 8:48 p.m.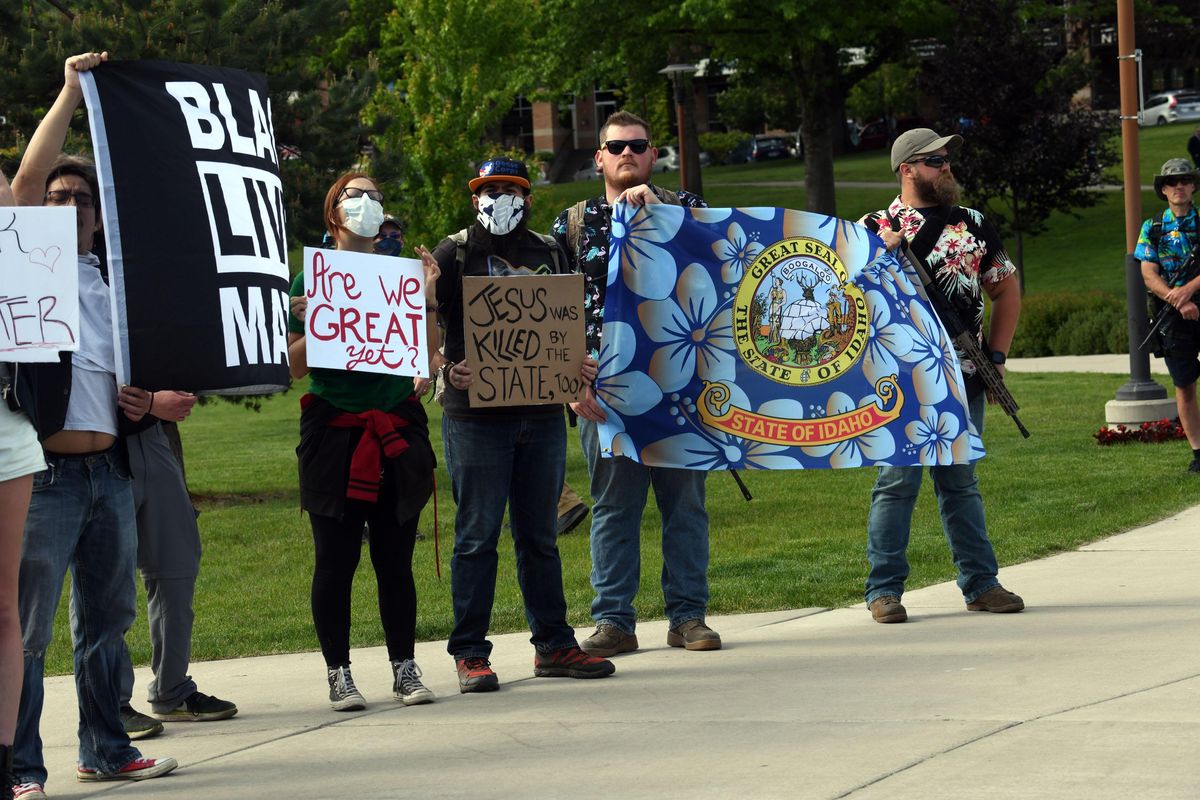 A group of protesters, including armed men in Hawaiian shirts, gather in front of Coeur d'Alene City Hall to protest the killing of George Floyd on Thursday, June 4, 2020. (Kathy Plonka / The Spokesman-Review)
While armed people and protesters concerned about police brutality have peacefully shared the sidewalks of North Idaho towns this week, there have been public rumblings that the situation is concerning visitors and workers just now venturing out as stay-home orders loosen.
"Every person involved with Calypso, their mental health has absolutely tanked since Monday," said RJ Rueber, head roaster and operations manager at Calypso Cafe, a coffeehouse on the western edge of downtown Coeur d'Alene.
Monday was the first night that people carrying rifles and wearing tactical gear began appearing on the streets of Sherman Avenue, an apparent response to debunked rumors that out-of-town agitators were plotting property damage in the city by the lake. Instead, protests in Coeur d'Alene have remained largely peaceful, and those who have taken to the streets have expressed solidarity with those armed.
That's not the case 50 miles to the north in Sandpoint, according to Mayor Shelby Rognstad.
"None of the young protesters I spoke with felt any safer in the presence of these armed vigilantes," Rognstad wrote in a lengthy Facebook post Wednesday evening. "Rather, they felt scared, intimidated and in some cases harassed. None of the downtown business owners I have since spoken to felt any safer from the militant presence."
Rognstad, who has been the target of hateful robocalls in campaign seasons past, could not be reached this week for further comment. In his Facebook post, he noted that many who were protesting were high school students – younger demonstrators who felt intimidated when older gun-carrying people mingled with them.
"Freedom of gun ownership comes with responsibility," Rognstad wrote, after stating that those carrying openly had a constitutional right to do so. "Part of that responsibility is recognizing the impact that carrying a gun has on others. It is intimidating and uncomfortable for most."
Rueber, the coffee shop manager, agreed with Rognstad's message, saying he supported the right to own and carry weapons but their presence downtown had gone too far.
Reuber said Calypso has had to close at 5 each night this week, five hours early, because his customers and employees didn't feel safe downtown. He's also turned off his social media accounts after addressing the armed people in messages Monday night.
"We just finally got to reopen with full capacity," Rueber, who joined the business a year and a half ago, said as he roasted beans in a backroom Friday morning.
Rueber said he approached Coeur d'Alene police about his discomfort with armed people outside his coffee shop earlier this week. He said police told him he looked like the type of person the armed people were concerned about, with long hair, black jeans and a bandana he wears to protect himself and others from the novel coronavirus.
Sgt. Jared Reneau, a spokesman for the Coeur d'Alene Police Department, didn't respond to messages seeking comment on Reuber's account on Friday.
Others in town have praised the peaceful coexistence of protesters and armed onlookers.
Bob Norris, a Republican candidate for Kootenai County sheriff, earlier this week welcomed the presence of armed citizens, saying it made downtown Coeur d'Alene safer.
"They actually were amicable," Norris said. "There were no issues."
Derrell Hartwick, president and chief executive of the Coeur d'Alene Chamber of Commerce, said he hadn't heard of any unease from downtown business owners specifically due to the presence of armed people joining the protesters.
"It maybe gives them a little anxiety, having these crowds," Hartwick said. "Our first responders are doing an excellent job."
There is evidence that messaging on social media, which may have prompted armed community members to show up, was manufactured. Small and midsize communities across the country have seen an uptick in unverified and baseless accounts that organized looters and left-wing agitators were showing up by plane and bus.
In his Facebook post, Rognstad, the Sandpoint mayor, said armed protesters, some with allegiance to extremist militia groups, had been called to appear by a Bonner County commissioner because of a "fictitious threat."
Reneau, the Coeur d'Alene police sergeant, said in an interview Wednesday that rumors of outside agitators were "a little bit difficult to sort through."
"We hear the same things, and there's a lot of information that gets passed to us about the potential for that happening," Reneau said. "But I don't know that, in the last couple days, that we've seen anybody that we could say was part of some sort of extremist group that was coming to agitate any of the protests that we've had in town."
Reneau said he wasn't aware of the existence of Twitter bots – automated accounts that sometimes pose as real people and spread propaganda or fake news – that have peddled myths about agitators in Coeur d'Alene. Several accounts identified by The Spokesman-Review and other reporters have continued posting false claims about antifascist or "antifa" agitators entering the city, even as armed residents acknowledged none were showing up.
"I can't verify that anybody showed up," Reneau said. "All I can tell you is that the people that have been here over the last couple days have been peaceful protests, and we haven't had any issues."
Rueber said he didn't know when the nightly influx of both protesters and armed individuals might end. But he hinted he might get out of town for a few days.
"You can feel it," he said of the tension downtown. "It's rough."
Local journalism is essential.
Give directly to The Spokesman-Review's Northwest Passages community forums series -- which helps to offset the costs of several reporter and editor positions at the newspaper -- by using the easy options below. Gifts processed in this system are not tax deductible, but are predominately used to help meet the local financial requirements needed to receive national matching-grant funds.
Subscribe now to get breaking news alerts in your email inbox
Get breaking news delivered to your inbox as it happens.
---