Sports
A Grip on Sports: Some dates just force you to wade back into the past and reminisce
Thu., June 4, 2020 A GRIP ON SPORTS • Some June dates we notice every year. The 6th, which is Saturday, will always resonate thanks to the sacrifice on the beaches of France. June 19 will be extra special this year. Father's Day, whatever its date, brings tears for many of us. Tomorrow, June 5, has a singular place in my heart – and my stomach. But today hit me out of the blue. June 4. It has been 10 years since John Wooden died.
•••••••
• Sports arguments are pretty easy to start. Do Barry Bonds and Roger Clemens belong in baseball's Hall of Fame? Is Jim Brown the greatest running back in football history? Is Michael Jordan the GOAT? Should the Seahawks have passed on that one play in the Super Bowl?
OK, that last one is pretty stupid. We all know the answer. Taking the "sure" side is just silly. Almost as silly as naming someone other than Wooden when discussing the greatest college basketball coaches of all-time.
Wooden earned that spot in his time at UCLA. Whether you are a numbers guy or an eye-test aficionado, Wooden wins. Ten national titles, seven of them consecutively. Fifteen Pac-12 championships. Four perfect seasons. More than 600 wins. More accolades than any college basketball coach ever.
Heck, he may be, as the Sporting News declared in 2009, the greatest coach of all time, regardless of sport.
We wrote yesterday about the importance of heroes. John Wooden wasn't a hero, precisely, at least not for me. He was, and is, a shining light. He was the reason thousands went into coaching and, once they got there, exhibited some deep-held tenets.
Attention to detail. Strong principles. We over me. The ability to adjust. Many, many other values, all of which seemed to appear on his Pyramid of Success.
Wooden's teams were the best when I was the most susceptible to influence, from grammar school through college. Watching as a nearby bystander, how his Bruins played seemed just about perfect. And, in a lot of ways, still does.
But it was more than that. It is hard to coach talented players in a team game that demands talent as much as basketball does. Convincing stars to dim their wattage a bit for the good of the room was Wooden's brightest light.
He attracted Southern California's best players, peers in some way whose high school exploits I followed and knew intimately. And then he was able to integrate their abilities into a cohesive unit that was more about the team than anything else.
That was his greatest talent.
And it's the goal of every college basketball coach who has ever been one of his acolytes, among them the fellow who leads this area's local squad. If there is any way Mark Few emulates Wooden more than his emphasis on team play, I haven't found it. There are similarities in offensive philosophies and family background, but Few's ability to mesh players, to blend them seamlessly, for the most part (just like Wooden), into the Gonzaga collective, is what stands out.
John Wooden lived to be nearly 100 years old, which is pretty cool in its own right. But you know what's cooler? His legacy will live a lot longer than that.
•••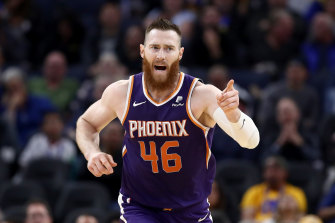 WSU: Around the Pac-12 and college sports, the national dialogue about George Floyd's death, and the death of others in the same manner, continues, including within the college athletic community. One person to speak out yesterday was former Washington State player Aron Baynes. … Washington will pay its assistant football coaches less this season. And a UW basketball coach has apologized. … An Oregon State football player was booted from the team late last night when comments he made in high school appeared online. The Beavers also pared 23 positions in the athletic department yesterday. … No matter what, Oregon's Division I programs are on track to play next season. The governor is guaranteeing it. And she also took a gratuitous swipe at Washington's Division I programs. … Utah's athletic director had some more to say. … UCLA will have a new starter at running back. … An Arizona State punter received a rare waiver from the NCAA and will be back in Tempe next season. … In basketball news, Colorado is focusing on other issues, not hoops. … USC will have five transfers on its roster. … How next season will play out is impossible for Arizona's Sean Miller to predict.
Gonzaga: Few is on board with a suggestion from former University of Portland coach Eric Reveno to give college athletes Election Day off. Jim Meehan has more on the proposal and Few's response. … Jim also has a story on former GU player Demetri Goodson working his way up the administration ladder for the Green Bay Packers.
EWU: The college's budget crunch is leading to huge cuts. With a "severe financial crisis" looming, the school has notified some 400 faculty and staff their positions may disappear. Chad Sokol has this story on an issue that will filter down to the athletic department sooner or later. … Elsewhere in the Big Sky, will Montana State's game at Utah come off Sept. 12? No matter what, the Bobcats won't have their best player. Troy Andersen is out for the season. … Both MSU and Montana are in the preseason top 10. … The newest Weber State basketball player wants to fit in. … Northern Arizona has signed a 6-foot-11 center from Poland. … An Idaho State basketball player had to change wedding plans due to the pandemic. … The Idaho State Journal has a look at how COVID-19 is impacting schools around the conference.
Preps: Track and field is a solitary sport. But that doesn't mean high school athletes don't miss competing for their school's team. Steve Christilaw looks at the lost season just past in this story.
Chiefs: The NHL is pounding out plans to return to play as soon as possible. The league's latest plan intrigues a couple of former Spokane players. Dan Thompson has the story.
Seahawks: Russell Wilson met with the media yesterday. He didn't talk about football. He talked about race relations, deeply and from the heart. … Colin Kaepernick's protests from years past have once again taken a hold of the spotlight, from New Orleans to Seattle. … K.J. Wright spoke out.
Mariners: The players and owners seem to be far apart in their negotiations to return to the field in 2020. The owners rejected the player's 114-game idea and countered with 50 games. At the core, as always, is money.
Sounders: A longtime broadcaster is no longer with the organization.
•••
• If you didn't know, tomorrow is National Donut Day, though I prefer the classical spelling, d-o-u-g-h-n-u-t. The little guys and I have a storied and deep history, one that reaches back into the mists of time. If nothing newsworthy happens today, I may just delve into that history a bit tomorrow. Though I can't figure how I'm going to bring sports into the mix. Until later …
Local journalism is essential.
The journalists of The Spokesman-Review are a part of the community. They live here. They work here. They care. You can help keep local journalism strong right now with your contribution. Thank you.
Subscribe to the sports newsletter
Get the day's top sports headlines and breaking news delivered to your inbox by subscribing here.
---