News > Crime/Public Safety
Records: Deputy who resigned in January found to have had on-duty sexual relations, violated 6 sheriff's office policies
Thu., June 4, 2020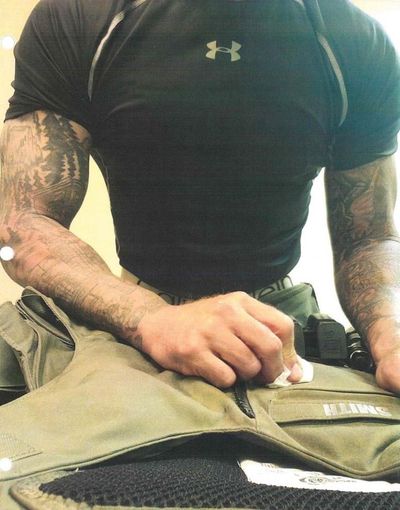 Former Spokane County Sheriff's Deputy Daryl Smith engaged in an extramarital affair with a noncommissioned county employee for years before allegations surfaced that he also engaged in an inappropriate relationship with a domestic violence victim, prompting his resignation from the department.
A Spokane County Sheriff's Office internal affairs investigation, recently obtained by The Spokesman-Review, found Smith violated six policies.
Those policies included having on-duty sexual relations, unbecoming conduct, nepotism, personal use of a communication device while on duty, inappropriate use of sheriff's department vehicles and making false or misleading statements to a supervisor. Smith had been a deputy since 2003.
Smith resigned in January after the sheriff's office found it had just cause to terminate him, just weeks after his adult daughter reported the misconduct to his superior officer.
The county employee declined to comment on the situation, but she cooperated with the internal affairs investigation, telling deputies the pair began their relationship in 2015.
The county employee knew that Smith was married but said he told her he planned to leave his wife, according to investigative records. The county employee described their relationship as "tumultuous and at times controlling on his part," according to her interviews with investigators. At one point, the county employee changed her phone number because Smith didn't want her to have any phone numbers other than his.
Both Smith and the county employee said they did not have sex while Smith was on duty, but Smith used his work phone to communicate with her.
Smith texted the county employee on his work phone using the app Wickr, which encrypts messages and phone calls and deletes messages after a period of time.
The relationship ended in 2018 because Smith didn't leave his wife and the county employee said she felt guilty about the situation.
On Sept. 12, 2018, Smith responded to a domestic violence call where he gave the female victim his work cellphone number. The interaction was "mostly just information seeking" and there was no crime committed, according to Smith's recounting of the incident.
Smith denies having any type of relationship with the domestic violence victim outside of a professional context. The domestic violence victim declined to participate in the sheriff's office's internal affairs investigation.
In June 2019, Smith called the county employee, in what she described to investigators as a panic, and said the husband from the domestic violence call had confronted him at a gas station about Smith having a relationship with his wife.
Around that same time, sheriff's office Public Information Officer Mark Gregory called Smith and told him a man had posted on the sheriff's office Facebook page about him.
The post was made after the husband saw Smith at a gas station. In the Facebook post, the woman's husband wrote, "He looked really familiar because I had seen his picture in my wife's messages trying to get her to hook up with him. She told me this guy won't leave her alone and that he's been married for 24 years … cheated on his wife several times. Forget my wife…SMITH…you're a snake …"
Gregory removed the post from Facebook and filed a report.
A few months later, in November, the county employee messaged the domestic violence victim and they talked on the phone. The victim told the county employee that she had met up with Smith several times while he was on duty.
When the county employee confronted Smith about his relationship with the domestic violence victim, Smith begged her not to tell the sheriff's office about the contact, internal affairs records show.
He then threatened the county employee, saying both her custody arrangement with her ex-husband and her job would be in jeopardy if the allegations became public, the county employee told investigators.
In December 2019, the county employee told Smith's family of not only their affair but also his contact with the domestic violence victim. Smith's daughter, Taylor Smith, is also a Spokane County sheriff's deputy.
Smith's soon-to-be ex-wife declined to comment on the results of the investigation but emphasized that her daughter, Taylor, serves the community with honor.
Deputy Taylor Smith did not immediately respond to requests for comment.
The next day, one of Smith's other adult daughters reported what the county employee said to Sgt. Bill Beeman. An administrative investigation was initiated, and Smith was immediately put on administrative leave.
Smith's daughter later tried to retract her statement, but Smith had already been put on leave.
She also declined to comment to The Spokesman-Review on the findings of the investigation.
After interviews with the county employee, Smith's family members and the husband of the domestic violence victim, the sheriff's office found cause to terminate Smith's employment.
Smith resigned in lieu of termination before he was interviewed for the internal affairs investigation.
He did write a letter in response to the results of the internal affairs investigation in which he addressed an "off-duty issue" where the husband of a third woman confronted Smith about texting his wife in regards to a women's self-defense class Smith taught at Spokane Fitness Center North.
Smith denied anything inappropriate occurred in that instance as well.
The sheriff's office said more records from the internal affairs investigation will be released later this summer.
Local journalism is essential.
Give directly to The Spokesman-Review's Northwest Passages community forums series -- which helps to offset the costs of several reporter and editor positions at the newspaper -- by using the easy options below. Gifts processed in this system are not tax deductible, but are predominately used to help meet the local financial requirements needed to receive national matching-grant funds.
Subscribe to the Coronavirus newsletter
Get the day's latest Coronavirus news delivered to your inbox by subscribing to our newsletter.
---