Sports
A Grip on Sports: A box and one? It's not just a basketball term. It's also how many doughnuts should disappear in each sitting
Fri., June 5, 2020 A GRIP ON SPORTS • I love doughnuts. I also hate doughnuts. The main reason the middle of my body has the same basic shape as a doughnut is doughnuts. To paraphrase noted philosopher Homer Simpson, there is, truly, nothing those little guys can't do.
•••••••
• Image a little person in a white apron covered in flour on one side of my head this morning. She's whispering in my right ear. "No, Vince, don't eat that third doughnut. Leave it for someone else. Besides, you don't need another doughnut." On my left shoulder is another baker in a red apron, holding a small pitchfork with three doughnuts skewered on the tines. "It's only National Donut Day once a year," he whispers. "Eat them. Eat them all. If the rest of the family wants donuts, they can buy their own."
Talk about competition.
Today, as you know if you read this column on a regular, or semi-regular, basis, is one of my favorite holidays. OK, not a holiday but culinary remembrance day.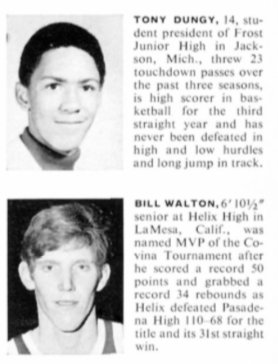 Doughnuts and I go almost as far back as newspapers and I. Even before I had my driver's license, early Sunday mornings at Winchell's were as important as any part of my week.
My first trip was with my dad, I'm sure, who took me after a long night of helping him deliver the Los Angeles Times to people's driveways. But my first true visit, with my peers, was courtesy of Tommy Edwards. He was the local high school student that led the first trio of guys tying the Sunday paper I was a part of.
Tommy was the starting center on the Pasadena High basketball team. At 6-foot-3, his most memorable game came against Helix High and some guy named Bill Walton. Yep, Walton was better. His performance that night put his picture in Sports Illustrated for the first time. Here's the Faces In The Crowd quote:
"Bill Walton, 6'10½" senior at Helix High in LaMesa, Calif., was named MVP of the Covina Tournament after he scored a record 50 points and grabbed a record 34 rebounds as Helix defeated Pasadena High 110-68 for the title and its 31st straight win."
The next morning, Tommy was driving me to the Winchell's and raving about this big redhead.
Anyhow, doughnuts were always a part of me. Some of my favorite memories revolve around Sunday mornings with my best friend Kent, after we had worked our noses off for a few hours, waiting for the grease bars to come out of the fryer.
But this is no star-crossed lovers story. It has only grown stronger over the years. If there hadn't been Winchell's in Spokane when I was offered a job in late 1982, I wouldn't be here today. How was I to know the franchise would leave before I could move here?
Since then, Spokane has always seemed a bit of a doughnut desert. Sure, there are a few small, tasty shops around. But not nearly enough for a city our size. And how can an area as affluent at Spokane's South Hill have to rely on supermarkets to fill its doughnut needs? C'mon now.
Heck, the town next to the one I grew up in, Pasadena, has at least 16 doughnut shops. And a population two-thirds of Spokane's. There are not even that many doughnut shops in all of Spokane County. Maybe not in Spokane and Kootenai counties.
In the final few years of my full-time career with the S-R, I was given the great opportunity to cover Washington State football and basketball. I was blessed. Want to know why? The travel. Up and down the West Coast, occasionally around the country.
And you want to know the first thing I would do when I got to my hotel? Search for doughnut shops nearby.
Each morning I would try a new one until I found one that was perfect. From Salem, Oregon to Newark, New Jersey, finding the perfect doughnut was always on my list.
It never happened. Mainly because the perfect doughnut probably doesn't exist. But I'm still looking. And that little guy on my left shoulder? He can go back to Hades. That last crumb in the box is mine.
•••
WSU: It's almost time. Morgan Weaver's time. The NWSL is about to start and Weaver, the league's second draft pick, is ready to suit up for the Portland Thorns. Ryan Collingwood has more on how the Washington State All-American has been preparing through the pandemic. … With the protests around the nation, many college athletes have been empowered to speak their mind concerning such things. One of these is WSU basketball player Jaylen Shead, a one-year transfer from Texas State. Theo Lawson has a story on Shead's tweets yesterday, detailing the guard's comments he "could not turn away from the many racially insensitive things" in a previous collegiate stop. … Elsewhere in the Pac-12 and college sports, there doesn't seem to be an end to those athletes who want to speak out about racial divisions in this nation. … Aron Baynes explained why he spoke out the way he did. … Oregon State is downsizing its athletic department. That's an upsized challenge. … One of the Beaver players is on the Lott watch list. So is an Oregon player. … It's going to take every tool in the box to prepare for Utah's football season. … UCLA has some needs at the receiving spots. … In basketball news, the Oregon women have added another tall, inside player. … A lot has changed since the last time basketball players were on campus.
Gonzaga: The deadline for the GU trio, and WSU's CJ Elleby, to decide on the NBA draft, just got further into the future. The NBA yesterday moved the draft to October and its deadline day to August. Jim Meehan has more in this story. … Those former Gonzaga players already in the NBA? They can't wait for the season to start again. Jim has that story as well.
EWU: Larry Weir's latest Press Box podcast features an interview with Eagles basketball coach Shantay Legans.
Seahawks: There were no team meetings yesterday. Instead, the Hawks watched the memorial for George Floyd. … As soon as Washington will allow it, Pete Carroll and the Hawk coaches will be back in their offices.
Mariners: The M's will have a different person taking care of the T-Mobile grass soon. The man in charge has retired.
•••       
• Here's a little doughnut hole-sized piece of trivia for you. Winchell's Donut House was founded in Temple City (just down the road from where I grew up) on my birthday eight years before I was born. I was fated to be a doughnut aficionado coming into the world. Until later …
Local journalism is essential.
Give directly to The Spokesman-Review's Northwest Passages community forums series -- which helps to offset the costs of several reporter and editor positions at the newspaper -- by using the easy options below. Gifts processed in this system are not tax deductible, but are predominately used to help meet the local financial requirements needed to receive national matching-grant funds.
Subscribe to the sports newsletter
Get the day's top sports headlines and breaking news delivered to your inbox by subscribing here.
---