News > Spokane
100 years ago in Spokane: 'Bing' Crosby slated to speak at Gonzaga high school's graduation
Sun., June 7, 2020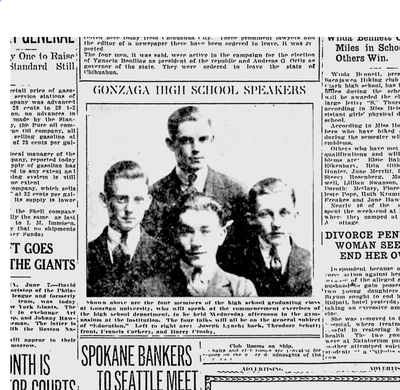 The Spokane Daily Chronicle ran a photo of four members of Gonzaga University's high school class, slated to speak at the high school's commencement ceremony.
One of the four faces would later become familiar to millions: Harry Crosby, aka Harry Lillis "Bing" Crosby.
The four talks would be "on the general subject of education."
From the presidential beat: The Spokesman-Review continued to insist that Spokane's favorite son, Sen. Miles Poindexter, was gaining momentum at the Republican national convention in Chicago.
Sen. Poindexter spent the day closeted in his room and meeting with Eastern and Southern politicians who were interested in finding a compromise candidate for what appeared to be a deadlocked convention.
From the obituary beat: Elvin "Buy Gum" Wilson, 59, a familiar sight on Spokane streets for many years, died at Sacred Heart Hospital after he was found collapsed at his store.
He sold gum from his wheelchair for years and later had a small storefront shop. His sign said, "Buy Gum, By Gum!" He was also known as "Dad" Wilson.
"While Mr. Wilson left no relatives in Spokane, everyone knew him and admired him for his cheerfulness," said a front page story in The Spokesman-Review.
Also on this date
(From the Associated Press)
1776: Richard Henry Lee of Virginia offered a resolution to the Continental Congress stating "That these United Colonies are, and of right ought to be, free and independent States."
Local journalism is essential.
Give directly to The Spokesman-Review's Northwest Passages community forums series -- which helps to offset the costs of several reporter and editor positions at the newspaper -- by using the easy options below. Gifts processed in this system are not tax deductible, but are predominately used to help meet the local financial requirements needed to receive national matching-grant funds.
Subscribe to the Coronavirus newsletter
Get the day's latest Coronavirus news delivered to your inbox by subscribing to our newsletter.
---