News > Education
Northwest Christian grad Tanner Noller comfortable behind the lens
Sun., June 7, 2020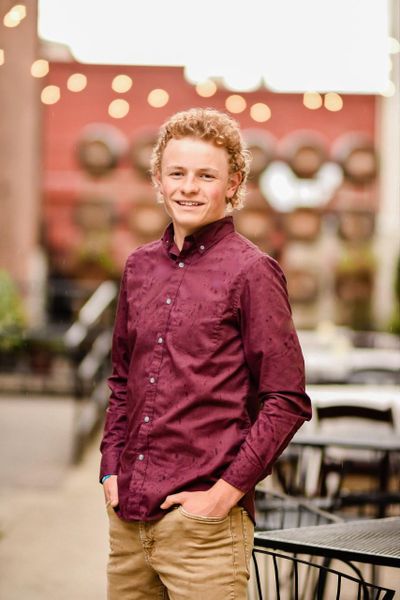 Tanner Noller is a self-described introvert, someone who enjoys doing things by himself and not one to seek the spotlight for himself.
And yet, he is very happy to shine a spotlight on others, especially at Northwest Christian School, where he is worship team leader and a graduating senior. Through his primarily self-taught abilities in videography, he has produced all sorts of videos for the school – on subjects from sports to a father-daughter dance, the headmaster's retirement to recruitment.
"He does beautiful videography about so many events here," said Laura West, ASB adviser and Spanish teacher at Northwest Christian. "Things that would cost us thousands, he produces for us, giving his heart completely to everything he does. He is a unique individual who tends to fly under the radar."
Noller's early days capturing images began when he was 8 and an uncle, who lives back East and is a former filmmaker with National Geographic, showed him how to make simple stop-action pictures. When he was 9, he began making little action films using a tripod, in which he did all the acting. That morphed into videography, and it has only grown from there, using the equipment he's assembled over the years for all of the production, editing, scoring and other work.
He and younger sister Chloe live at home with their parents Kendal and Christy Noller near Mt. Spokane. Older siblings Alex and Katie were adopted into the family from Russia when he was an infant. The family camps and hikes, goes kayaking and enjoys all sorts of outdoors activities.
"There's a book about the 50 highest peaks to hike in Eastern Washington," Noller said. "Every year we try to knock off a few."
The family also did a church-sponsored mission to Guatemala a few years ago, where they built houses and helped at schools.
And even though he's participated in cross country and track at school, his interests have mostly centered on videography. He also does some freelance work in that field.
"I like to tell stories that way," he said, "going for cinematic values, being serious, focusing on the beauty if I can." He cites a recent video about colorful autumn leaves falling before the end of winter, with the final leaf hitting the ground and landing on snow.
After graduation, Noller plans to move to Virginia and work in his uncle's videography business while also taking online college classes in marketing and business.
He has overcome some obstacles to get where he is today, including some health concerns when he was younger, and then learning four or five years ago that he has retinitis pigmentosa, a hereditary eye disease that, as he describes it, is slowly eating away his vision.
There is no cure, but he has been traveling to New Jersey every six months for acupuncture treatments, which have been helping. Blindness is not certain, but it is possible.
"This has made me quite aware that some things are temporary," he said. "But I trust God has a plan for my life, so I am not worried."
Local journalism is essential.
Give directly to The Spokesman-Review's Northwest Passages community forums series -- which helps to offset the costs of several reporter and editor positions at the newspaper -- by using the easy options below. Gifts processed in this system are not tax deductible, but are predominately used to help meet the local financial requirements needed to receive national matching-grant funds.
Subscribe now to get breaking news alerts in your email inbox
Get breaking news delivered to your inbox as it happens.
---