News > Education
Philip Croft trusts faith, positive attitude to overcome adversity
Sun., June 7, 2020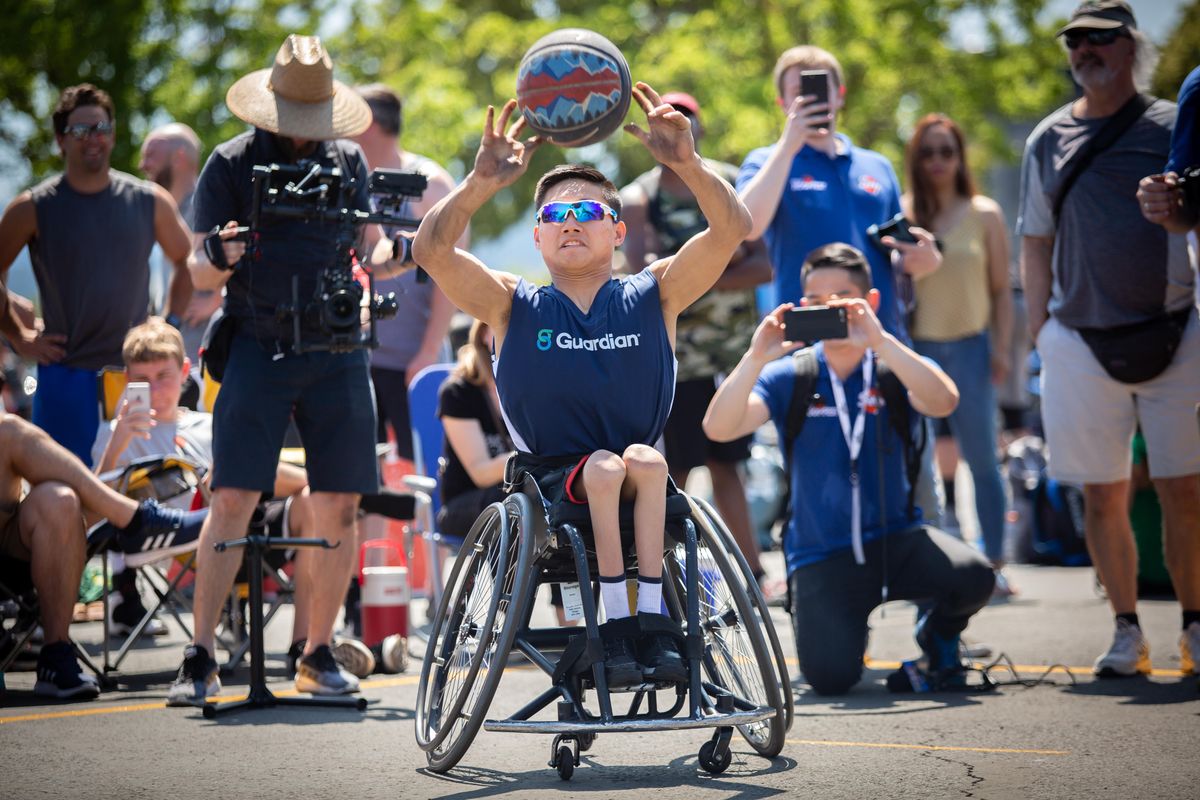 Phillip Croft plays a game of H-O-R-S-E against NBA veteran guard and Tacoma native Isaiah Thomas (not pictured) during Hoopfest in June 2019. Croft, a co-valedictorian of the Valley Christian School Class of 2020, is a United States Paralympic athlete. He has won multiple silver medals. (Libby Kamrowski / The Spokesman-Review)
After six major surgeries – including one that left him bed-ridden for a year – and an adoption that moved him from his native China to the United States at age 12, Phillip Croft, a senior at Valley Christian School, has been through multiple lifetimes of roadblocks.
Croft was born with a teratoma in his spine, which is a germ cell tumor that may contain several types of body tissue, such as hair, muscle and bones.
The formation of the benign tumor in his spine resulted in no feeling below his waist. It is rare and requires surgery. The doctors in China determined his surgery wasn't critical, opting to work on ailments that would shorten the life of another child, such as heart abnormalities.
It wasn't until 2007, when Croft was 8, that 50% of the tumor was removed. The other 50% was removed a year later.
But that does not define who Croft is, nor does he allow the roadblocks, or just mental thoughts, as he calls them, to slow him down.
Croft, unable to walk his entire life, has a laundry list of accolades and accomplishments.
He is on the United States Paralympic team, where he has won multiple silver medals. He is a valedictorian, was voted ASB President and is a certified scuba diver.
All of those, on top of his lively and positive attitude, earned him a full-ride scholarship to the University of Illinois
"Just having God there with me to know that anything is possible," Croft said. "And he has shown me that by giving me a family that I was asking for for 12 years, well, at least since) I was introduced to God in the orphanage."
He allows positive thoughts to overwhelm him, focusing on the things that give him happiness rather than feeling sorry for himself.
"Your perspective is everything," he said. "You can see the negative, but hopefully you could see the positive out of it."
He used a scenario to explain what he means, likening it to a minor crash in a brand-new car.
"You still have a family, go to talk to friends and go hang out with people," he said. "It's that perspective. You're able to see the positive even though you're in a negative situation."
And Croft, who spent almost the first 12 years of his life in an orphanage, appreciates the opportunities he has been granted since he came to the U.S., one of which was discovering ParaSport Spokane and meeting Executive Director Teresa Skinner, who introduced him to basketball and track and field.
Before ParaSport Spokane, Croft struggled with the image of being in a wheelchair and having the confidence to break free of those mental and physical constraints.
"For me, being in an orphanage, being in a wheelchair and seeing kids walk around (was tough). And then I wanted to go to the United States to go to school, but I'm still in a wheelchair, still able to see kids run around. I was never confident in that. You know you're different, and everybody looks at you differently because you stand out from the crowd. I think that is something I was never able to accept."
But ParaSport Spokane helped sow a seed of confidence to lead a positive and independent lifestyle.
"What ParaSport gave me was value, like I am valued and important in life, and they showed me things I could do independently," he said.
Croft doesn't want the focus to be on him, but on the people who have been introduced to his life.
"At the end of the day, your relationships with other people are more important," Croft said. "I think that's one of those things that I really believe in, is people that God put in your life, they all have an impact, they are meant to help you, and grow you and help you to live your life to the fullest."
One of those people is his mom, Joni, who first met Philip with her son, Kyle, during a mission trip to China.
"I think he is an amazing kid, and I think God saw him in an orphanage in China and had a plan for him," she said. "I think he is going to do amazing things and he knows no strangers.
"He loves people."
Local journalism is essential.
Give directly to The Spokesman-Review's Northwest Passages community forums series -- which helps to offset the costs of several reporter and editor positions at the newspaper -- by using the easy options below. Gifts processed in this system are not tax deductible, but are predominately used to help meet the local financial requirements needed to receive national matching-grant funds.
Subscribe now to get breaking news alerts in your email inbox
Get breaking news delivered to your inbox as it happens.
---