News > Education
Powerlifting and opera: North Idaho Christian grad Eliza Britt thrives with eclectic interests
Sun., June 7, 2020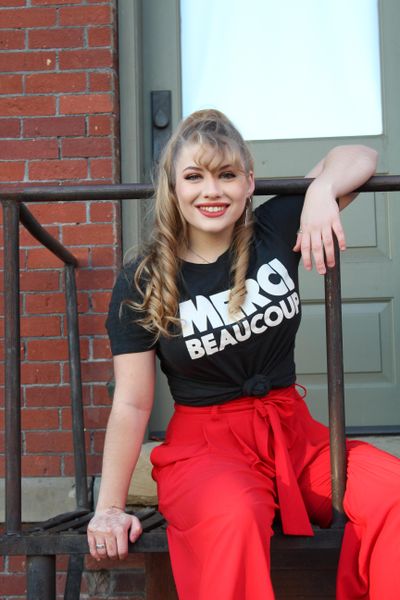 When Eliza Britt auditioned for a music scholarship at Whitworth College, she performed Puccini's "O Mio Babbino Caro." When not singing operatic works, she can likely be found participating in extreme weightlifting competitions.
"Yes, I know, opera and powerlifting are a pretty unique combination," said the 17-year-old, who is graduating from North Idaho Christian School in Coeur d'Alene this spring.
As for the scholarship to Whitworth, she got it. As for the regional powerlifting competitions, her automobile dead-lifts earned her two second-place finishes in the women's division and one first-place team win.
These varied activities, as are true for others in her life, stem from family involvement. Her older brother and father, both of whom she describes as "big guys with big shoulders," began entering strongman competitions, so the 5-foot-2-inch Britt decided that was for her, too. "I'm pretty unassuming looking as far as weight-lifting goes," she commented.
She plays musical instruments and has taken vocal lessons for years, including classical training, and so, when her brother began singing opera, she took notice and took a shine to it as well.
Britt largely grew up in her native California, but at age 14, moved to Coeur d'Alene, where the family had vacationed and fallen in love with the area. Her father David Britt retired as deputy police chief in Chico, California, and is now a regional sales manager for an alcohol monitor company. Mother Anna is a stay-at-home mom; brother Hunter, 19, is a student at Whitworth; and sister Emma Lin, 15, attends North Idaho Christian. They live on 17 acres and have two horses, a different life than they had in California.
There were things to overcome when the family moved. Britt had to adjust to the location change, make new friends, switch schools even after she got to Idaho and was then hospitalized, not for the first time, with internal bleeding issues halfway through her sophomore year. In addition, she was born with Meckel's diverticulum, an intestinal issue, and also has dyslexia and dysphagia, which make spelling and reading hard for her.
Even so, she's learned to work through the learning issues, memorizing words by picturing how they are shaped. "Needless to say, spelling bees are out of the question," she said, noting the irony that English is her favorite subject. "I've been pretty lucky that this has not hindered learning all that much."
When still in California, she fell off a horse and sustained a concussion and was nervous about riding again. But she did, with trepidation. Her riding instructor told her to "fake it until you make it," a philosophy about confidence she has embraced ever since.
"You can pursue something even if you don't have confidence, and in doing that, you will gain confidence in yourself," Britt said, confessing that she is quite allergic to horses and has to "take tons of medicines in order to ride."
She writes for her school's blog and also participates in worship team at North Idaho Christian. She is involved in the child care program at her church and spends time painting, playing musical instruments and studying languages. She learned German from her German-born mother and also made herself familiar with Mandarin Chinese, Korean and Russian.
"I'm not really fluent in many of them, and am mostly interested in the history and grammar of the languages – the reading and writing, rather than the speaking," she said. She also took a college course last summer in England and had an eye-opening realization about how much history is imbued in the architecture of old buildings.
Her family remains hugely important to her. "We're all incredibly close and all get along. Movie nights, card games and evening bonfires are a big thing for us."
This fall she'll join her brother at Whitworth, where she hopes to major in psychology and linguistics, with a minor in music.
She's going in with confidence.
Local journalism is essential.
Give directly to The Spokesman-Review's Northwest Passages community forums series -- which helps to offset the costs of several reporter and editor positions at the newspaper -- by using the easy options below. Gifts processed in this system are not tax deductible, but are predominately used to help meet the local financial requirements needed to receive national matching-grant funds.
Subscribe now to get breaking news alerts in your email inbox
Get breaking news delivered to your inbox as it happens.
---