Yoga at Riverfront Park sets intention for afternoon protests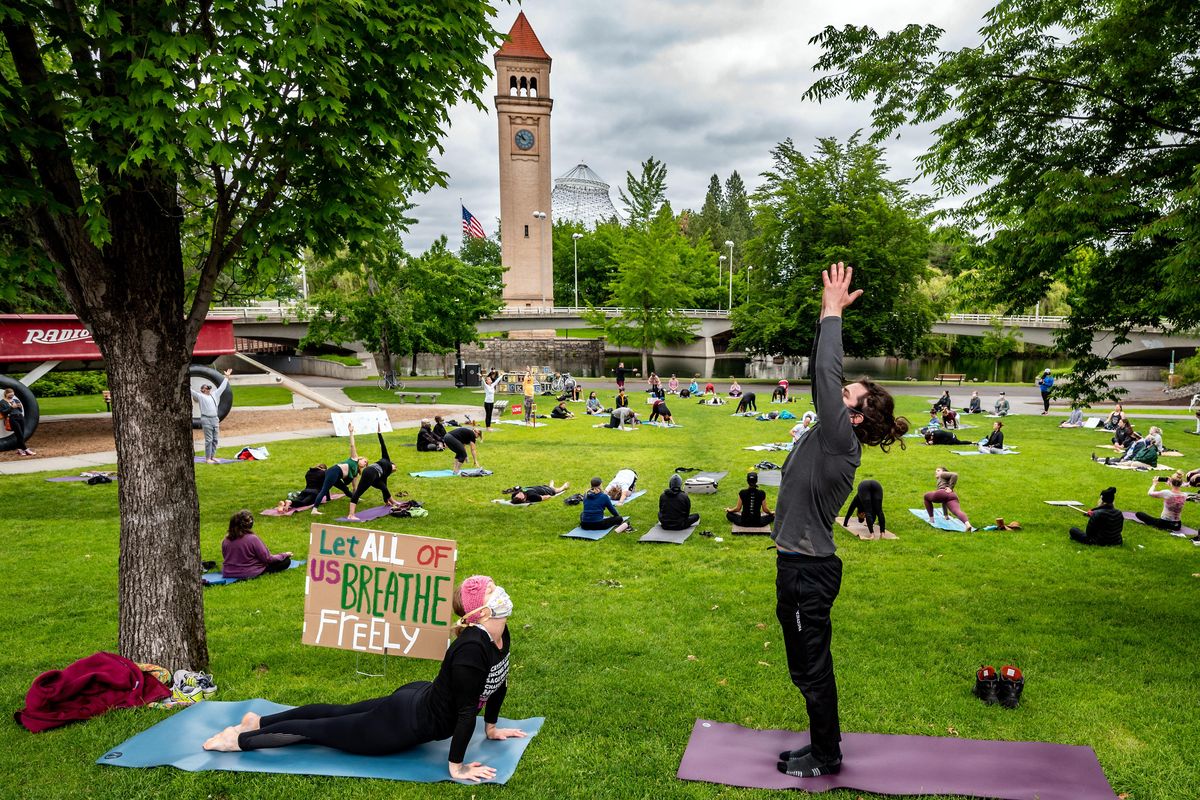 Yoga mats dotted the grass in front of the Red Wagon on Sunday morning. Some had Black Lives Matter signs stuck in the dirt next to them as practitioners did sun salutations.
The Black Lives Matter protest started hours later, also in Riverfront Park.
Yoga teacher Stefani Van Deest felt an urge to keep moving during last Sunday's protest after people came to a halt in front of the Spokane County Courthouse.
"It was really beautiful, and that's what kind of incited this for me," Van Deest said. "I wanted to keep moving my body.
"I kind of had just a call to come out and do this moving meditation."
She posted an invitation to fellow yoga teachers and those who practice yoga on Facebook a few days ago. About 100 people showed up at 10:30 a.m. Sunday to set a peaceful intention for a day of upcoming protest against police brutality after the death of George Floyd on May 25.
Van Deest wrote the names of more than 100 people who died at the hands of police officers on a white leotard to wear for Sunday's practice.
"Every person written on this leotard, I actually said their names out loud as I wrote them," she said through tears.
The yoga practice was free-flowing, but also silent as a symbol of listening, Van Deest said.
She said the goal of the gathering was "racial equality" and a chance to connect as human beings.
Some did sun salutations. Others simply sat and practiced their breathing.
Megan Robison teaches at Spokane's Harmony Yoga and saw the event in a Facebook group for yoga teachers.
"It's just a way to peacefully show up," Robison said. "It's time for change in the way that we feel unified, and in the way that we are unified."
Jonas Hawk, who attended with Robison, said he feels that police have too much on their plate.
Police are often expected to help with drug addiction, mental health issues, intervene in domestic situations and the list goes on, Hawk said.
"You can't solve social issues with a gun and handcuffs, and that's all they're given," he said.
Robison said while many people are most familiar with the physical practice of yoga, there are spiritual aspects as well.
By coming out in a public way, Robison hoped to "teach people what yoga is about – which is compassion."
---