Sports
A Grip on Sports: When your best non-human friend leaves, the memories remain
Wed., June 10, 2020 A GRIP ON SPORTS • Sorry, but today's column is going to get a little personal. And have only the slightest intersection with sports. But it's important, at least to my family and, hopefully, to those of you with furry friends at home.
•••••••
• It seems strange to be sitting here, writing. A little lonely, actually.
My faithful companion, who has been at my side – right behind me on his bed on the floor – just about every day since this feature began almost nine years ago, is not there.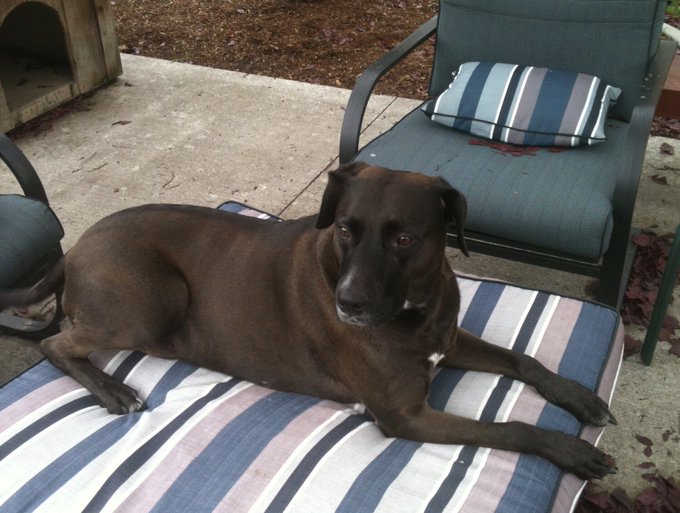 Our dog Yogi, the black lab/who-knows-what mix that has been with our family for 15 years, passed yesterday. Pardon a little indulgence here, but that old dog was the best friend an old man could have had.
See, when I retired from the S-R, and moved back to Spokane full-time, Yogi was the big dog in the house. The alpha. He had spent the past five years looking over our family, taking Kim on walks, racing a skateboard-riding Jack around Spokane's hills, comforting Tyler when needed.
And here comes the old man back to disrupt it all. No problem. Yogi's response was perfect. "I remember your smell. You seem nice. I will love you." Or that's how it seemed.
He became my shadow.
There's a line in the Bible about "whither thou goest" that described Yogi perfectly. If I was outside weeding the yard, there was Yogi, always ready to point out any offending dandelion. If I was sitting at the dinner table, scarfing down lunch, there was Yogi, always ready to clean up my spills. But most importantly, while I sat at my desk writing nearly every morning, there was Yogi on his dog bed behind me, always willing to encourage me to use the active voice, damn it.
He was my companion. And more than that. To be honest, the past eight-plus years, I've talked more with Yogi than anyone in the world. He always understood. And had great advice. His calm demeanor calmed me. His active nature made me lively. His unconditional love no matter what made me want to be better.
I know. It's silly. My dad would be giving me one of his looks right now. It's just a dog, damn it. But when a living being has been in your life as long as Yogi has – my youngest son, Jack, was a junior in high school when he brought Yogi back from the pound, stealing him from death's door and into our hearts – it becomes more than just a dog. It becomes a part of the family, or pack, depending on which side of the canine divide you live on.   
Yesterday Yogi got out of bed, as per usual, and headed for his spot on the dog bed in the office. He barely made it. Something went haywire inside and he couldn't use his front right leg. He plopped in the bed and never left.
We knew it was coming. Yogi had been living on interest for a couple years.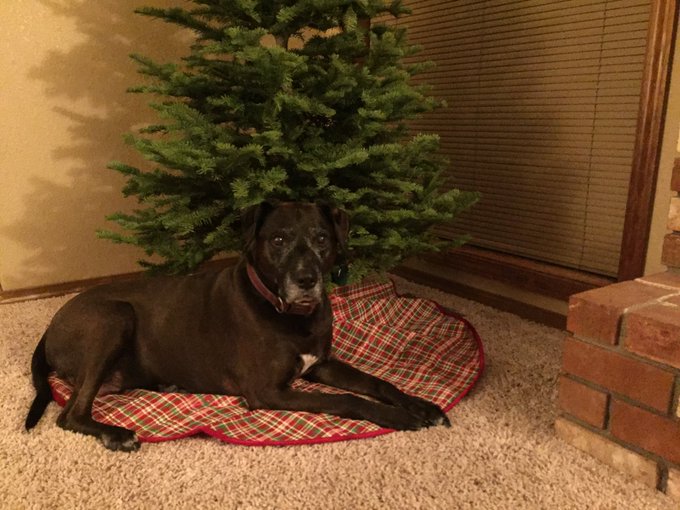 As far as we know, Yogi was two when we got him, a dog considered too rambunctious for the people who returned him the pound.  Rambunctious was just what Jack needed in a dog at that time. A dog to be his companion as he raced around Spokane on his longboard. A dog to stick his head out the car window, biting the wind Jack loved to have blowing in his face. The Black Demon Jack's friend called him, and if you ever watched him run after his boy, you understood why.
But boys grow up, leave home, get married. Yogi wasn't making that ride. The final half of Yogi's journey was fated to be with me. How lucky is that – for me?
Actually, when it comes to dogs, I've been lucky in my life. Over the years I have been friends with many – Stanley was our first child, in a way, and I spent hours preparing our home in Fullerton for her arrival – all of whom held special places in our hearts. But there is one given every dog person knows: Someday you are going to have to say goodbye. With Yogi, that day was yesterday.
As I said, it's been a long time coming. Our house has become a series of complicated stair workarounds and paw-friendly area rugs just so Yogi could navigate his way around.
The hope last spring was to get him through summer. He made it. The hope last summer was to get him through fall. He made it. The hope last fall was to have him welcome 2020. He made that too. He made it despite hips that were failing, eyesight that was just a dream and hearing that seemed to only work when I opened a new box of Cheez-Its (or, as Jack called them, "Yogi snacks").
He didn't make it to another summer, try as we – and he – might.
There are so many things I'll miss. Taking a break from writing, swiveling in this chair, coffee cup in hand and saying, "I need more coffee, Yog, want to come?" Or walking a loop in the house that took me by his bed every 100 steps or so, occasionally reversing direction just to see his surprise as I appear from behind the wrong wall. Or watching him sleep on another dog bed in front of the TV, camping out as soon as we sat down to watch a game or a show or a movie, all the while snoring just loudly enough to force an addition of a couple more notches on the volume.
These are not universal memories, I'm sure, but the feeling of loss is.
As you get older, loss becomes more and more of an acquaintance. Not a friend, no, but a fellow traveler. And, like someone you know and want to avoid, you learn little workarounds. Yogi's passing was not a shock. We – and by that I include Yogi as well – could see death coming.
Part of being human is to understand death comes not just to take life but to try to steal love as well. I made a pact with Yogi a while back. Death would take him. It was inevitable. We would meet it together. But it wasn't leaving here with his love. That was going to remain. And it has.
It permeates our home. It has seeped into the woodwork and the carpet, into the couch and the rugs. Most importantly, however, it has seeped into our heart. There it stays. It will never leave. That's the promise I made to him. It's one I intend to keep.
But there is one thing I can't keep from anyone. I miss my friend. Deeply.
Goodbye Yogi.
•••
Gonzaga: If a Catholic university teaches anything, it should teach social consciousness. It seems GU is doing a good job of that, if its basketball players are any measure. Jim Meehan has a story today on past, present and future Zags doing what they can in the recent civil rights movement. … Jim also has a story on recruiting, which seems to be going well.
WSU: I had a weird dream last night. In it, everyone who showed me kindness were Washington State alums. If I had experienced the dream a day before, I probably would have shared it with Larry Weir on the latest Press Box pod. After all, we talked about everything else. … Around the Pac-12, the move to give athletes Election Day off is gaining momentum in the conference. … Which new Huskies will make the biggest impact? … Utah defensive coordinator Morgan Scalley has been suspended for including a racial slur in a 2013 text message. That incident surprises most of his former players. … USC coach Clay Helton is encouraging his players to share their voice. … Karl Dorrell was slightly surprised by how much Colorado has in the way of momentum. … It looks as if USC and Reggie Bush are going to reunite. How will that go? … In basketball news, Oregon will face Iowa State for the first time this season.
EWU: Former Eastern wide receiver Kendrick Bourne, now with the 49ers, spoke at a recent Black Lives Matter rally in the Bay Area.
Seahawks: The Hawks are making hires everywhere. But of their newest on-field additions, which ones are the most important?
Mariners: Baseball's most recent labor brawl isn't doing the game any good, that's for sure. … The draft begins today. An Arizona State player is expected to be the first pick. The M's will have six choices.
Tennis: Thought this was interesting. Virus or not, Roger Federer is not playing again this year.
•••       
• Dogs, huh? When they are pups, they never stop moving, disrupting every aspect of your life. When they are old, they never move at all – and still disrupt every aspect of your life. I wouldn't have it any other way. Thanks for indulging me today. By the way, there isn't a picture of Yogi in the paper's system, so I decided to use one that just might entice you to go adopt a furry friend. Hope it works. Until later …
Local journalism is essential.
Give directly to The Spokesman-Review's Northwest Passages community forums series -- which helps to offset the costs of several reporter and editor positions at the newspaper -- by using the easy options below. Gifts processed in this system are not tax deductible, but are predominately used to help meet the local financial requirements needed to receive national matching-grant funds.
Subscribe to the sports newsletter
Get the day's top sports headlines and breaking news delivered to your inbox by subscribing here.
---