News > Spokane
100 years ago in Spokane: Senator from city formally nominated for president
Thu., June 11, 2020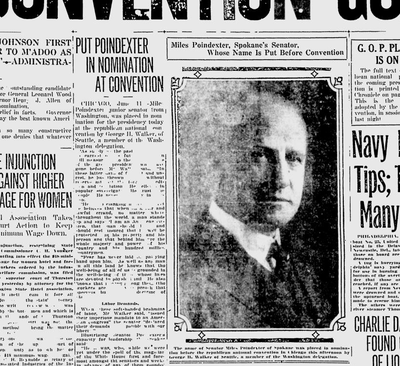 The name of Spokane's "favorite son," Sen. Miles Poindexter, was formally placed in nomination for the presidency at the Republican Convention in Chicago.
George H. Walker of Seattle, a member of the Washington delegation, gave a speech in which he said "this man will measure up to the performances of the great presidents who have gone before."
"In these latter days of ferment and unrest, he has thrown himself without reserve athwart the forces of sedition and revolution," Walker said. "He believes in popular sovereignty. He trusts the people. He never moves by indirection. … Fear has never laid its palsying hand upon him."
When the "soft-handed brahmins of labor … issued their imperious mandate to an American Congress," Poindexter "declared their demands incompatible with our liberty."
It appeared as though the Washington delegation was holding steady in its determination to cast all of its votes for Sen. Poindexter on the first ballot – but it had only 14 votes.
Many other candidates had far more votes locked up. The leading candidates had hundreds. The Associated Press account of the day's proceedings didn't mention Poindexter at all.
Still, this was clearly a proud moment for Spokane. The Spokane Daily Chronicle put Poindexter's framed photo on the front page.
Also on this date
(From the Associated Press)
1770: Captain James Cook, commander of the British ship Endeavour, "discovered" the Great Barrier Reef off Australia by running onto it.
Local journalism is essential.
Give directly to The Spokesman-Review's Northwest Passages community forums series -- which helps to offset the costs of several reporter and editor positions at the newspaper -- by using the easy options below. Gifts processed in this system are not tax deductible, but are predominately used to help meet the local financial requirements needed to receive national matching-grant funds.
Subscribe to the Coronavirus newsletter
Get the day's latest Coronavirus news delivered to your inbox by subscribing to our newsletter.
---