News
Plan to make children wear masks clouds back-to-school plan
UPDATED: Thu., July 16, 2020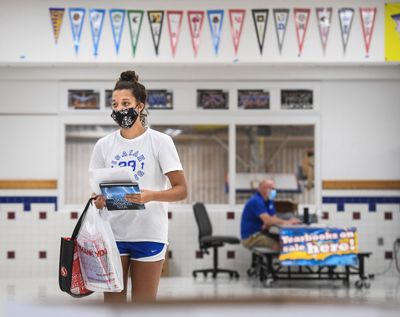 Plans for face-to-face school this fall may well depend on whether those faces are kept at a distance and covered by a mask.
State Superintendent Chris Reykdal announced Thursday that he expects schools to reopen this fall – provided teachers and students practice good hygiene, keep their distance from each other and always wear a mask.
That's expecting too much, many parents said on social media even as Reykdal unveiled his plan to bring Washington schools back from the disruption of the COVID-19 pandemic.
Others urged that getting back to school was paramount.
Reykdal's comments, shown on Facebook live, drew more than 4,000 comments from a sharply divided audience.
"So who is going to enforce face masks on these children?" Kimberly Lubin of Lakebay, Washington, asked on Facebook. "We can't even make them wear coats."
Erica N. of Seattle countered, "My soon-to-be first-grader just said she'll do anything to get to return to school, even wear a mask all day. Let's have more faith in our children's ability to adapt."
Another mom, Laura Murril of Marysville, opted for sarcasm.
"I'm so happy to hear that most of you enjoy homeschooling and having your kids at home," Muril posted. "My kids will be wearing a mask because them being home is turning me into an alcoholic."
In Spokane, Associate Superintendent Adam Swinyard acknowledged that "it will be a challenge to require our students to wear a mask all day."
"But our teachers are masters at developing routines," Swinyard said. "We're confident they can meet the guidelines set by OSPI."
The challenge of social distancing was another major topic, with many parents questioning whether a standard 900-square-foot classroom could accommodate 20-25 students and satisfy state guidelines.
Some also doubted that naturally curious young children could maintain their distance under any circumstances.
Reykdal's plan drew a critical response later Thursday from the state teachers' union, the Washington Education Association.
"We share the Office of the Superintendent of Public Instruction's interest to return to school as close to normal as is possible, to the extent that it can be done safely," WEA President Larry Delaney said in a statement.
"However, we question if social distancing guidelines can truly be met in many schools across our state, given typical class sizes," Delaney said.
Delaney said the WEA will "continue to fight for safety, full funding in order to achieve these plans, and a continued role for educators as districts and local unions begin the difficult task of putting this guidance into practical terms for the benefit of students."
Spokane Schools Superintendent Shelley Redinger said she and her staff hope to do the same in Spokane.
"We do have a bit of space, and we need to use our spaces differently than we have," Redinger said.
Local journalism is essential.
Give directly to The Spokesman-Review's Northwest Passages community forums series -- which helps to offset the costs of several reporter and editor positions at the newspaper -- by using the easy options below. Gifts processed in this system are not tax deductible, but are predominately used to help meet the local financial requirements needed to receive national matching-grant funds.
Subscribe to the Coronavirus newsletter
Get the day's latest Coronavirus news delivered to your inbox by subscribing to our newsletter.
---