News > Spokane
100 years ago in Spokane: Local senator falls behind in presidential nomination contest
Fri., June 12, 2020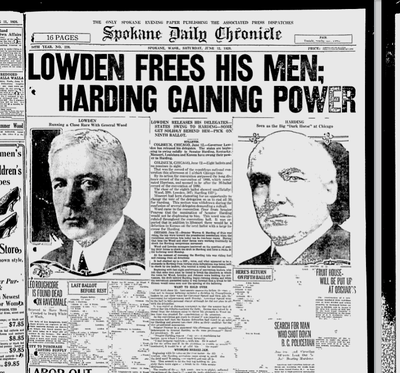 The Republican National Convention was moving swiftly toward a compromise candidate – and his name was not Sen. Miles Poindexter of Spokane.
His name was Sen. Warren G. Harding of Ohio.
"The tide for Harding was rising throughout the hall," said a front page story in the Spokane Daily Chronicle.
The Spokesman-Review, a relentless promoter of Poindexter's candidacy, tried to put the best face on this by saying that Poindexter's delegates were remaining loyal to Poindexter "from first ballot to last." The problem was, there weren't many of those delegates.
Nearly 500 votes were needed to win, and Poindexter received only 20 votes on the first ballot. On the next ballot, Poindexter's tally dwindled to 15. On later ballots it was down to 14, the entirety of the Washington delegation – which did, indeed, stay loyal to Poindexter.
Whether they would stay loyal if Harding's victory appeared inevitable was another question.
The Spokesman-Review's correspondent talked to Sen. Poindexter in his Chicago hotel room, and Poindexter seemed to realize that he was not the compromise candidate of choice.
"So far, the balloting has followed exactly lines we expected," he said, meaning that the leading candidates split the vote and a "dark horse" candidate emerged.
When Poindexter's non-Washington votes vanished, the idea that the Spokane candidate would be that "dark horse" became more and more unlikely.
Local journalism is essential.
Give directly to The Spokesman-Review's Northwest Passages community forums series -- which helps to offset the costs of several reporter and editor positions at the newspaper -- by using the easy options below. Gifts processed in this system are not tax deductible, but are predominately used to help meet the local financial requirements needed to receive national matching-grant funds.
Subscribe to the Coronavirus newsletter
Get the day's latest Coronavirus news delivered to your inbox by subscribing to our newsletter.
---