News > Spokane
100 years ago in Spokane: Local ice-delivery man becomes English earl
Sun., June 14, 2020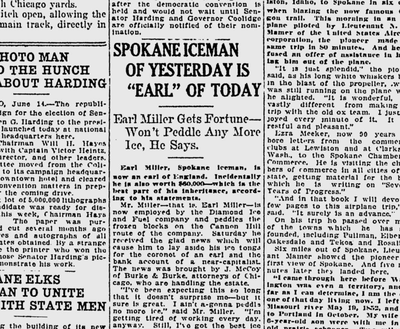 A Spokane ice delivery man inherited $60,000, a British estate and the title of earl.
Earl Miller, as the Spokane Daily Chronicle was now calling him, said his days as an iceman were over.
"I've been expecting this so long that it doesn't surprise me, but it sure is great," he said. "I ain't a-gonna peddle no more ice. I'm getting tired of working every day anyway. Still, I've got the best ice route in the city and I hate to leave it. The company treats me fine and my customers are all first class. But I can use the money."
Miller inherited the title and an estate near Liverpool through the death of his grandfather, Earl Edward Miller. The younger Miller said he had never even lived in England. He was born in Denver. He was American through and through, and fought with U.S. Army in France for nearly a year.
He fought in a key battle at Cambrai. His only comment about his war experience was, "It sure was hot."
He was much more excited about the money than the title.
"I don't care anything for that earl stuff, although it would stand me good in England," he said. "But I'm only going there for a year, and then only for a visit."
Miller said he planned to use his money to build a "tourist station resort" near Los Angeles, which would include a gas station, repair shop and "high-class outing" destination.
"I will resign my iceman's job in a couple of days and go straight south," he said.
Also on this date
From the Associated Press
1777: The Second Continental Congress approved the design of the original American flag.
Local journalism is essential.
Give directly to The Spokesman-Review's Northwest Passages community forums series -- which helps to offset the costs of several reporter and editor positions at the newspaper -- by using the easy options below. Gifts processed in this system are not tax deductible, but are predominately used to help meet the local financial requirements needed to receive national matching-grant funds.
Subscribe to the Coronavirus newsletter
Get the day's latest Coronavirus news delivered to your inbox by subscribing to our newsletter.
---