A&E
Summer Stories: 'Waffle Hut" by Neal Thompson
June 14, 2020 Updated Wed., Sept. 23, 2020 at 4:57 p.m.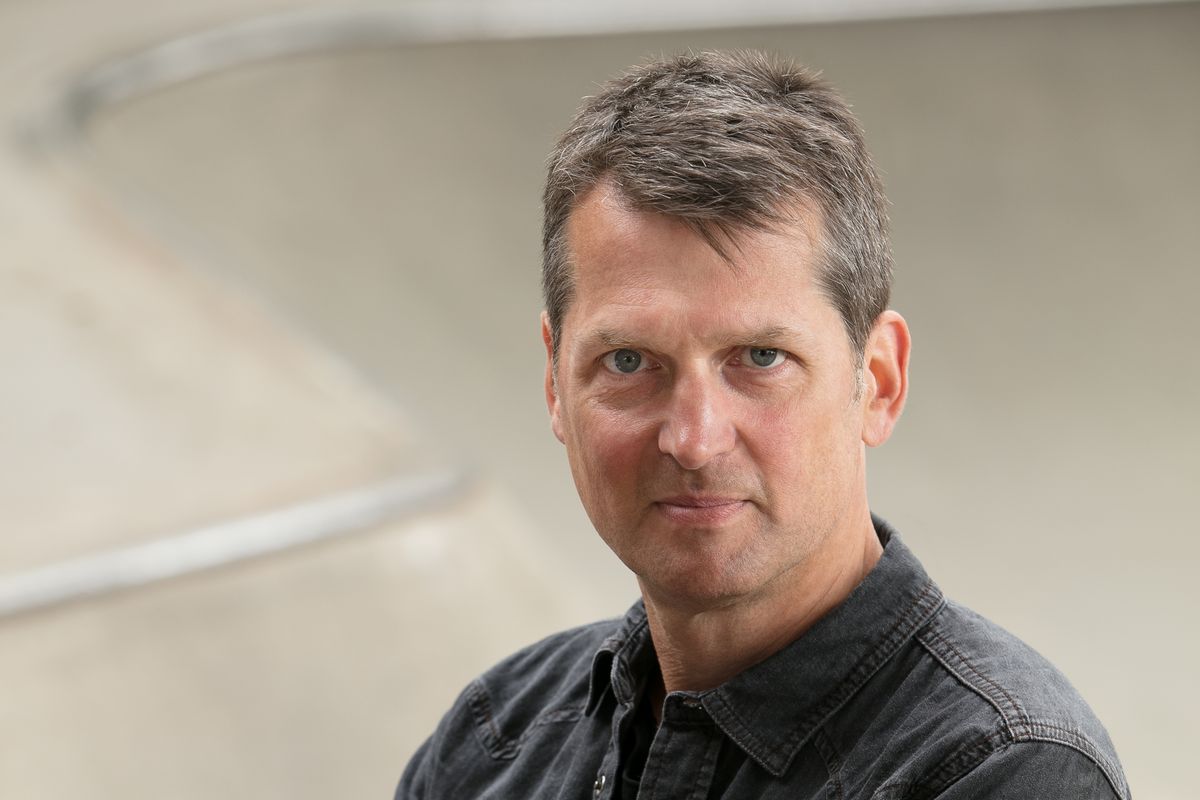 Seattle writer Neal Thompson, author of "The Kickflip Boys," is the creator of this week's entry in The Spokesman-Review's Summer Stories series – "Waffle Hut (or: This is It) (or: Spirit Lake Highway)." (Beowulf Sheehan)
I saw my twin sister working at the Waffle Hut outside Kid Valley, her hair longer and grayer since we last spoke. That was nine years back, when mom died. An aneurysm seemed to have been waiting and waiting for just the right moment, and then POP! Mom's gone. Sixty-seven and healthier than either of us, knocked to the ground by a tiny gremlin, right there outside the Goodwill.
I didn't think my sister saw me, but I was wrong. I was usually wrong about Ellen.
Two weeks later, when I finally got up the nerve to return, I was sitting in a Waffle Hut booth and she was filling my coffee cup like I was any old customer. "What can I get you, Danny?" she said.
"Oh, it's just Dan, now," was all I could say.
"OK then," she said. "Dan."
"I saw you the other day," she said as I pretended to read the menu. "Still driving dad's Volvo, I see?"
Ah, the Volvo. I'm an idiot.
"Yeah," I said. "I always hated that heap, but now I can't seem to get rid of it – 257,000 miles and counting."
"I'll bring you some eggs," she said. "I get off at 2 if you want to come back and tell me why you're stalking me."
We met that afternoon at the Twin Peaks Tavern in Castle Rock, sat by the window on a clear day gifting us with a glittery display of the jagged Cascade peaks to the east. I told her what I'd come to say: I had cancer, and it didn't look good. None of me looked good. Twenty-two months behind bars in Yakima hadn't helped. Neither had slipping into the icy Bering Sea off the Janie J., and just as I was starting to make some real money from them gangly Alaskan crabs. Nothing ever seemed to work out the way I pictured it up front. But I guess it didn't work out much better for her, either. I mean … the Waffle Hut?
Out of her apron, she looked good. Better than a waitress and way better than me. I'd started lazing into a Crocs and sweatpants look – easier on my back without laces and belts. A Sonics cap to cover what's left of my hair. But Ellen always had this Indian style. Dangly feather earrings, turquoise on her fingers and wrists. Today she wore a colorful vest, hiking shorts and running shoes. She had tan legs that looked strong. She'd be that fit, cool, mystical aunt if I'd managed to have kids.
"What really brings you back home then, Dan? Still with that Madeline?"
She never did like my wife, now my ex. I told her first about the Janie J., how four crew mates and the skipper went down so fast, but I somehow made it to the life raft and survived the night, except for three toes lost to frostbite and numb spots on my face. She said she'd read about it in the papers, saw my picture.
"Maddy left me after that," I said. "Told me I wasn't right. And I guess I was drinking more than usual."
I didn't talk about what came next: the coke, trying to find money for coke, robbing a food truck in Tacoma, the two-year sentence, minus two months for good-enough behavior. Though I'd quit smoking over a year ago, my right hand started twitching, sensing the ghost limb of a Marlboro Red.
She just nodded.
I told her I'd heard about her day in the news, sole survivor of an avalanche on the back flanks of Silver Mountain, which killed two of her friends and a snowboarder. "It's weird, right?" I said, peeling the label off my bottle to keep my hands busy. "We're both, like, survivors. But … but not really, I guess."
She nodded again, ordered two more beers. Asked again: "Why'd you come back, Danny boy?"
I wanted to tell her it felt like getting pulled toward the scene of a car wreck, knowing the injured and the dead had been hauled away already, but still curious about the spot. … Did the cops miss anything? A CD, a library card, sunglasses, a shoe? What did it feel like to stand in that place? Did it hum?
Instead, inevitably, we got around to the day dad died, coming up on 30 years now – the date just a few weeks away, the newspapers probably working on their anniversary stories. We talked about dad, stubborn as granite, refusing to come down off the mountain, a hero to other folks who thought the government was overreacting with its evacuation plans. How she and I were a hundred miles away, at Pike Place Market, less than 20 yards apart from each other when it blew, took dad from us.
"I was, like, halfway into my shift at the fish market, nursing a killer hangover and about to get fired. You were down in that stairwell, trying to sing, I think, Bruce Springsteen with that ponytailed Indi–"
"Native," she jumped in.
"Yes, OK , right, that Native boyfriend of yours … that jerk."
She made an exasperated lippy horse-like sound, then kept tearing open sugar packets, pouring them into hills of sugar. "First off," she finally said. "We were singing Van the Man, not Bruce. And second, we didn't start singing till later, after we'd heard the news."
"Whatever."
The day after the explosion, as we called it, when we couldn't reach Mom or Dad, I'd given Ellen and her boyfriend a ride back home. We found Mom the next day at a FEMA shelter in a lumber camp. It was all so unrecognizable. So much mud and rock and ash and muck. Everything we'd ever known looked broken, spoiled, flung about, gray and melted and dangerous. Thirteen-hundred feet of mountaintop, just gone.
I couldn't stop thinking: Is he up there somewhere? But he was gone for good, which was maybe his plan. Too close to the danger zone, the authorities said. Didn't have a chance. They found around half the bodies, but Dad and the rest? I often wondered how it ended. … Did he evaporate? Was he trapped in mud? Would archaeologists find him thousands of years later, body intact, his mouth open in a scream or a laugh?
Ellen and I had been close as kids, but after the explosion we drifted apart. It felt like we were all stuck in mud, stuck in time, and we both moved away from that scarred, wrecked place. I guess that's what I'd loved about being on the water. Nothing solid. Open space. Soft and salty liquid. Just floating.
A week after my drinks with Ellen, I started my first rounds of chemo and radiation. Everything slowed to a sludgy crawl. And after a month I just knew: I didn't have what it took to beat this. I didn't have the strength.
I'd been living alone in this old abandoned boat up on blocks in my buddy Willem's backyard. But after seeing my sister – and, honestly, after the rats invaded my boat – I decided to move into a tiny apartment near Ellen, closer to home, even though I hated being in the shadow of that ruined, shrunken mountain.
A month later, my body beginning to shrink from the chemo, I called her. Our birthday was the next week.
"Should we drive up and see? Maybe next Wednesday?"
She knew what I meant, and said, "You mean what's left of it?"
It felt like she was waiting for me, or someone, to ask.
"I've never been back," she said. "Not even close."
"Me, neither," I said. "OK, then? Let's do it?"
I'd read once – probably in one of those anniversary stories – that people living near disaster areas suffered from stress, depression, insomnia, anxiety, irritability, a sense of powerlessness. I wanted to ask Ellen about that. Could she sleep? Was she anxious? Angry? But driving east on Highway 504 in dad's Volvo, listening to Dylan's "Lay Lady Lay" on the radio, she started singing along. So I asked …
"Why'd you stop playing music back then?"
She'd always had a pretty voice. I hadn't appreciated it during those few weeks when she was busking at Pike Place and I was working upstairs at the fish market, throwing salmon for the tourists and making money and meeting girls, on the verge of saving enough to escape somewhere new.
She looked at me like I was an idiot.
"I … I didn't," she said. "I never stopped. Didn't you get the CDs I sent?"
"You sent me CDs?" I tried to keep my eyes on the road – Spirit Lake Highway, they called it now – as it started swerving and the mountain kept popping up between the folds to our right, and I began to feel dizzy.
"Dude, I had a band for years. The Mountain Mommas? We started out as Crater Face, but that sounded too punk so we countrified our name and our songs. We just played covers – Eagles, Dead, Neil Young, that kind of thing, bar band tunes. But I loved it – bars, casinos, VFWs, ski areas. A couple festivals."
"We actually played this one," she said, as Springsteen came on, and she started singing along.
Everything dies baby that's a fact
But maybe everything that dies someday comes back
"That's cool, Sissy," I said, using the old nickname. "I'd love to come see you play some–"
"Don't, Danny."
"–time."
"Just, don't … Don't call me that?"
"Call you what? Sissy?"
"Yeah, that."
Bruce kept singing:
Now our luck may have died and our love may be cold, but with you forever I'll stay
"Cuz I'm not, you know. Didn't you know? Didn't mom ever tell you? I never asked her."
For some reason, right then I thought about our father's alleged final words, captured over the short-wave radio as the eruption began. "This is it!" he'd yelled, and I always wondered what he was thinking.
I wanted to ask her about that, but I turned off the radio and asked, "You're not … not what?"
"Your sister."
Months later, near what felt like the end, I was living in Ellen's spare bedroom, fuzzy from the morphine and my body like one big, throbbing ache. I woke up one night, moaning, convinced I was done for.
"This is it," I told Ellen, who came and sat by my side. But she just scoffed.
"Knock it off, Dan. Don't be so dramatic. You sound just like Dad."
Local journalism is essential.
Give directly to The Spokesman-Review's Northwest Passages community forums series -- which helps to offset the costs of several reporter and editor positions at the newspaper -- by using the easy options below. Gifts processed in this system are not tax deductible, but are predominately used to help meet the local financial requirements needed to receive national matching-grant funds.
Subscribe to the Spokane7 email newsletter
Get the day's top entertainment headlines delivered to your inbox every morning.
---