Lamb of God is inspired by the sins of the world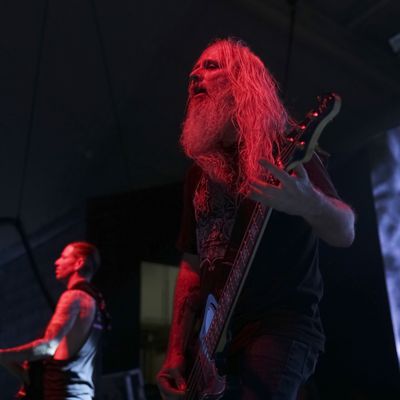 After a spin of "Checkmate," the initial single from Lamb of God's eponymous album, it's evident what inspired vocalist-lyricist Randy Blythe. "Divide and conquer and close them in and bury secrets deep / Make America hate again and bleed the sheep to sleep."
The seminal thinking man's metal band hasn't been very political over its last couple of albums. However, much of the act's self-titled release is inspired by the current administration. Lamb of God's new project is visceral and uncompromising, which isn't surprising since that's been the Richmond, Virginia, group's calling card since forming a quarter century ago.
Bassist John Campbell reveals that he was once the antithesis of a metal head while coming of age in suburban Washington, D.C. The founding member of the band, which incorporates elements of thrash and sludge, also details why it took Lamb of God so long to release its latest project and what he will say to his unlikely idol, Willie Nelson, if the two musicians ever meet.
Why was there such a gap in between albums?
Slayer asked us to go on tour with them for their final tour (in 2019). How do you say no to Slayer? We had to do the tour, and it was amazing. But the tour slowed up the album's release.
It's been a while since your band has been topical and political. What inspired the change?
We're in tune with the times. We've been about interpersonal relationships in terms of lyrics, but we all have strong political opinions. The situation we're in now is absolutely terrible. It was obvious we were headed in this direction, but I don't think anyone could have guessed that it would have gotten this traumatic and crazy, but here we are.
When things get serious, you get moved to write about it. Years ago, we wrote the song "Contractor," which was about military contractors and the war in the Middle East. Feel free to analyze what we're talking about. We have a couple of pretty serious songs on this album. We're at a turning point for this country and the world.
Do you ever wonder what type of great art will come out of this period since so much amazing, creative work has been inspired during times of tumult?
It's true when you look back at history that some great music has been made during troubling times. I'm curious to see what will be made in the future. But I'm also living in the present, and it's tough to think about the future since it's a pretty intense period now with the coronavirus and the protests. It's a fascinating time. But I think back to how similar in some ways it was when I was a kid growing up in suburban Washington, D.C., and how great punk rock was during the early '80s.
You grew up on punk, not metal?
Yes. I loved the D.C. hardcore scene to the exclusion of heavy metal. I used to joke to my metal friends that I couldn't read their T-shirts.
People forget that there was a great divide between the punk and metal scenes. It was incredibly divided during the '80s.
It's true. Punk and metal fans didn't get along. There were plenty of fistfights. There was no love lost between the scenes during those turbulent times.
Your fellow D.C. expatriate Henry Rollins would chat about the punk/metal division during interviews.
I remember growing up behind him in D.C. I remember listening to Rollins and Black Flag when I was in the sixth grade. I remember saying, "Wow, they can cuss in music. That's so cool."
It was also cool to be in a punk band.
You didn't have to be a virtuoso. That had an impact on me. It was significant for someone who didn't learn music that I could pick up an instrument and play in a band. Punk is about the energy over the technical proficiency. You didn't have to deal with the high brow. You could pick up a guitar and play some power chords, have your buddy play the bass and have a drummer play as fast as he could.
How did you get into metal?
I moved to Richmond (in 1989), which is a very artistic community with tons of bands and artists of all types. My first bands were punk. However, Chris Adler had me go up to his dorm (at Virginia Commonwealth University) to listen to a Metallica album. He put on "And Justice For All" and played it on his bass amp at a very high volume, and I was just amazed. I then listened to their whole catalog and from there got into Megadeth and Slayer.
It's ironic that you ended up playing bass in a metal band since there's virtually no bass on "And Justice for All."
The word was always that (Metallica drummer) Lars (Ulrich) said to keep lowering the bass (when Metallica was mixing the album).
Lamb of God opened for your heroes, Metallica. What did you hope for when the band formed?
We had no interest in being more successful than playing a party. We just wanted to play parties, and we hoped people at the party would have a great time and they would be impressed with our efforts. Somehow that turned into a 30-year career, but we never dreamed of being famous.
Is that part of coming of age in the era of the reluctant rock star? It reminds me of the Replacements' deep cut "I Don't Know." "One foot in the door / The other one in the gutter / The sweet smell you adore / I think I'd rather smother."
None of us wanted to be rock stars. We were just happy to be performing on a little stage. We got a lot of satisfaction out of that. We're just happy that we're still keeping this going.
When Randy was arrested by the Czech police on suspicion of manslaughter in 2012 after that fan fell off the stage during your performance in Prague, it looked like that might be the end of the band, but Randy was acquitted the following year.
After Randy went through all of that, we wondered if he even wanted to come back to the band. That was a lot to go through, but we survived it.
Randy was accused of knocking a fan off the stage and killing him since he hit the back of his head. I remember catching the Clash back in the day, and they had security violently boot fans off the stage. I'm not saying that fans should get hurt, but the stage is the musician's domain.
Agreed. I worked really hard to be on that stage. No one is paying to see a fan come up on stage. This is my time and my space is how I look at it when we perform.
You have a Willie Nelson tattoo. What would you say to Willie if you met him?
I would love to meet Willie. I would probably be incredibly nervous and be a total fanboy. I can't express how important Willie is in my life. I appreciate all that he's done. I would love to smoke a joint with him. Did you know that the place where they record Austin City Limits … what's the name of that theater?
The Moody Theater.
The Moody Theater has a special smoking section for Willie.
It's not surprising since the theater is on Willie Nelson Boulevard. Hopefully you'll meet Willie.
If I'm going to meet him, I have to hurry up (since Nelson is 87).
It's a shame you won't make it to Spokane this year. What memories do you have of playing Spokane?
The only time I've been lucky enough to visit was a show day that blurred in with all of the rest. We did cover "Inherit the Wind" by the Accused from Seattle when we were in Spokane. I do love the Northwest! The air is fresher, the people seem to be cut from a West Coast yet working class cloth, and the laws there ensure freedom in ways my backwoods locals do not.
---