100 years ago in Spokane: Jail escapee fires at officers, holds couple hostage before escaping
UPDATED: Thu., Sept. 3, 2020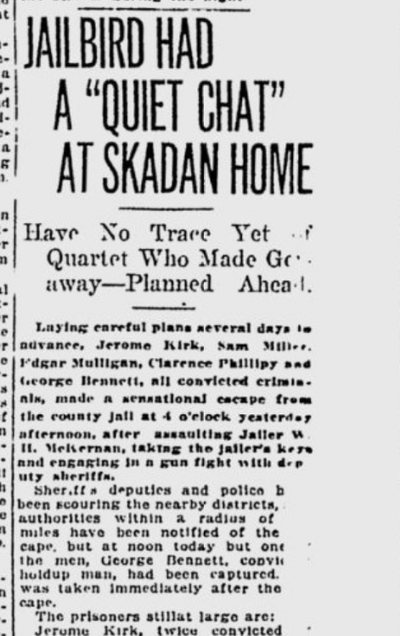 After a daring jailbreak from the Spokane County Jail, ringleader Jerome Kirk engaged in a gunfight on the street, injured a bystander, jumped aboard a streetcar, rode it to the end of the line, ran into the basement of Mr. and Mrs. Fred Skadan, held them at gunpoint and forced the couple to "entertain" him for five hours.
Then he made Mr. Skadan drive him to the city's outskirts, where Kirk disappeared into the night.
During those five hours, Kirk told Skadan the entire story of the jailbreak. He said he fashioned a fake gun out of soap and tinfoil, arranged to be interviewed by a reporter, and then jumped jailer W.H. McKernan while he was being escorted back to the "tank." He and four other inmates in the tank then overpowered the jailer.
Kirk took the jailer's gun and yelled to the other four inmates, "Come on, if you want to go!"
All five escaped onto the street, but police immediately began chasing them. They caught one of the men, but the others scattered. Kirk ran to the Spokane Bakery and found himself in a blind alley. Officers followed, and both sides exchanged gunfire. A bakery employee, caught in the melee, was shot in the hip and was in stable condition.
In the confusion, Kirk fled the alley and ran toward a crowd of people, assuming that police wouldn't fire in their direction. A streetcar happened by and Kirk jumped on it, concealing his gun and borrowing the fare from a fellow passenger.
He rode to the end of the line and was walking along the street when he saw police cars, so he ducked to the back of a house and entered the back door, meaning to hide in the basement. But the Skadans confronted him, so he pulled his gun and said, "My name is Kirk. … I have just broke jail. Don't make any false moves."
He kept the gun trained on them for hours, but was otherwise polite, and at one point he allowed Mrs. Skadan to make dinner. He also entertained them with the story of his criminal life. Kirk was in jail for a series of burglaries, including a notorious one at the Corbin residence. He was waiting to be taken to Walla Walla.
Kirk and three other inmates were still at large as of the next morning.
Local journalism is essential.
Give directly to The Spokesman-Review's Northwest Passages community forums series -- which helps to offset the costs of several reporter and editor positions at the newspaper -- by using the easy options below. Gifts processed in this system are not tax deductible, but are predominately used to help meet the local financial requirements needed to receive national matching-grant funds.
Subscribe to the Coronavirus newsletter
Get the day's latest Coronavirus news delivered to your inbox by subscribing to our newsletter.
---