News > K-12 education
Retiring Spokane teachers look back fondly at careers as school year ends during pandemic
Mon., June 22, 2020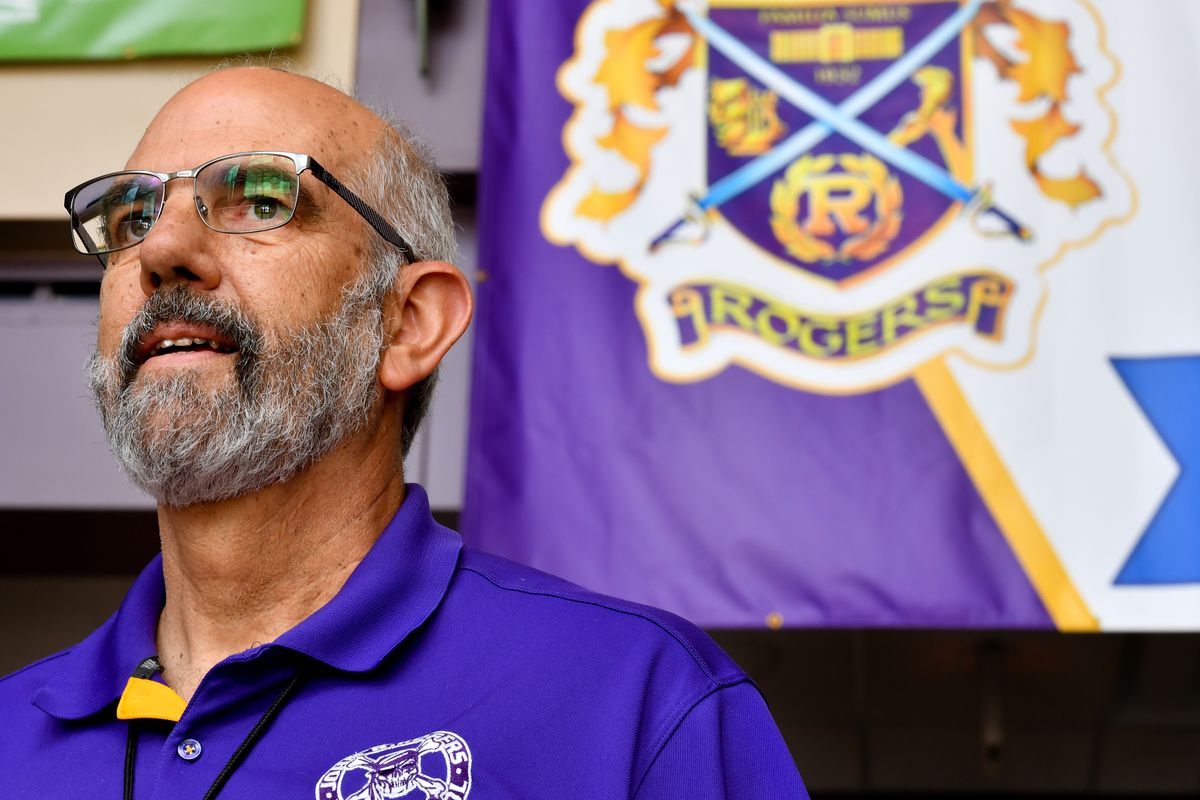 Marty Robinette, a teacher for 40 years in the Spokane School district, is seen Wednesday at Rogers High School in Spokane. (Tyler Tjomsland/ / The Spokesman-Review)
Marion Bageant was only three months from retirement when her class was rudely dismissed by the coronavirus.
She could have cruised to the finish line; instead she Zoomed.
Bageant also made sure that every one of her first-graders at Garfield Elementary School had what they needed: paper-and-pencil lessons for the rest of the year, her friendly face on the other side of a laptop screen and even a butterfly emerging from a chrysalis.
Because that's what teachers do.
At the same time, teacher Paula Gibson-Smith was in a panic three months ago as her classroom shut down at Spokane Public Montessori.
Then she went home, upgraded her internet out of her own pocket and started making YouTube videos.
At Lewis and Clark High School, history teacher John Hagney capped a distinguished 45-year career by doing what he does best: "contextualizing" the past to the present.
The subject matter – pandemics and racial unrest, then and now – wasn't pleasant, but his students got the point.
At Rogers High School, assistant principal Marty Robinette looked back on 40 years of tough conversations, but also the experience of almost three decades in the classroom at LC.
"I just had a blast," Robinette said.
And now it's over, for them and hundreds of others – with no retirement parties, no heartfelt hugs in the hallway, just the satisfaction of seeing it though.
Because in good times and bad, that's what teachers do.
'They gave me so much back'
Marion Bageant is grateful for many things, but mostly the chance to work at a Title I school like Garfield.
"That was always important to me, meeting the needs of every child," said Bageant, who spent the past 27 years at the north Spokane school.
Early on, Bageant found a niche as a top practitioner of visual thinking strategies, or VTS. Introduced as an opt-in program in Spokane about 10 years ago, VTS has gained traction throughout the district and beyond.
Bageant has delighted in the collaborative process of VTS, of pairing students into "collaborative partners," then watching them engage in highly focused drawing and reflection.
Finding the right answer is less important than explaining the thought process – a metaphor for life as well as the classroom.
The process was wrenched three months ago by the coronavirus, but Bageant didn't miss a beat.
"VTS lends itself to Zoom, so I quickly got on board," said Bageant, who found creative ways to interact almost every day.
The highlight was sharing the hatching of a chrysalis into a butterfly, live from Bageant's home.
Using a butterfly cage, Bageant raised 12 chrysalises in her greenhouse. Her first-graders followed along on Zoom, marking their growth in their butterfly packets, labeling the parts of a butterfly and watching them come out of their chrysalises.
"They really loved it," Bageant said. "They named each of them, 'Flutterby,' 'Gus,' 'Angel' and so on, and were engaged with them right to the very end."
For those without internet, she assembled paper-and-pencil learning packets – 64 days' worth to cover the rest of the school year. She also encouraged them to use their cellphones to take pictures of their work and send it to her.
When the coronavirus struck, Bageant realized that "it was important for me to address their emotions. … I let them talk about themselves and process that."
But if Bageant was a support system for her kids during tough times, it went both ways.
"They gave me so much back," she said.
Bageant feels the same about Garfield parents, whom she thanks for "hanging in there and rising to the occasion during our distance learning," she said.
"It was hard, but they hung in there, and I am proud of my students and parents for working so hard," Bageant said.
After hitting the finish line at a sprint, Bageant will barely lose a step. She will hike and take yoga lessons, continue grant writing and travel to her native Germany.
"I will miss all of it, but after 30 years, it is time to move forward and find a new purpose, a different lens on life," she said.
'Teaching is like gardening'
John Hagney has gone three months without a haircut, and that just doesn't feel right.
So rather than pose for a new photo for The Spokesman-Review, he sent a snapshot. Taken in his garden, it's an image and a metaphor all in one, the role of a teacher in planting the seeds of learning.
Looking back on 4½ decades as a teacher, Hagney worried that his reflections would "sound like something out of a Hallmark card."
Perhaps, but they came from the heart.
"This has been not just intellectually but spiritually gratifying," Hagney said. "As teachers we plant seeds, and in our lifetime we see some of those seeds germinate, and we know that others will reap what we have sown."
"I'm going to miss that, because teaching is a lot like gardening," said Hagney, who has found fertile ground in his AP European history classes.
The conversations have been invigorating as Hagney has tried to bring context to historical events.
Despite the disruption of COVID-19, that seemed easier than ever during Hagney's final three months at LC. As the city of Tulsa prepared for this past weekend's rally by President Trump, the city's mayor was unaware of the deadly racist attacks on Black businesses a century ago.
"That's always a challenge, to bring voice to the voiceless," said Hagney, who taught for six years at Garry Middle School.
Along the way, Hagney has been named regional teacher of the year. In 1997, President Bill Clinton presented him with the U.S. Presidential Scholar Distinguished Teacher Award.
Three years earlier, in 1994, Hagney created a class model that became a national model for civics instructors, in which a student would choose a college-level internship in any of 100 community organizations.
"He's one of our superstars," said Heather Bybee, curriculum coordinator for Spokane Public Schools.
Hagney also is outspoken about the changes he's witnessed in education and society, the weeds growing among the rows of eager learners.
At their root, Hagney said, is the growing income gap in American society and the resulting stress on parents.
"Those parents aren't necessarily abdicating but deferring, given their priorities … trusting in the school system to do what they are unable to do," Hagney said.
The work of teachers has been hampered, Hagney contends, by standardized tests that discourage deeper examination of subject matter "and make it very difficult to get deeper into the content."
Hagney's biggest frustration is with social media, which he blames for a host of ills in the classroom.
"Students have a more difficult time staying with a linear thought," Hagney said. "And the intrusion of social media is subverting not just learning, but is arresting social development. And add to that the whole issue of bullying online."
Hagney is self-deprecatory at the prospect of retirement. "Me wearing is a mask is something my students would appreciate," he said.
Hagney won't go quietly into retirement, however. Over the years, he's been active on the Chase Youth Commission, The Lands Council of Spokane, United Way, Spokane City-County Historic Preservation Committee, the Spokane County Boundary Review Board and others.
There will be more activity ahead, though Hagney declined to go into details.
'Connection was the most important thing'
For three decades, Paula Gibson-Smith has treasured the intimate experience of Montessori, where the education is child-centered and teachers often have the same children for several years.
At Havermale Montessori, she's worked mainly with 6-to-9-year-olds.
"They really adore you, and they just think that whatever you say is the way it goes, and I just need more adoration than your average sixth-grader is able to give," Gibson-Smith said.
"You really get to know them, and that's really precious," said Gibson-Smith, who's also worked in several other Montessori settings .
That's what made it so difficult to say goodbye on March 16, when schools shut down with only four days' notice.
Gibson-Smith admitted to a brief spell of self-pity, "that I didn't sign up for this, because Montessori is so hands-on that I didn't see how it was possible."
Few teachers were less prepared for distance learning than Gibson-Smith, who's admittedly old-school, with a home internet system to match.
But there was little lag time during her transition, as Gibson-Smith upgraded her internet speed and started making YouTube videos from her home.
"It wasn't the content they wanted, the connection was the most important thing," Gibson-Smith said "If they could hear my voice and see my face, they could connect with me."
One thing couldn't be replicated on a laptop: the annual Montessori campfire, complete with s'mores. This year's event was canceled by the pandemic, but she still hopes to have a reunion of sorts later this summer.
But when the fall arrives, she won't be idle.
Gibson-Smith will be training future Montessori teachers at Whitworth University and supporting a Salish-language school in Omak, Washington.
'It was always fun for me'
More than anything, Marty Robinette will miss the conversations.
They came with every kind of audience during a wide-ranging career that spanned four decades: the give-and-take of a social studies class, pep talks with coaches and even a troubled teen facing discipline.
Robinette found value in all of them – so much so that instead of retiring, he plans to earn a degree at Whitworth University and pursue a new career in marriage and family counseling.
After earning his teaching degree at Eastern Washington in 1979, Robinette landed in the social studies department at LC.
He stayed for 28 years, which went by "and it was always fun for me," said Robinette.
He especially enjoyed the engaging students "like adults, with issues that were complex and things that didn't have an easy answer," like psychology and sociology.
Robinette never thought of himself as that "super-dynamic person who can entertain a class." Rather, he worked to develop strategies of engagement.
The day was measured by whether his students were conversing and excited about the subject matter.
Moving into administration, he was the dean of students at LC and assistant principal and athletic director at North Centeral before taking a similar position at Rogers.
"I really enjoyed the camaraderie I have with my team, but also working with the kids," said Robinette, who also had to deal with "some pretty serious behaviors and a few upset parents."
When retirement arrived this month, it was "weird," Robinette said.
"I was envisioning working hard up to the very end, and having a sendoff and perhaps a party."
That wasn't possible this year, but Robinette credits Principal Lori Wyborney with "doing a great job of honoring me at a Zoom meeting."
That was always important to me, meeting the needs of every child." Marion Bageant Former Garfield Elementary School first-grade teacher, who is retiring after 30 years in the profession
Local journalism is essential.
Give directly to The Spokesman-Review's Northwest Passages community forums series -- which helps to offset the costs of several reporter and editor positions at the newspaper -- by using the easy options below. Gifts processed in this system are not tax deductible, but are predominately used to help meet the local financial requirements needed to receive national matching-grant funds.
Subscribe now to get breaking news alerts in your email inbox
Get breaking news delivered to your inbox as it happens.
---