News > Local business
Enterprising Spirit: Garland groomer fixes pets' corona-cuts
Thu., June 25, 2020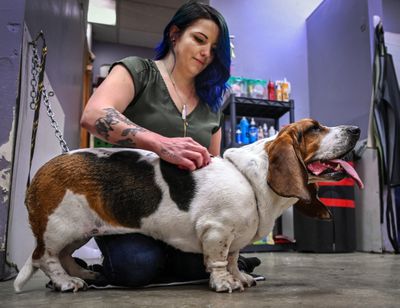 Editor's note: Our series Enterprising Spirit documents how businesses and workers are managing the economy's slow return to life after its sudden shutdown in March – and adapting to new challenges ahead.
Men, women and children aren't the only ones who have been anxious to get back into the barber chair. Man's best friend has grooming needs as well, and some of them received embarrassing corona-cuts during the stay-home order.
Jayme Pitts, co-owner of the Garland District pet-grooming shop Bark and Snip, said some customers actually plead with her to do in-home cuts during the closure.
Pitts and co-owner Rachel Napier have seen some interesting cuts since the pet groomer reopened shop. Take Biscuit, for example, who came in with a faux-hawk, leg fur that resembled oversized bell-bottom jeans and a close shave everywhere else.
"People come in, and they know when they did the home haircut," Pitts said. "They warn us on the phone usually, but then they bring them in and they're like, 'Do what you have to do, because clearly I haven't done it.'"
Some of the pets who have come into the shop at 626 W. Garland Ave. had to be prioritized because their grooming situation was more dire, such as uncut nails that were curling under.
"We've got dogs that are in really rough shape right now, and that has to get done immediately," Pitts said. "With your animals, you can't cuddle with them or do anything if they're if they're stinky and gross."
Getting everyone back on the schedule has been a Herculean task, and the shop is booked out until mid-August with hundreds of appointments. Pitts doesn't think they will catch up until the holidays, especially because appointments have to be staggered so there won't be multiple people in the lobby.
Bark and Snip has even, regretfully, been forced to turn away some potential new clients.
The shop closed on March 17 – in the middle of what is usually Bark and Snip's busy season – and reopened May 22.
When the closure happened, Pitts and Napier applied for a Small Business Association loan. But didn't hear back until two weeks after they opened, and by then it didn't make sense to go into debt. While closed, Bark and Snip's only revenue was a raffle it put on for regular customers.
Bark and Snip hires seasonal employees, but the only full-time employees are the owners, so they didn't have to lay off anyone .
When Pitts and Napier bought the shop four years ago, they also bought the client list, so many of the dogs have been regulars for more than a decade.
Pitts said the dogs were excited to be back, as were many of their owners.
Local journalism is essential.
Give directly to The Spokesman-Review's Northwest Passages community forums series -- which helps to offset the costs of several reporter and editor positions at the newspaper -- by using the easy options below. Gifts processed in this system are not tax deductible, but are predominately used to help meet the local financial requirements needed to receive national matching-grant funds.
Subscribe now to get breaking news alerts in your email inbox
Get breaking news delivered to your inbox as it happens.
---