News > Education
Spokane district picks associate superintendent to take top job on permanent basis
UPDATED: Sat., June 27, 2020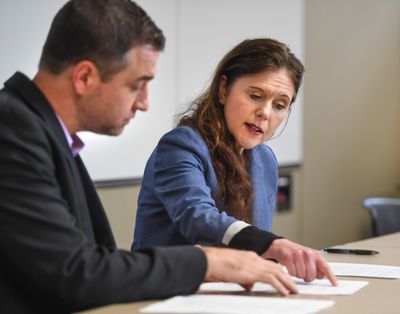 There will be no interim superintendent at Spokane Public Schools.
Instead, the district's board of directors voted unanimously Saturday afternoon to promote chief academic officer Adam Swinyard to a permanent two-year position as superintendent following Shelley Redinger's resignation earlier this week.
"This is the right decision for right now, and we need the stability for our community for the next school year," member Nikki Lockwood said as the board announced its decision following four hours of closed-door deliberations.
"I see Dr. Swinyard as important for the future of Spokane Public Schools," Lockwood said.
Some had expected that the 37-year-old Swinyard would be elevated to an interim role.
In the past, Spokane has held comprehensive national searches involving dozens of candidates and extensive community involvement.
Not this time, not with COVID-19 looming large over every facet of the educational system.
"Spokane Public Schools is coming up on unprecedented times," board President Jerrall Haynes said. "But the board is committed to restructuring our whole educational system, and I wholeheartedly believe that Dr. Adam Swinyard is the person who can navigate us through these difficult times."
The board authorized negotiations for a two-year contract, with a midterm evaluation next summer.
"I'm very humbled and excited," Swinyard said after the announcement.
Swinyard was not available for further comment later on Saturday.
Swinyard will lead the 31,000-student district through one of the most challenging periods in recent history.
Just as it appeared to be recovering its financial footing following last year's budget crisis, Spokane was laid low by COVID-19.
And like other districts, it is attempting to visualize what classrooms will look like in the fall.
Those crises appeared to bolster the case for naming a permanent successor for Redinger, who will take over the Richland School District after eight years in Spokane.
Swinyard's position as chief academic officer put him at the forefront of pandemic-related issues such as distance learning.
A native of Deer Park, Swinyard has been an associate superintendent since January 2017. Prior to that, he was the director of secondary schools for six months.
Swinyard has held administrative positions at three schools.
He was a principal assistant at Garry Middle School from 2009-11, assistant principal at Cheney Middle School from 2011-13 and principal at Sacajawea Middle School from 2013-16.
The decision caps a frenetic four days for the board, which got the news of Redinger's departure on Tuesday night.
The next day, Swinyard received strong support in from the local teachers' union, the Spokane Education Association.
"Dr. Swinyard's experience with our district will allow us to move with clarity into the uncertain future we face," SEA President Jeremy Shay wrote to the district on Wednesday.
"We strongly recommend you move quickly in appointing Dr. Swinyard as interim superintendent to navigate the choppy waters ahead of us," Shay added.
Instead, the board is going even further than that by making the choice permanent, despite Swinyard's lack of top-level administrative experience.
Board member Mike Wiser said that he had expected that the district would conduct some type of national search while having an interim superintendent.
"I'm a process guy, and we're a big district. … I assumed that we would do that kind of search," Wiser said.
"However, there are pros and cons when you think about doing a superintendent search in COVID times," said Wiser, who praised Swinyard's "ability to drive change, listen to the community and incorporate honest feedback."
Board member Kevin Morrison said, "We're putting a lot of confidence in a person who does not have superintendent experience of any kind.
"But the relationships he has built during this time speaks volumes." .
Board member Jenny Slagle cited Swinyard's commitment to equity.
"People of color see his value and are very supportive of this," Slagle said.
Lockwood commended what she called Swinyard's "ability to build trust."
"I feel I have a strong feeling that we are doing the right thing," Lockwood said.
Local journalism is essential.
Give directly to The Spokesman-Review's Northwest Passages community forums series -- which helps to offset the costs of several reporter and editor positions at the newspaper -- by using the easy options below. Gifts processed in this system are not tax deductible, but are predominately used to help meet the local financial requirements needed to receive national matching-grant funds.
Subscribe to the Coronavirus newsletter
Get the day's latest Coronavirus news delivered to your inbox by subscribing to our newsletter.
---