100 years ago in Spokane: Region prepares for major Fourth of July celebrations over two days
UPDATED: Thu., Sept. 3, 2020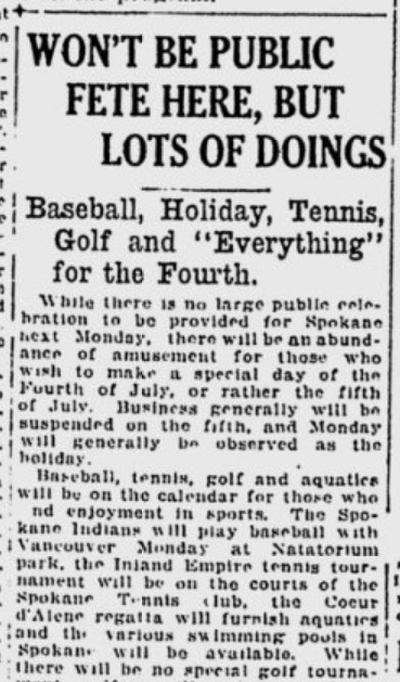 Spokane was preparing for its annual Fourth of July celebrations, which in 1920 would be spread over two days, July 4 and 5, because the Fourth fell on a Sunday and most people would have the day off on Monday as well.
Washington Water Power Co. announced that it would shoot off its entire display of fireworks at Natatorium Park on Sunday, leaving none for Monday.
However, the company expected huge crowds on Monday at Natatorium Park's amusement rides, dance pavilion and pool. In fact, Washington Water Power promised that streetcars would arrive at the park approximately once every minute. WWP owned both the streetcar system and Natatorium Park.
On Monday, the Spokane Indians baseball team was scheduled to play Vancouver. In Idaho, the Coeur d'Alene Regatta would be underway. At Medical Lake, a popular resort, the demand for tents and cottages was higher than ever.
For those who wanted to travel farther afield for the holidays, the Spokane, Portland and Seattle Railway was offering excellent deals on roundtrip tickets to Tillamook Beach, Clatsop Beach and Seaside in Oregon.
From the Wobbly beat: The Spokane Daily Chronicle, ever willing to be alarmist about the Wobblies, reported that an "influx" of 1,000 Wobblies had "drifted into town" for a Fourth of July Worker's Parade and picnic.
This was despite the fact that the city had refused to issue a permit for the parade. The Chronicle speculated that the Wobblies planned to parade anyway, by walking down the street "in twos."
Local journalism is essential.
Give directly to The Spokesman-Review's Northwest Passages community forums series -- which helps to offset the costs of several reporter and editor positions at the newspaper -- by using the easy options below. Gifts processed in this system are not tax deductible, but are predominately used to help meet the local financial requirements needed to receive national matching-grant funds.
Subscribe to the Coronavirus newsletter
Get the day's latest Coronavirus news delivered to your inbox by subscribing to our newsletter.
---