News > Nation/World
Supreme Court strikes down Louisiana abortion law
June 29, 2020 Updated Mon., June 29, 2020 at 10:04 p.m.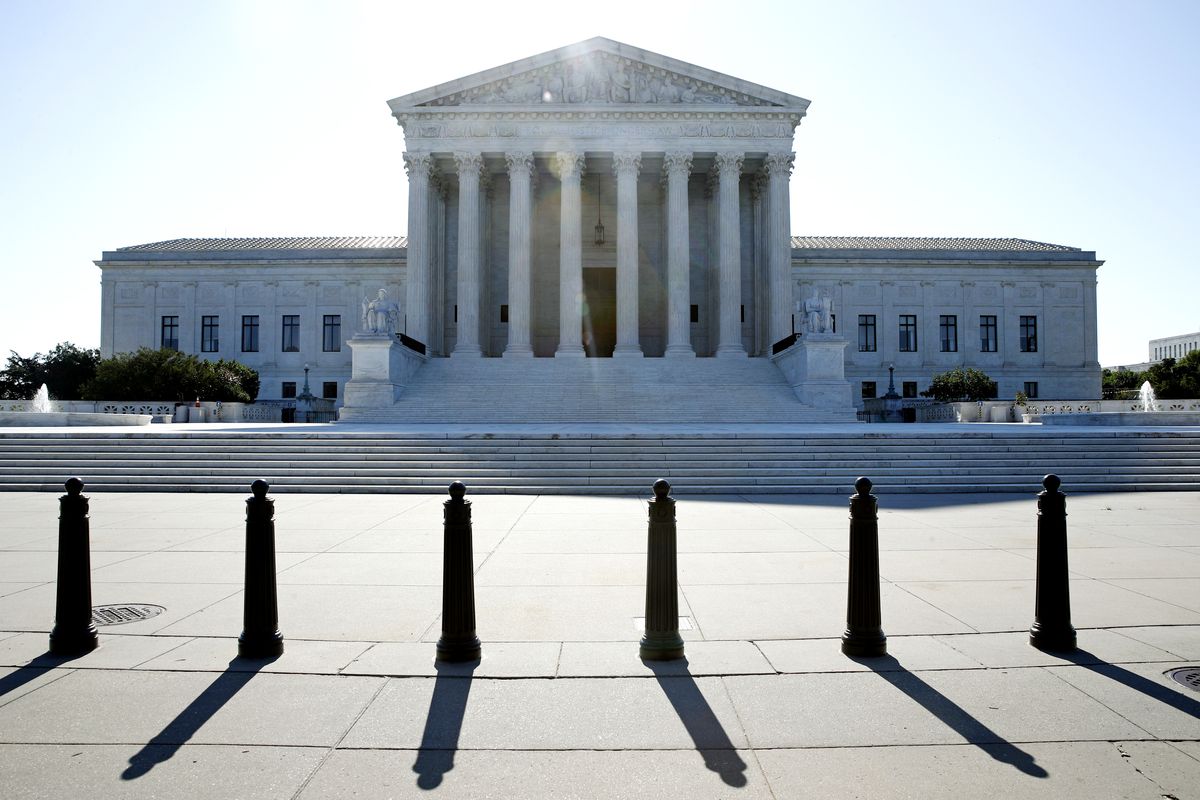 The sun rises behind the Supreme Court on Capitol Hill in Washington, Monday, June 29, 2020. The Supreme Court has struck down a Louisiana law regulating abortion clinics, reasserting a commitment to abortion rights over fierce opposition from dissenting conservative justices in the first big abortion case of the Trump era. (Patrick Semansky)
The U.S. Supreme Court on Monday ruled against a Louisiana law that required abortion providers to have admitting privileges at a local hospital, and again Chief Justice John Roberts delivered the tie-splitting vote, but Cornell Clayton, director of the Thomas S. Foley Institute of Public Policy and Public Service at Washington State University, cautioned against "reading the tea leaves" based on this decision.
"Roberts is very concerned about the intent, the institutional integrity and authority of the court, and so he doesn't want to appear as a partisan court," Clayton said. "He's very concerned about the idea of rule of law and sending those signals, and I think that in part drives his own jurisprudence."
In fact, when the Supreme Court struck down a similar Texas law in 2016, in Whole Woman's Health v. Hellerstedt, Roberts sided with the dissenting position.
"He says, 'Look, I was opposed to the decision in Whole Woman's Health two years ago, and I still think that was wrongly decided,' " Clayton said. "In other words, he would uphold these same restrictions if this case was coming to him afresh."
At that time, Justice Anthony Kennedy had the deciding vote.
Clayton said it was Roberts' commitment to uphold previous decisions – as well as maintaining the court's nonpartisan structure – that motivated him to vote as he did. Paul Dillon, a spokesperson for Planned Parenthood of Greater Washington and North Idaho, also thought that Roberts made this decision to avoid undoing precedent.
"Overturning what happened in Texas only four years later would have really opened up the floodgates, not just for harmful laws about restrictive access to abortion, but also other laws," Dillon said.
Both Cornell and Dillon said this fidelity to the rule of law can be seen in other recent decisions, such as Department of Homeland Security v. Regents of the University of California, which upheld Deferred Action for Childhood Arrivals.
"What Roberts is saying is, 'You know, you could have these policies,' " Clayton said. So, the Trump administration could have this policy about deporting, overturning DACA, if they want to overturn DACA. They just have to do it through the proper procedure."
Dillon said "it was really scary going into this decision, and a welcome surprise to see the court rule in our favor."
Washington's abortion laws are strong, Dillon said, but if the court had ruled differently, he could see that potentially affecting Idaho because it could empower state legislators to pass an equivalent law, possibly compelling people to travel to Washington for access. Idaho this year approved a bill, and Gov. Brad Little signed it, that automatically would make abortion illegal if the landmark Roe v. Wade case is ever overturned.
"It's a big sigh of relief for Louisiana and some other states that are trying to pass this type of legislation," Dillon said. "We know the fight for abortion access is far from over. Abortion is still safe and legal in every state in the country. But the fight continues, and we'll continue fighting every step of the way."
The Louisiana law at the center of the June Medical Services v. Russo case required clinic doctors to obtain admitting privileges at a hospital no more than 30 miles away in order to continue providing abortion services. Dillon said that if that were allowed to stand, clinics likely would have to physically reconstruct their facilities to meet that requirement because it is difficult for abortion providers to obtain those privileges.
"As we saw in the 2016 case, where you're trying to create what's called an undue burden, those bills are called called TRAP (targeted regulation of abortion providers) legislation," Dillon said. "So hospital admitting privileges is one of those bills, as are parental notification and three-day waiting periods, that other states have done."
Megan Rowe can be contacted at (509) 459-5382 or at meganr@spokesman.com
Other Supreme Court decisions Monday • The Supreme Court upheld a provision of federal law that requires foreign affiliates of U.S.-based health organizations to denounce prostitution as a condition of receiving taxpayer money to fight AIDS around the world. The Supreme Court ruled 5-3. • The High Court refused to block the execution of four federal prison inmates who are scheduled to be put to death in July and August. The justices rejected an appeal from four inmates who were convicted of killing children. The court's action leaves no obstacles standing in the way of the executions, the first of which is scheduled for July 13. • The Supreme Court left in place a decision that rejected environmental groups' challenge to sections of wall the Trump administration is building along the U.S. border with Mexico. It declined to hear an appeal involving construction of 145 miles of steel-bollard walls along the border in Arizona, California, New Mexico and Texas. Associated Press
Local journalism is essential.
Give directly to The Spokesman-Review's Northwest Passages community forums series -- which helps to offset the costs of several reporter and editor positions at the newspaper -- by using the easy options below. Gifts processed in this system are not tax deductible, but are predominately used to help meet the local financial requirements needed to receive national matching-grant funds.
Subscribe now to get breaking news alerts in your email inbox
Get breaking news delivered to your inbox as it happens.
---