A&E
Great Northwest Wine: Petit verdot is standing out as a standalone variety
UPDATED: Mon., March 2, 2020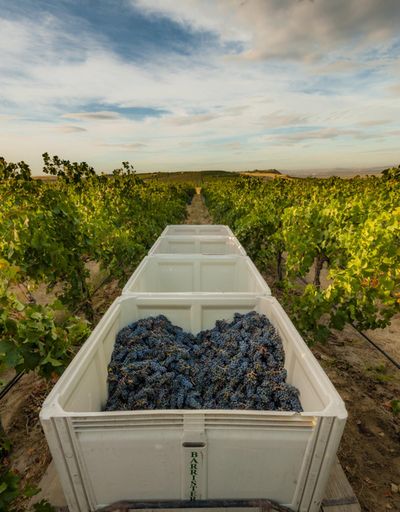 This spring when the Washington State Wine Commission releases its 2019 Grape Production Report, we will see if petit verdot holds onto its No. 1 ranking as the variety with the highest average price per ton for a third consecutive vintage.
And in the past 12 months, more critics and consumers are appreciating the work that Northwest winemakers are performing with this bold red grape native to Bordeaux.
In 2018, petit verdot came in as the most expensive grape at an average of $1,675 per ton, edging out another Bordeaux variety – cabernet franc – at $1,618. The average price per ton for cabernet sauvignon, the most widely planted grape in Washington, stood at $1,505.
And the investment is prompting winemakers to devote more time and effort on producing the most balanced wines they can.
Petit verdot should not be confused with petite sirah, the robust grape native to the Rhône Valley. Instead, petit verdot is one of the six official red grapes of Bordeaux, the one that we don't often see standing on its own.
In the hands of a talented winemaker, petit verdot makes intense, sinewy and superb wines that often hint at ripe plum, blackberry, violets, dark chocolate and cocoa powder. The resulting wines pair well with braised or barbecued meats, lamb, elk, osso buco, spicy Latin American dishes and smoked or hard cheeses.
Patrick Spangler focuses on red Bordeaux grapes in Roseburg, Oregon, and his success working with those varieties, including petit verdot, prompted Wine Press Northwest to name Spangler Vineyards as the 2018 Oregon Winery of the Year.
"Petit verdot is a very interesting grape," Spangler said. "If you get it good and ripe – with a pH 3.8 or 3.9 and north of 25 Brix – there's a purple nose and purple flavor profile. I'm not afraid to water back some if they come in at 26 Brix because in my opinion I'm simply putting back in what was lost in excess evaporation."
And while the Snake River Valley has developed a well-earned reputation for award-winning syrah, a number of Idaho producers believe that more interest in petit verdot will be rewarded. That interest was reflected in the short flight of petit verdot entered at the 2019 Idaho Wine Competition.
Tim Donahue, director of winemaking at Walla Walla Community College, was among the judges. That event, judged in the Snake River Valley on a hot August day with a high of 98 degrees, saw five examples of petit verdot entered, and all five received at least a silver medal from a panel of judges from the Northwest and New Orleans. Two of those received gold, including the Sawtooth 2017 Classic Fly Series, which received a double gold on its way to the judging's Best Red Wine honor.
"Petit verdot is a hot-climate grape," Donahue said. "It likes getting cooked."
Sydney Nederend and her parents, Joe and Kristen Weitz, have devoted nearly 3 acres to petit verdot at their young Scoria Vineyard west of Boise. The family became inspired after tasting wines produced by Sawtooth Vineyard founder Brad Pintler.
Just as importantly, the petit verdot at Scoria weathered the winter events that devastated vineyards in the Snake River Valley surrounding the 2015 and 2017 vintages.
"We think Idaho could be known for petit verdot since it really can handle the harsh winters and hot summers," Nederend said.
Below are several award-winning examples of petit verdot that our panels judged in the past 12 months. Expect to pay at least $30 for a bottle of petit verdot made and grown in the Northwest, and look for these examples at your favorite wine merchant or contact the winery directly.
Thurston Wolfe Winery 2016 Petit Verdot, Horse Heaven Hills, $30: Perhaps no one knows the Horse Heaven Hills vineyards as well as winemaker/viticulturist Wade Wolfe, so it's no surprise this biochemist with a doctorate in plant genetics from the University of California-Davis mined Double Canyon Vineyard for this petit verdot that went Platinum. There's a greeting of toasty oak, plum, elderberry and sage that meshes nicely with skillfully managed tannins and a long finish of mocha and vanilla.
Isenhower Cellars 2016 Jongleur Petit Verdot, Columbia Valley, $38: A jongleur refers to a wandering, multitalented entertainer from medieval times, and the Isenhowers operate tasting rooms at their winery in Walla Walla and across the state in Woodinville. A product of Sagemoor Farm's historic Dionysus Vineyard along the Hanford Reach, this example offers all kinds of complexity, with notes of dark plum, elderberry, Western serviceberry and cocoa that resulted in a 2019 Platinum.
Mercer Estates Winery 2015 Petit Verdot, Horse Heaven Hills, $32: Jessica Munnell had this Spice Cabinet Vineyard harvest in barrel when Wine Press Northwest announced that her work had helped the Mercers win 2016 Washington Winery of the Year. Her successor, Jeremy Santo, took it across the finish line and into a Platinum award as a bright and sassy, yet rich and smooth petit verdot. Brimming with boysenberry and huckleberry fruits, it brings additional hints of vanilla, tobacco and dried herbs in the mouth. It's precisely balanced and juicy, and blood orange accents lift the finish.
Spangler Vineyards 2014 Petit Verdot, Oregon, $35: The 2018 Oregon Winery of the Year didn't slow down on the 2019 competition circuit as evidenced by the performance of this Platinum-winning petit verdot. Aromas of black and purple berries lead to an intensely built wine with dense purple plum, blackberry and sweet blueberry. It's well-balanced and full-bodied with a backbone of chalky tannins.
Sawtooth Winery 2017 Classic Fly Series Petit Verdot, Snake River Valley $35: A decade ago, too much petit verdot from Brad Pintler's planting at Sawtooth Vineyard was getting lost inside blends selling for around $10. Meredith Smith changed that a few years ago, and she's now producing some of the Northwest's best examples of standalone petit verdot. Its theme of blueberry, plum and dark cherry is joined by oak spice and lavender notes as the full mid-palate and long finish combine for a well-balanced wine. It earned the Best Red and a double gold at the 2019 Idaho Wine Competition.
Coiled Wines 2017 Black Mamba, Snake River Valley, $32: One of the most distinctive and distinguished wines in the Idaho wine industry is Leslie Preston's blend that's dominated by petit verdot (95%) from Sawtooth Vineyard. It's packed with black fruits, smoky oak, lavender and earthiness, backed by sturdy tannins that offer a pleasing finish. It earned a gold medal at the 2019 Idaho Wine Competition.
Cathedral Ridge Winery 2016 The Last Best Wife Reserve, Columbia Valley $48: This Hood River, Oregon, winery, directed by Robb Bell, was sourced from McKinley Springs Vineyard in the Horse Heaven Hills and Firethorn Vineyard in Echo, Oregon, for its petit verdot dubbed "The Last Best Wife." It's a fitting dedication to a spouse, with refined aromas of Van cherries, summer blackberries and blueberries dusted with baking spices. Then it presents lively blackberry, blueberry and plum flavors, ending with a flourish of juicy acidity and smooth tannins. This earned best of class at the Great Northwest Invitational Wine Competition and the San Francisco Chronicle Wine Competition.
Andy Perdue and Eric Degerman operate Great Northwest Wine. Learn more about wine at greatnorthwestwine.com.
Local journalism is essential.
Give directly to The Spokesman-Review's Northwest Passages community forums series -- which helps to offset the costs of several reporter and editor positions at the newspaper -- by using the easy options below. Gifts processed in this system are not tax deductible, but are predominately used to help meet the local financial requirements needed to receive national matching-grant funds.
Subscribe to the Spokane7 email newsletter
Get the day's top entertainment headlines delivered to your inbox every morning.
---