News > Spokane
Chief, a crime-fighting K-9 shot in the face last week, receives honor escort home
March 4, 2020 Updated Wed., March 4, 2020 at 10:43 p.m.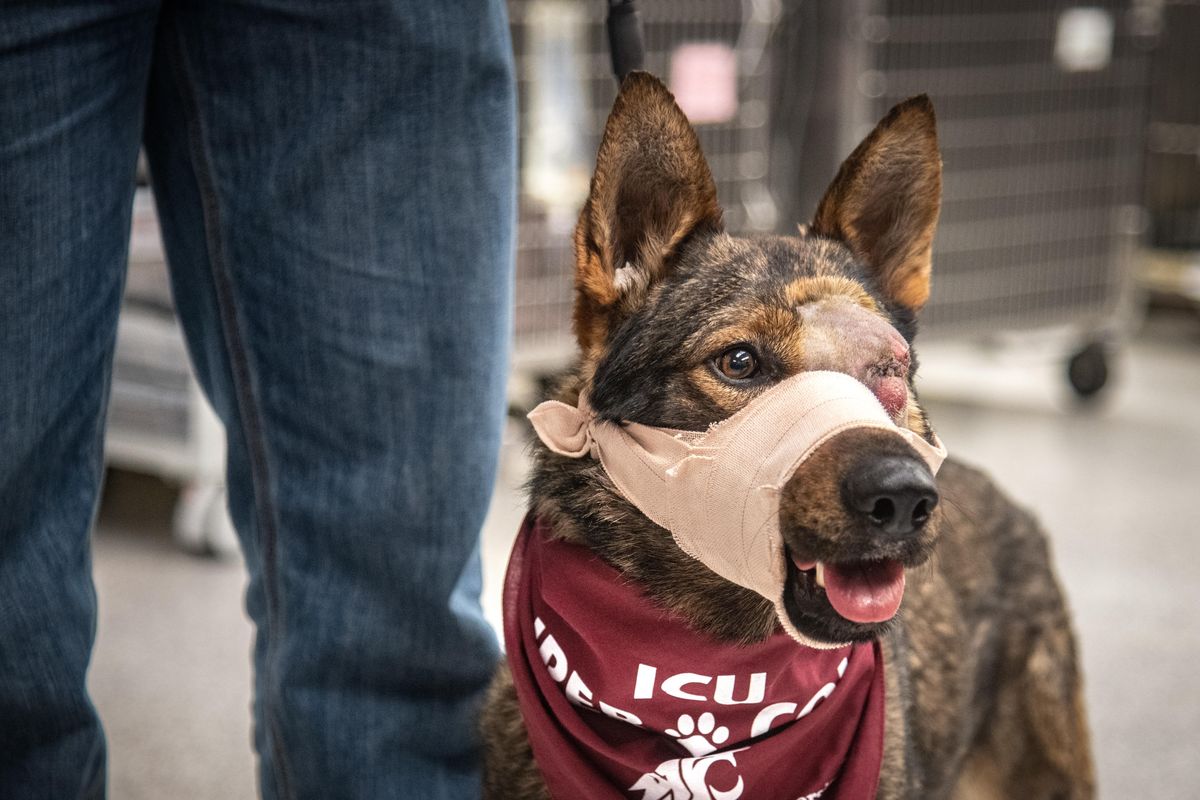 Moses Lake K-9 Chief is bandaged and released from the WSU Veterinary Teaching Hospital, Wednesday, March 4, 2020. The German Shepherd was shot in the face by an armed robbery suspect. Chief lost his left eye and broke his jaw. (Dan Pelle / The Spokesman-Review)
Less than a week after being shot in the face, Chief, a Moses Lake Police K-9, recovered enough to be escorted home by more than 20 police cars from 11 law enforcement agencies.
It was an honor-filled return made possible by the skilled hands and tender touches of a surgical team at Washington State University's Veterinary Teaching Hospital.
Chief will now be allowed to recover and either remain a crime fighter or live the good life with his handler, Officer Nick Stewart.
Chief's injury came Friday night, after Moses Lake police officers located a robbery suspect, later identified as Jose Rivera.
After a car chase that ended with police deploying a spike strip, Rivera abandoned his car and fled on foot. Stewart deployed Chief to catch Rivera. When the dog caught Rivera, the suspect pulled out a gun and shot Chief at close range in his left eye, according to police reports.
Stewart returned fire and killed Rivera.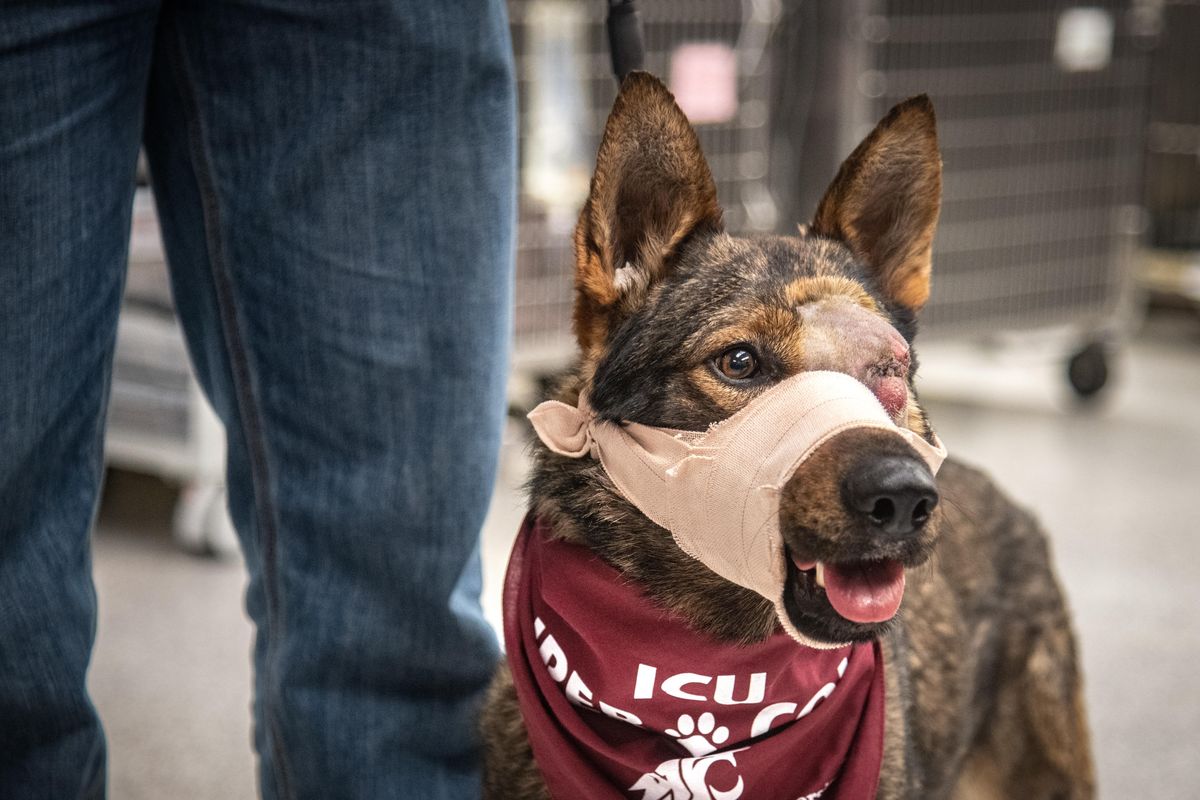 Moses Lake K-9 Chief is bandaged and released from the WSU Veterinary Teaching Hospital, Wednesday, March 4, 2020. The German Shepherd was shot in the face by an armed robbery suspect. Chief lost his left eye and broke his jaw. (Dan Pelle / The Spokesman-Review)
Everything happened quickly, and Stewart said he felt helpless when Chief was shot.
"It was one of the worst nights of my life," Stewart said. "It was pretty terrible."
Officers took Chief to his usual veterinarian, Jesyka Morrison at Pioneer Veterinary Clinic. She helped stop the bleeding but made it clear that Chief would need to be taken to WSU.
Chief was flown to the Pullman-Moscow Regional Airport and transported to WSU's Vet Hospital by ambulance.
Stewart had to stay in Moses Lake that night to process the shooting with the department and was placed on administrative leave, a standard practice for officer-involved shootings. So Moses Lake's other K-9 handler and Morrison flew down with Chief.
Veterinarian Emilia Terradas Crespo was on call Friday night when she heard about the shooting and headed to the hospital at about 2:30 a.m.
Chief was doing well because of Morrison's quick work to bandage his eye and give him medicine, Terradas Crespo said. "She did an amazing job."
Initially, Terradas Crespo was concerned about potential brain damage if the bullet entered Chief's brain.
Chief had a low heart rate and high blood pressure, she said, but the vets were able to stabilize Chief and sedate him to take X-rays.
That's when they discovered that the bullet had gone straight through Chief's left eye and then shattered, leaving small fragments of the bullet near his shattered jaw. The bullet never entered his brain or disturbed his jaw joints.
"I mean he has been extremely lucky," Terradas Crespo said. "Extremely lucky that there was no further damage."
Chief's left eye was removed during surgery, but otherwise he will make a full recovery, Terradas Crespo said.
"He's going to have a very good quality of life," Terradas Crespo said.
After a blood transfusion and a few days of sedation to help him heal, Chief was ready to head home Wednesday.
"It's gotten better every day, somehow he's progressed so fast," Stewart said. "It's almost a miracle how fast he has improved."
Law enforcement agencies from the area banded together to escort Chief and Stewart back to Moses Lake.
K-9 units, including those from the Spokane Police Department, Spokane County Sheriff's Office and Grant County Sheriff's Department, brought their K-9s on the honor drive.
"As far as Eastern Washington, it's a really tight-knit community," said Todd Belitz, a Spokane police officer who helps train K-9s.
Belitz helped train Stewart and Chief when they went through the basic handlers course two years ago. All seven Spokane police officers in the K-9 unit spent the majority of their shift Wednesday taking Chief home.
"We dedicated our day to this, just to be here for Nick (Stewart) and Chief," Belitz said.
"It's been overwhelming, the support from friends, family, work, people I've never met," Stewart said. "I'm excited to get him back home and get back to normal life and let him start recovering."
Stewart and his wife, Alli, dressed in matching Moses Lake Police Department hoodies Wednesday, chatted with friends and expressed their excitement at bringing Chief home.
The couple has a chocolate Labrador retriever and a pit bull/pointer mix already at home. If Chief can't return to work, he'll become one of the Stewarts' family dogs.
"I'm not going to count it out until he's healed," Stewart said of Chief returning to work. "If he can't, we'll retire him and he'll just be pampered and living at home with me, hopefully be buddies with my other dogs."
Local journalism is essential.
Give directly to The Spokesman-Review's Northwest Passages community forums series -- which helps to offset the costs of several reporter and editor positions at the newspaper -- by using the easy options below. Gifts processed in this system are not tax deductible, but are predominately used to help meet the local financial requirements needed to receive national matching-grant funds.
Subscribe now to get breaking news alerts in your email inbox
Get breaking news delivered to your inbox as it happens.
---