Sports
A Grip on Sports: It was a Super Tuesday for Gonzaga and WCC awards, though there is always something to argue about
Wed., March 4, 2020 A GRIP ON SPORTS • Yesterday was a busy Tuesday, that's for sure. There was a lot of votes to argue about, to be angry about and to celebrate. Then there was what happened in the politics as well. We'll avoid the latter but delve into the former.
•••••••
• Postseason awards in any college sport breed controversy. It happens almost every year, only contained when there is someone so impressive, so head-and-shoulders better than anyone else, there is no debate. But that's rarely the case.
And it wasn't that way in any of the West Coast Conference awards yesterday.
Let's take the women first.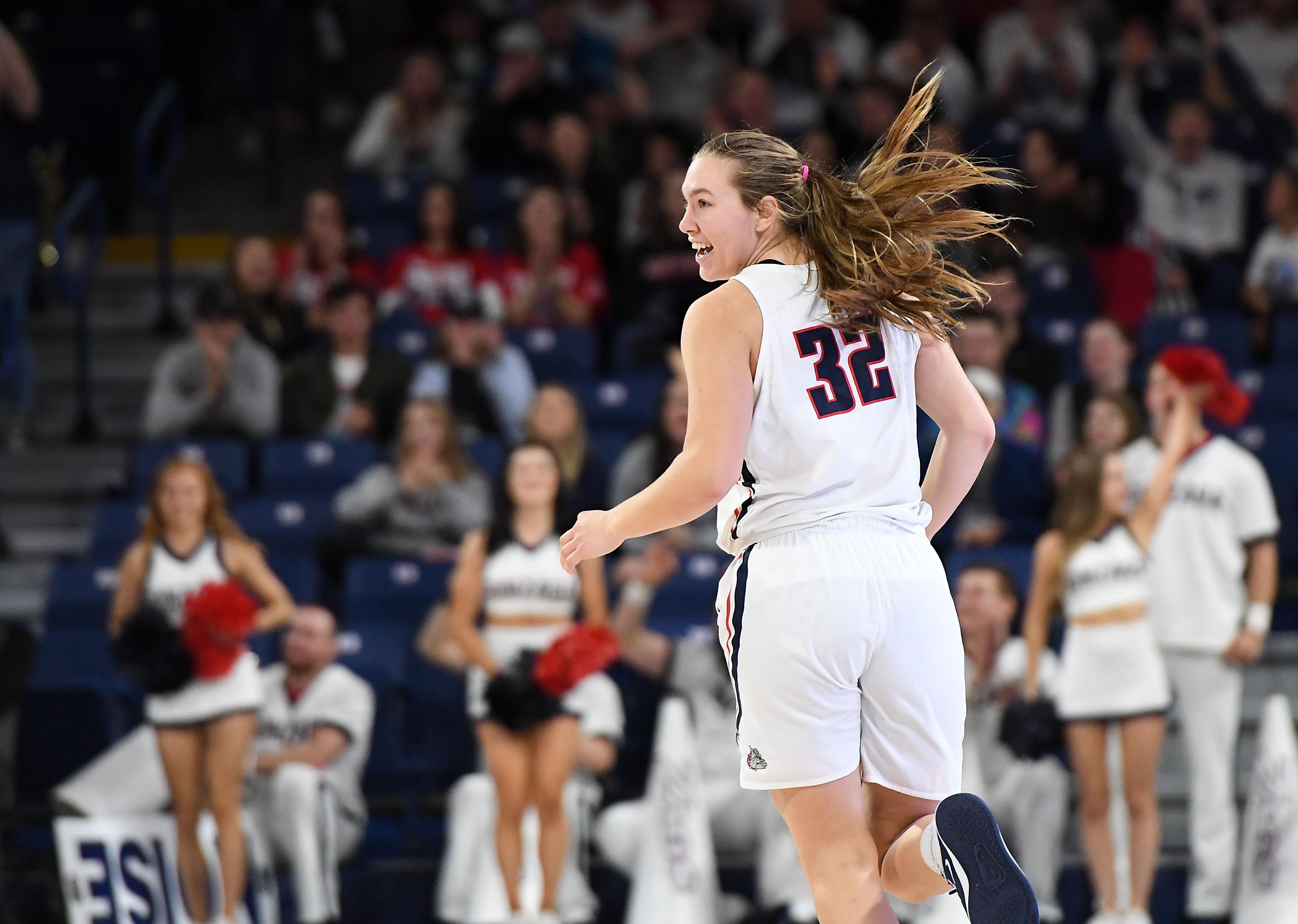 Who would have thought a year ago Jill Townsend would be where she is today: the conference's Player of the Year? Back then she was facing an uncertain future, waylaid by a knee injury in the WCC tournament. The future was filled with rehab, hard work and questions. She answered them all.
Townsend's not the flashiest player. She's just, this year at least, the best in the WCC.
Her biggest accomplishment, in some ways, is how well the Zags played together. That's also a testament to head coach Lisa Fortier, who lost some key components from last year's team, lost her best outside scorer in Katie Campbell midway through league play and still led GU to a 28-2 overall and a 17-1 WCC record.
She reshaped her lineup, including doing it again down the stretch, and hardly missed a beat. It was impressive.
But Fortier's accomplishments were not enough to be named Coach of the Year. That award went to San Diego's Cindy Fisher. The Toreros were awful last season, when Fisher was also the coach. They were much better this year, finishing second. It was a laudable performance. But better than Fortier's? Arguable.
The same could be said for Mark Few.
This season was one of his best. Maybe the best. Look what Gonzaga lost at the end of last season. Look at what GU lost early in this one. Look at the Zags' current rotation. And yet they are 29-2, were 15-1 in conference and are ranked second nationally. They will be a No. 1 seed in the NCAA.
But it wasn't good enough to be the WCC's Coach of the Year. Damon Stoudamire did a wonderful job with Pacific. The Tigers finished tied for third in the conference. They had but one all-conference player. It was laudable. Did I mention Pacific finished tied for third?
Yes, Few coached Filip Petrusev, the WCC's Player of the Year. But did you see Petrusev last season? And how much he's improved? Doesn't coaching have something to do with that?
The Zags also have dealt with a defection, injuries and expectations. They have overcome almost every obstacle. Few's performance was award worthy.
• One other thought on the WCC's awards. The winner of the Newcomer of the Year award was not a newcomer. Sorry, BYU's Jake Toolson should not have been eligible for the honor. Comeback player of the year, maybe, but not newcomer. Not after he already played two seasons at BYU before this one.
Toolson played for the Cougars in 2014-15 and played some the next season. Then he transferred to Utah Valley University. Had two great years in Orem (fixed from earlier thanks to an alert reader). He returned to Provo as a grad transfer when Mark Pope moved from UVU back to BYU as head coach.
How can a guy in his third year with a program be the "Newcomer of the Year?" It's a mystery, that's for sure.
• We've covered the sports news. Now to a personal item.
It has been an awful six months. But they did have a happy ending yesterday.
Let me take you back to August, when I had my annual physical. Including in that was a PSA test, to check how my prostate was getting through the years. Unlike the stock market, a rising PSA number is not good. But it was what came back from the lab.
Which meant I was off to the see a urologic oncologist for the second time in less than three years. Thankfully, the one I saw was thorough. He had also changed his procedure. The last time he had opted for a biopsy right away. This time he had me undergo an MRI before doing a biopsy. (As an aside, I never knew I had trouble with confined spaces until that day. A 45-minute MRI was hell for me.)
Then came the call. The doctor was nice enough. But the news wasn't good.
The prostate showed areas that might be cancerous, but nothing major. However, the MRI had shown some ominous bone lesions in the area around it. That's not good. Before he did a biopsy, my doctor wanted me to have a CT scan. He was worried the lesions were cancerous and, I came to find out, he was trying to determine if he could discover their source.
Great.
Thanksgiving week I had a pretty much full-body CT, though they avoided my head, which we all know is empty anyway. And then we waited.
That call was worse. There was good news. The scan hadn't found any trace of a tumor anywhere. But there were lesions on bones all up and down the right side of my body. The lesions were consistent with those found after prostate cancer had spread.
This was not good. My primary physician explained why. I didn't have cancer in my prostate a couple years ago. If they did a biopsy this time and found I had it and it had already spread to my bones, well, no one said how bad that would be but I can read. And what I read was worse than anything Stephen King had ever done to my mind.
The next month was hell. The biopsy came just before Christmas. The results would be available after. I felt as if I could compare awful holiday seasons with John McClane – and be in the running for the win.
Finally, the results came back. Negative. No prostate cancer. Good news. But everyone was a bit confused. What was behind the lesions? The focus shifted to bone cancer, a malady that had killed my sister not many years ago after a long, painful fight.
I also shifted oncologists. More waiting. Finally, we had a chance to talk. He presented two courses of action. We could wait a few months, take another CT scan and see if the lesions were changing. Or we could be aggressive and do a biopsy, which is invasive. He counseled patience. It seemed the right course. But little did I know how long a couple months could feel.
Last week I underwent another CT. (I know, so many X-rays in such a short period. I was hoping to turn into Spider-Man or something.)
Yesterday we had our appointment.
Turns out, in the interim, someone dug out a CT scan I had in 2012 in the emergency room. It showed some of the same affected areas. Now my oncologist had CTs from then, from November and from late February. He compared them.
The lesions were the same.
In other words, he could say with nearly 100 percent certainty they weren't cancerous but, instead, were caused by some sort of trauma.
Talk about being relieved.
Turns out, the mental trauma of the last six months was unnecessary. The nights lying awake wondering if this was it, the end, were a waste. The long talks about what could be ahead were just talks. Thankfully.
I can honestly say I wasn't myself from October to yesterday. My focus was way too personal. People asked me to do things and I just said no. My thoughts were more about my family and its future. To be open about it, I was scared. And in a shell.
Not anymore.
Thanks for letting me share. What I've written above is a heck of a lot better news than what I could have been writing about. Thankfully.
•••
Gonzaga: Jim Meehan has all the coverage of the WCC men's awards. … Jim Allen has the same with the women's awards. … Elsewhere in the WCC, we pass along award news from wherever we can find it, including BYU and Pacific. … This Cougar team seems different to some observers.
WSU: The Pac-12 regular season isn't over yet, but Theo Lawson is looking toward what's ahead. That would be the conference tournament and the Cougars' first-round game. … Around the Pac-12, what happened to Washington's season? Can the Huskies start a turnaround against Arizona State? … Oregon has a chance to solidify its NCAA seed the next couple weeks. … Oregon State would just like to have a happy ending to its season. … The same could be said for Colorado. … UCLA's run is impressing its alumni. … There is never much of a Senior Day at Arizona anymore. … In football news, spring practice started at more schools yesterday. Oregon State has to find a new left tackle. … Oregon is trying to build defensive line depth. … Karl Dorrell is trying to get off to a quick start at Colorado. … USC's defense is in new hands. … The Bruins may lose their backup quarterback. … Arizona State's starting quarterback wants to thrive. … So does Arizona's new one. … Utah has to fill some holes. … The Utes will still be the Utes, but the Ute Indian Tribe adds some stipulations to their agreement with the university. And there is some more legal news from the school. … The conference's media deal may depend on the deal the NFL makes.
Preps: State basketball tournaments begin today with loser-out games. So we have to preview all of them. Dave Nichols has much of the duty, what with his stories on State 4A and 3A boys and girls. We also have capsule previews of the girls and boys action at the 4A, 3A, 2A and 1A level. … Dave also spoke with Larry Weir for the latest Press Box pod. It also includes a Whitworth conversation with Bud Nameck. … Dan Thompson has a 2B preview and Jason Shoot has the 1B preview. We also have capsule previews from the State B in boys and girls. … We will end with this story from Ryan Collingwood on the legacy that is the Soliday family in Eastern Washington basketball.
Mariners: The M's have some good young talent. But it is young. And there is a long road ahead. … Who will be in the dugout when the season starts?
Seahawks: Mock drafts make a mockery of our ability to wait until the real thing. … The Hawks may take another running back. Oh joy.
•••
• Just wanted to thank you folks again for reading. It's good to know there is an audience out there for sports news – and my personal ramblings. Until later …
Subscribe to the sports newsletter
Get the day's top sports headlines and breaking news delivered to your inbox by subscribing here.
---