A&E
First Friday offers preventative dose of beauty
Thu., March 5, 2020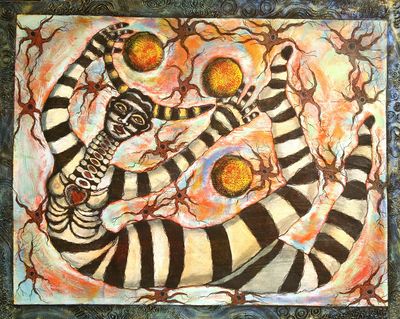 Wash your damn hands and march into First Friday with your head held high and eyes wide open. Otherwise you might miss the beauty you need to stay healthy.
Melissa Cole, known for her large installations and colorful paintings of fish, flowers and mermaids, has taken a hard-earned departure of late. Her new show "Broken" at Kolva-Sullivan Gallery deals with a serious spinal injury she suffered while scuba diving in Indonesia last year. The trauma, the paralysis, the numbness are all explored in the way that only Cole could handle it. The result is rejuvenating. From 5-8 p.m. at 115 S. Adams St.
It's always exciting to see what the ever-evolving photographer Dean Davis has been working on. Add some pours at Barrister Winery, Beacon Hill's delicacies and local cover band Spare Parts to the mix for an art-walk stop to savor. From 5-10 p.m. at 1213 W. Railroad Ave.
Ben Joyce, the painter of beloved places all over the Pacific Northwest and beyond, will give art-walkers a peek at the first piece he's created for a new international series he's started titled "The Place Collection." Joyce has chosen New York City as his first stop, interpreting the Big Apple in his own way. He plans on creating eight more massive, 8 -by-8-foot pieces as he embarks on a global journey that will take him to Shanghai, Abu Dhabi, Rio de Janeiro and six other iconic destinations. Ben Joyce Gallery from 4-8 p.m. at 806 W. Third Ave.
La Resistance has selected Michael Dinning as its first solo show in the gallery. In his exhibition "Ponderous Constructions," Dinning layers paint and intriguing bits and pieces into his works reflecting the personal layers and overlapping ideas and affections that define who we are. From 5-9 p.m. at 1816 E. Sprague Ave.
Also on East Sprague is a vibrant evening of art and music at New Moon Gallery with stunning pieces by photographer Kathy Davis Linford, potter Jill Smith and painter Chuck Harmon. Artists reception from 5-8 p.m., then music from 8-10 p.m. by the Front Porch Trio. 1326 E. Sprague Ave.
Marmot Art Space celebrates its fifth anniversary with five new works by five artists, including Ric Gendron, Melissa Cole, Gordon Wilson, Shelli Walters and one "mystery" artist. Creations by Alfredo Arreguin, Ruben Trejo, Rob Fifield, Rob McKirdie, Michael Dinning, Karen Mobley and Jim Dhillon also will be in the house. Plus, it's Kendall Yards, for crying out loud – food, wine and shops abound. From 5-8 p.m. at 1202 W. Summit Parkway.
Avenue West Gallery is roaring into First Friday with a 1920s-style "Great Gatsby" party. No costume required, but … prizes! Assemblage artist Larry Ellingsen will be featured along with guest artist Connie Janney, who is known for her colorful collages. From 5-8 p.m. at 907 W. Boone Ave.
Terrain Gallery will host a show titled "Sqilxw Women: She Brings Bundles" created by Mariel Belanger, Barb P. Marchand and Maura Tamez. This "collective exploration of Indigenous women in the marsh" is an evolving audio and photographic series focused on visions of reclaiming sqilxw "dreamer of the land" identity. The concept of being called a trespasser on one's own land will be among the harsh realities explored. From 5-8 p.m. at 304 W. Pacific Ave.
The vibrant works of graffiti artist "Max" will grace the walls of the Wonder Building's AS2 Gallery along with the dance-inspired acrylics of Seattle artist Lisa Corbett. Both artists exude energy and intensity. With musical guests Ocean Jams and FTK. From 5-8 p.m. at 835 N. Post St.
Local journalism is essential.
Give directly to The Spokesman-Review's Northwest Passages community forums series -- which helps to offset the costs of several reporter and editor positions at the newspaper -- by using the easy options below. Gifts processed in this system are not tax deductible, but are predominately used to help meet the local financial requirements needed to receive national matching-grant funds.
Subscribe to the Spokane7 email newsletter
Get the day's top entertainment headlines delivered to your inbox every morning.
---