A&E > Seven
From the land of fire: Colin Hay is raising funds for firefighters in Australia
Thu., March 5, 2020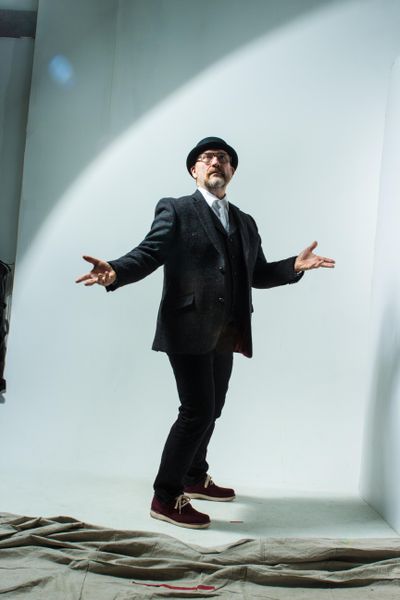 If it seems like Colin Hay was just in Spokane, you're not wrong. The 66-year-old former Men at Work frontman performed at Northern Quest in May backed by his wife, singer Cecilia Noël, and a top-notch band of Latinx musicians.
Now Hay is back, booked into the Bing Crosby Theater on Sunday night on a solo tour. Fans of his chart-topping Australian rock band will hear all of their favorite tracks such as "Down Under," "Overkill" and "Who Can It Be Now?" And the night will offer a chance to hear new material from Hay's upcoming solo album.
The campaign follows two years of touring with Ringo Starr & His All-Starr Band, Hay's 2017 studio effort "Fierce Mercy" and a theatrical debut as Feste in a production of Shakespeare's "Twelfth Night" for the Melbourne Theater Co.
"It's good to be actually on tour. Before I started, it seemed a little daunting because I hadn't been out for a while, but once you're out on the road, it always feels better because you're actually doing it."
The songwriter's connection to his adopted homeland of Australia began in 1967 when he and his family shipped out from Saltcoats, Scotland, to the land Down Under.
After years of on-and-off bands and solo acoustic gigs in Melbourne, Hay formed a friendship with guitarist Ron Strykert in 1978, which established the songwriting core behind Men at Work, Australia's flagship hitmakers of the 1980s who still bear influence on modern radio mainstays from Metallica to the Lumineers.
But before adopting the urban music scene of Melbourne, Hay had found his rural refugee in Cobargo roughly 400 miles to the northeast just off the beaten path of the Princes Highway.
"I had a girlfriend, Linda, at the time, and we had a couple of friends. They went up to that area, and they bought some land there, and they kept on saying to us, 'You have to come up, you have to come up and visit us.' "
"So we went to visit them, and then there was a block of land next door, so we bought it. It's really by circumstance rather than design," Hay said.
This 55 acres of relaxed bushland in New South Wales, bought by his girlfriend for $9,000, became his songwriting sanctuary through the late 1970s and early 1980s.
"It was just a beautiful place to be, so all I really used to do was sit around and play guitar."
There he wrote a song that would not only land in the tracklisting of the band's 1981 debut, "Business As Usual," but also ascend to the pinnacle of the Billboard Hot 100: the No.1 smash "Who Can It Be Now?"
Upon Hay's last visit to the once-idyllic isolation of the Cobargo a number of years ago, what he saw would end up being a forecast into the historically destructive fires that would nearly consume the continent last July.
"I remember thinking how dry it was in that area. Long yellow grass; hadn't been any rain for months and months."
Those arid conditions would soon graduate into catastrophe, producing the fires that burned 13 million acres of New South Wales and have left at least 25 dead, according to ABC News.
Now, after the fires relented for the first time in New South Wales in 240 days on Tuesday, fire behavior experts like Simon Heemstra of the Rural Fire Service warn that there still remains potential for fires to reappear in as soon as five months.
Still, the forces responsible for combating those flames can find support in Hay's efforts, who has stood by his blue-collar resolve and heartfelt defense of his adopted homeland like a man at work. He's offering VIP meet-and-greet opportunities in select markets – not Spokane, however – and channeling proceeds to the New South Wales Rural Fire Service in Australia.
"I just thought it was a good idea of where I could channel the meet-and-greet money," Hay said. "It seemed like a natural thing to do."
Local journalism is essential.
Give directly to The Spokesman-Review's Northwest Passages community forums series -- which helps to offset the costs of several reporter and editor positions at the newspaper -- by using the easy options below. Gifts processed in this system are not tax deductible, but are predominately used to help meet the local financial requirements needed to receive national matching-grant funds.
Subscribe to the Spokane7 email newsletter
Get the day's top entertainment headlines delivered to your inbox every morning.
---