Sports
A Grip on Sports: High school basketball tournaments always end with only one team celebrating but everyone remembering what happened
Thu., March 5, 2020 A GRIP ON SPORTS • There is a lot to like about March. Flowers start to emerge. The high temps hit the 60s around here. And high school basketball ends with the State tournaments.
•••••••
• One of the great gifts of my life was being able to cover State high school basketball tournaments.
Oh sure, it was hard work. Always. A whole bunch of games in a compressed time period. Late starts for title games, meaning you're up against deadline. Trying to pull intelligible quotes from 14- and 15-year-old kids. Bad phone connections for years followed by impossibly inconsistent Wi-Fi.
All of that.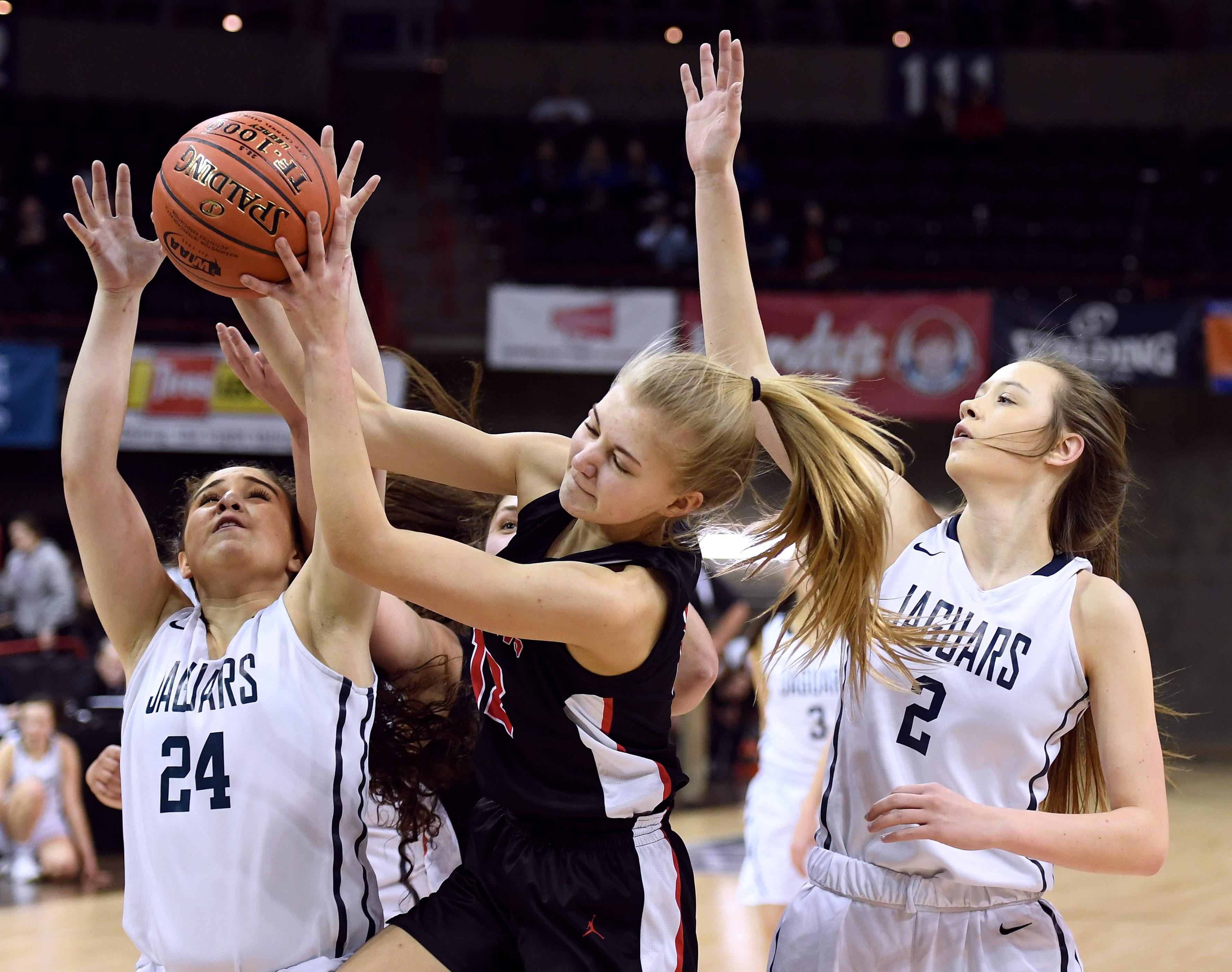 And yet there was no more rewarding work in sports journalism.
You're job was, at its core, to write history.
Every time I walked into one of the arenas for a State tournament game I reminded myself of that charge. In 10 years, in 20 years, in 50 years, whatever you wrote was going to be hauled out and read again. The girls and boys playing on the court would want to reflect back on what happened that night and it was your story they were going to use to jog their memory.
It was an awesome responsibility. And one I always respected. Which is why, if you read my stories, I tried to always mention someone who made an unexpected positive contribution.
A person who rarely got off the bench mostly. But it could have been an assistant coach who I saw having a conversation with a player, and that player went on to make a big play. Or it might have been a boneheaded play by a star that had no impact on the final outcome – but jog everyone's memory at the reunion.
But mainly it was just about the game itself and the memories the players were building.
Win, lose, whatever. The job was to chronicle it in such a way that those reading it the next morning – this was pretty much before the interweb, remember – had a clear picture of what happened. And those reading it years later had one as well, despite the fog of history. That's not easy.
But what was it Jimmy Dugan said in "A League of Their Own?" "Of course it's hard. It's supposed to be hard. If it was easy, everyone would do it. Hard is what makes it great."
And it was. Great, I mean.
Especially after it was over.
• Before we get too far away from the end of the high school basketball season, we want to touch on the beginning of others. Yep, spring sports began Monday. As someone who has coached high school baseball in Spokane before, Monday's weather, and the continuing sunshine and warmth, was appreciated.
Most years the first week or so of spring practices are held indoors. Either there is too much snow still on the ground or it is raining or both. And the cold, biting wind when you do get outdoors? Wow.
A 50-degree day with the sun shining? That's heavenly.
•••
Gonzaga: It's been a great year for Joel Ayayi. He's emerged as one of the Zags' key players. But lately he hasn't been as sharp. Which makes it a perfect time for Jim Meehan to talk with him and share his story. … Corey Kispert is one of five finalists for the Julius Erving Award, given to the nation's best small forward. Rui Hachimura won last season. Jim has that story as well. … Lisa Fortier is a semifinalist for the Naismith Award, given to the nation's top coach. Jim Allen has that story. … Elsewhere in the WCC, a couple of BYU players are getting married. … Could coronavirus concerns have an impact on the WCC, Pac-12 and other tournaments in Las Vegas?
WSU: The thoughts we shared at the beginning of this column? They are borne out in Theo Lawson's story concerning Jen Greeny and Katie Smith, two women with Cougar connections and a shared State B history. In Theo's story, he quotes a section from Kevin Blocker that describes the action when the two players met. As we said, history. … Larry Weir, a chronicler of history in his own right, spoke with Matt Chazanow about WSU basketball for the latest Press Box pod. … The Cougars are in Tucson to meet Arizona. … Around the Pac-12, the conference may get seven teams in the NCAA Tournament. … Washington's Mike Hopkins realizes he has much to learn. Another lesson may be learned tonight when the Huskies face Arizona State. … Oregon State may have to rely on its bench. … Colorado doesn't play tonight, which may be a good thing. … UCLA and USC meet in a game that has special significance for both beyond the rivalry nature of the contest. … In football news, when Oregon starts practice today, it has a lot returning in the secondary but is looking for another linebacker or two. … Colorado has its eyes on another assistant coach. … The quarterback room at Utah is different. … Enrolling early does give freshmen at Arizona State a spring to show what they can do. … The NCAA is thinking of changing where players ejected for targeting can be. It shouldn't. … Could the Big 12 try to poach some of the Pac-12's best programs?
EWU: Eastern heads into the final weekend of Big Sky play with a chance to secure at least a share of the conference crown. Ryan Collingwood looks at all the scenarios in this story.
Idaho: The Vandal women rolled over Weber State last night in Ogden.
Preps: These days, Wednesdays at the six State tournaments are loser-out games. A loss means the long season is over. Such was the case for Gonzaga Prep in the 4A boys ranks and Mt. Spokane in the 3A boys. Dave Nichols was in Tacoma for those games. … In State 2A and 1A girls play, a couple local teams won to advance to today's trophy rounds. … Dan Thompson has the coverage of the 2B boys and 2B girls action from Wednesday. … Jason Shoot takes care of the 1B girls and the 1B boys.
Chiefs: Spokane picked up an easy 6-2 win in Edmonton as Adam Beckman reached 100 points for the season.
Mariners: Though the M's lost yesterday (I have a feeling I might be writing something similar about 85 to 90 times during the regular season), there was a big test for pitcher Justin Dunn.
Seahawks: Why do Princeton students not want to hear Marshawn Lynch speak? He might not converse in the King's English, but wisdom can come from just about any source if you are wise enough to accept it. … Could the Hawks have two elite pass rushers up front next season?
•••
• Before we finish, I wanted to thank everyone who reached out yesterday, whether it was on Twitter, via email from here or by text. Your heartfelt words meant a lot. Oh, and thanks to the reader who caught my awful mistake concerning Jake Toolson and his previous school. How I made it – I even looked up his statistics on Basketball Reference – I'll never know. Maybe too much radiation recently? That excuse should work for a couple months at least. Until later …
Subscribe to the sports newsletter
Get the day's top sports headlines and breaking news delivered to your inbox by subscribing here.
---