Sports > High school sports
State 1B boys: Odessa puts offensive balance on display to top Naselle, reach title game
UPDATED: Fri., March 6, 2020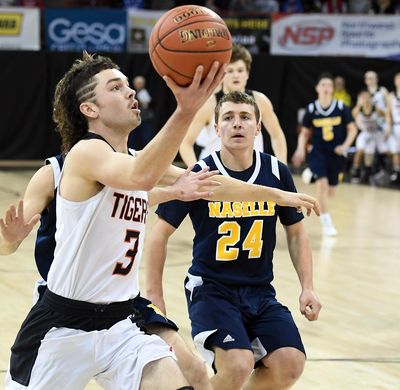 Odessa is no one-trick Tiger.
Four Odessa players scored in double figures, and none of them included the state's all-time leading scorer, Ryan Moffet. That balance proved instrumental as the Tigers outlasted Naselle 62-56 and advanced to the championship game of the State 1B boys basketball tournament at the Arena.
Odessa (26-0) will play Yakama Tribal, a 51-50 winner over Lummi Nation in the other semifinal, in Saturday's title game at 7 p.m. The Comets (19-7) will play Lummi Nation at 11:15 a.m. in the third-place game.
Jett Nelson scored a team-high 16 points, and Tim Dewulf added 14 for the Tigers. Marcus King and Camden Weber added 10 apiece.
"Our confidence is insanely high right now," Weber said. "We haven't lost a game. It's hard not to be confident."
No faulting the Tigers there. Moffet, who scored only six points in the semis, hasn't had a signature game at the tournament. Yet Odessa still has emerged victorious after taking the best shots from Almira/Coulee-Hartline and Naselle, respectively.
"I have to give a shout-out to Ryan for that concept," Tigers coach Larry Weber said. "He let it happen. He didn't force it. When he was younger, he would've gotten frustrated. That's a sign of maturity from a really good basketball player."
Camden Weber said Moffet is the best 1B player in the state, but noted that the Tigers have played together since second grade and have the utmost confidence in each other.
"It's not if or when, but who is going to show up," he said.
Naselle hit 8 of 15 3-pointers in the first half to remain within 35-32 at halftime. The Comets limited Moffet to three points through the first two quarters, but Nelson made four 3-pointers en route to 14 points, keeping the Tigers in front.
Odessa held the Comets without a 3-pointer in the third quarter and stretched its lead to 51-42 going into the final 8 minutes.
Naselle made three 3-pointers in the first 3 1/2 minutes of the fourth quarter, cutting the lead to 55-53 on Kolby Glenn's 3-pointer that capped an 8-0 spurt. Dewulf followed up King's baseline jumper with one of his own for Odessa before a Glenn layup trimmed the Tigers' lead to 59-56 with 30 seconds left.
King made the front end of a 1-and-1 at the foul line, and Dewulf scored a putback on King's ensuing miss, providing the final margin.
Ethan Lindstrom scored 16 points for Naselle, and Glenn and Corey Gregory had 13 each.
Yakama Tribal 51, Lummi Nation 50: Mylo Jones made a late steal and was fouled attempting a desperation shot from halfcourt as time expired, and he made his second attempt from the foul line to break a tie, sending the Eagles (23-2) to the title game against Odessa.
Lummi Nation's Jaie Leighton made 1 of 2 free throws with 41 seconds left, tying the score at 50. Yakama Tribal turned the ball over on the other end with 21 seconds to play, but Jones' late heroics helped the Eagles survive and advance.
Bryce Strom scored 12 points, and Justice Hart added 11 points and nine rebounds for Yakama Tribal.
Caleb Revey led all scorers with 17 points and also grabbed 10 rebounds for Lummi (25-4).
Local journalism is essential.
Give directly to The Spokesman-Review's Northwest Passages community forums series -- which helps to offset the costs of several reporter and editor positions at the newspaper -- by using the easy options below. Gifts processed in this system are not tax deductible, but are predominately used to help meet the local financial requirements needed to receive national matching-grant funds.
Subscribe to the sports newsletter
Get the day's top sports headlines and breaking news delivered to your inbox by subscribing here.
---