Sports
A Grip on Sports: The past is a mother lode of items to mine as we get through the next few weeks
Mon., March 16, 2020 A GRIP ON SPORTS • Was your weekend as weird as expected? Around Spokane, the snow and accompanying cold wind put a bite into any plans outside the home, though the virus news was, of course, a bigger concern. All the down time, however, did get us thinking even more about how to help fill the void.
•••••••
• As the days without sports on TV and in the community drag on – and they will drag on if the weekend's news is any indication – it would be easy to become a bit stir crazy.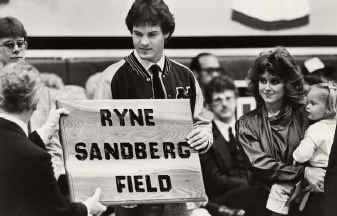 My hope is the sun will come out, the temperature will rise and I can begin to putter in the yard a bit. That's social distancing I don't mind – and of a sort that I've been practicing for a few years.
But others don't have that option. I get that. So I'm going to spend a few minutes (or hours, depending how complex) putting together subjects here that may spark some discussion.
Who is the greatest college basketball coach of all time? Pretty easy question, right? If you want to argue for anyone by John Wooden, get out of here. We'll show you the door hidden somewhere behind his 10 NCAA championship banners.
But what's the list of the Inland Northwest's best over the past 50 years or so (or in the memory of folks who live here). The top spot isn't hard to figure out, but what about the next four or five? And what criteria should we use?
The same questions could be asked about the area's greatest players, no matter what the sport or the level. Oftentimes it is easy to identify the leaders – would anyone not have Ryne Sandberg on top of any list of high school baseball players? – but it gets a bit murky the further you go. And one day, good or bad, might just color your view of someone who did or didn't really belong.
No one knows how long it will be until the sports world – locally, nationally and around the globe – returns to some semblance of "ordinary." But we all know we won't be able to shed our feelings about it easily. We're going to try, as much as possible, to help fill the gap, starting tomorrow with a list of the most accomplished college basketball coaches this area has seen since 1970. (The picture on the top of the column today may give you a clue of one of the cited coaches – or may not.) And we'll share our memories of those folks.
You can nominate anyone you want. You can argue with our selections. You can share your stories. Together, we'll keep the area's sports conversation humming.
• Speaking of conversations, we received some comments about our movie list from yesterday. Much of it was positive. But there were also other suggestions of films I neglected to mention, including "The Blind Side" and "42."
It was also pointed out, in two of the three categories, I had hockey movies atop the list, something I didn't even notice.
How did that happen?
Mainly, I guess, I'm a sucker for Paul Newman and Disney tales, though they never came together as far as I know.
By the way, someone also pointed out I had "Hoosiers" as my fourth-best trueish story, but my top drama. How could that be?
I was wondering if anyone would notice. Actually, I love Hoosiers. Even dressed up as Norman Dale for a basketball game this season (it had a '50s theme). But as a historical work, it's not all that representative. As a great drama, it overcame that enough to be on my list of historically based films. But as history – it is based on Milan's Indiana state title in 1954 – it misses enough to move down that list.
And if you want to drop it completely from the history books? "Pride of the Yankees" would move up a spot and "Remember the Titans" would move onto the list at No. 5.
•••
WSU: We passed along a piece yesterday from the website WoodinvilleSports.com that included former Washington State left tackle Andre Dillard's thoughts on Mike Leach. Theo Lawson passed it along on Twitter as well – and seemed to be vilified by some as supposedly agreeing with the piece instead of just informing everyone of its availability – before delving deeper into what was said in this story. I'm not sure anyone would be shocked to find out Leach grated on some players and seemed like a savior to others. That's the way with just about every coach. … Elsewhere in the Pac-12, with sports canceled until the fall, there is little pass on. Especially since the NCAA decided not to release tournament brackets. … Colorado's Tad Boyle has his thoughts about the way the season ended. … Arizona's athletic director is looking ahead. The Wildcat basketball team was doing that a week ago. … A couple different West Coast columnists wrote about what the next few weeks could be like in the sports world. … In football news, an injury didn't derail a Utah player.
Gonzaga: How would have GU fared if there had been an NCAA Tournament? Jim Meehan tells us one simulation, run by CBS SportsLine, predicts the Zags would have matched their best finish ever. Yep, Gonzaga would have made the title game again – if you believe the computers. Others saw it differently. … The same simulation had BYU moving through to the Sweet Sixteen. The Cougars would have enjoyed that run.
Preps: The Seattle Times puts together an all-state list for basketball, combining all levels. Dave Nichols examined it and highlights the local recipients. There was one player who was undervalued and undervalued a lot. Mt. Spokane's Jayda Noble was only a second-team pick. She not only should have been on the first team, she should have been a candidate for player of the year. I watched a lot of film this season, saw a lot of the girls listed and none were more talented, or used that talent for the betterment of her team, than Noble. She was something special this season.
Chiefs: Spokane has sent its players home. There is no reason for them to stay in Spokane with the season suspended and the chances of it re-starting become more and more remote. Kevin Dudley has more in this story.
Mariners: It could be June before baseball season begins this year. Look on the bright side. If the M's get off to the same start they did last season, they will still be in contention come July.
Seahawks: The NFL players agreed to a new 10-year labor deal with the owners yesterday, though it was a close vote. And it was criticized, vocally, by many of the stars. But now it's the agreement, everything, including the soon-to-start free agent period, will be governed by. … The Hawks should know Jadeveon Clowney's decision soon. Our guess? He'll end up in another uniform next season. … Who else might end up in Seattle? And who shouldn't.
•••       
• With the governor's announcement last night restaurants have to close, my whole life changed. Unless, of course. McDonald's drive through is still open. If that's the case, I'm good. … That's a little levity, of course. I'm hunkering down for the duration and will allow my inner "Monk" to seep out a bit more. I probably won't go the full-blown Howard Hughes, but who knows. Until later …
Local journalism is essential.
Give directly to The Spokesman-Review's Northwest Passages community forums series -- which helps to offset the costs of several reporter and editor positions at the newspaper -- by using the easy options below. Gifts processed in this system are not tax deductible, but are predominately used to help meet the local financial requirements needed to receive national matching-grant funds.
Subscribe to the sports newsletter
Get the day's top sports headlines and breaking news delivered to your inbox by subscribing here.
---