News > Spokane
Inslee, Trump and local courts halt evictions, but some Spokane leaders say more action still needed
March 19, 2020 Updated Thu., March 19, 2020 at 7:21 a.m. Waiting on a sidewalk outside her apartment building wearing slides, pink-heart pajama pants and a zip-up sweatshirt covering her baby bump, Kaylajo Chapman-Davis didn't have time to get dressed Tuesday morning.
The 22-year-old also didn't have time to grab diapers, medicine or anything else that she, her children and her fiancé might need in a crisis.
Being evicted is a crisis even in normal times, but Chapman-Davis said she's especially concerned that she and her children don't have a place to quarantine, don't have a safe place to wash their hands, and won't have a place to go as more and more businesses and services shut down as the coronavirus pandemic grows.
"Being 8 months pregnant and having two kids, the fear is huge," she said. "Not having anywhere to go, and not knowing where you're going to go and being out here with all these people, and you don't know what they're carrying, it's a scary situation."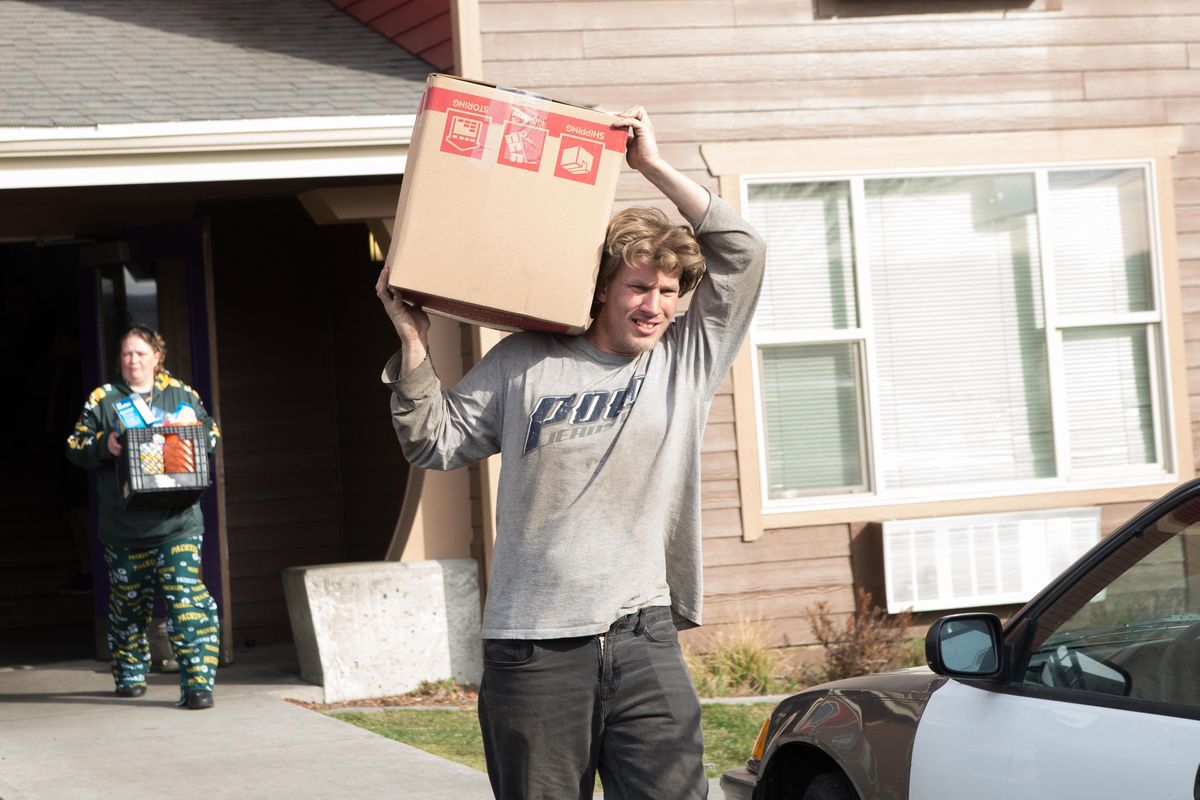 Watson Adric, stepbrother to Kaylajo Chapman-Davis (right) and Tyana Grant, family friend, help move items out of the Walnut Corners apartments at 1403 W. Mallon Ave. on March 17, 2020. The eight-month-pregnant Chapman-Davis was evicted from the unit and locked out of the apartment, eventually receiving one hour to move her belongings out, causing her family and friends to rally to help. (Libby Kamrowski / The Spokesman-Review)Buy a print of this photo
Chapman-Davis was evicted one day before Gov. Jay Inslee declared a 30-day moratorium on evictions resulting from a failure to pay rent and on 20-day notices to vacate rental property.
On Tuesday, a Spokane County Superior Court judge also ordered a halt on unlawful detainer evictions until the end of next month.
Terri Anderson, co-executive director of the Tenants Union of Washington State, believes that court order could have kept Chapman-Davis and her family in her home.
"We sure could have used this order," she said.
The governor's announcement and the judge's order have given Anderson a sense of relief. She said there are many families who likely have already been through eviction court but have not yet been evicted, or landlords who were issuing 20-day notices to evict their tenants without cause.
"This is a huge relief for me and the tenants that have gone through a stressful experience of having gone through eviction court," she said.
Some jurisdictions, such as the city of Seattle, already have instituted a ban on evictions for 60 days. Spokane City Council President Breean Beggs said Spokane still could take action to protect homeowners from foreclosure and extend the eviction moratorium for as long as the city of Spokane is in a state of emergency.
Beggs said he and many others looked to what governments didn't do in past crises, such as the 2008 recession. He said many landlords may not be receiving rent checks right now, and many homeowners also are struggling.
"I think when people look back at the 2008 housing crisis, I think they wish we had helped people keep their housing," Beggs said. "I think we're informed by the past."
He said the governor's order gives the city of Spokane a little more time to work on a moratorium, but he did not yet have a date when the City Council would consider it.
Also, President Donald Trump announced Tuesday that the federal government had placed a moratorium on evictions and foreclosures on homeowners who have mortgages insured by the Federal Housing Administration.
Spokane Councilwoman Kate Burke, who has been trying to get an emergency eviction moratorium before City Council, said in an interview Tuesday that landlords need to stop evicting people, because doing so could make the coronavirus pandemic worse.
"We're all in chaos, so we should all just step up and do the right thing," Burke said. "I totally understand that this landlord has gone through a long process, but everybody is going to suffer in this community. We're going to lose people, we're going to lose businesses and we all need to step up."
Anderson said evicting someone during the current circumstances is irresponsible and puts the community at risk.
"If she doesn't have shelter, she's more likely to contract the virus, or spread the virus," Anderson said.
Alan Eschenbacher, president of the nonprofit Spokane Urban Ministries, which owns the apartment building Chapman-Davis was evicted from, said she was evicted because of her conduct as a tenant.
Chapman-Davis had allowed her fiancé to move in with her, but was not able to put him on the lease because his income would have meant the couple made too much money to live in a low-income apartment, Eschenbacher said.
He said Spokane Urban Ministries normally "bends over backwards" to accommodate tenants, but when they violate the rules of conduct, they are evicted.
"We don't evict people for no reason, and this was well underway long before the coronavirus was an issue," he said.
Chapman-Davis said she had agreed with the nonprofit in court to move out of the apartment at the end of the month and had applications in at other places, but did not realize that agreement stipulated that she had to pay her rent eight days earlier than she normally does. She was evicted Tuesday morning after she did not pay rent on the new due date.
Steve Corker, president of the Landlord Association of the Inland Northwest, has contacted the 800 landlords he represents to urge them to avoid evicting, or threatening to evict, tenants.
"I'm asking our landlords to kick in like everybody else has to and make sacrifices," Corker said.
Anderson said the city should still take action because gaps could emerge in the patchwork of of protections renters have for the rest of the month.
"Inevitably, you're going to find gaps, and I'm happy the city of Spokane is looking at all of these emergency measures and finding a way to fill gaps," Anderson said.
Corker said any policy should include an exception for tenants who are a safety risk to their neighbors.
Anderson and Corker said they were concerned about what would happen to the rental market in the next couple of months. Corker said many of the landlords he represents own small properties and duplexes and still have mortgages to pay, even if their tenants aren't able to pay rent. Several months without rent could put them in a financial crisis as well and make it difficult for them to do repairs or pay their own bills.
Corker said he's hopeful that any government that passes a stringent moratorium on evictions has a similar policy for foreclosures.
Anderson said evictions happening right now are likely a small percentage of the financial hardships people will face in the next couple of months. She said a moratorium will help, but she's concerned about how those working in the hospitality industry, the entertainment industry and other sectors hit hard by coronavirus will do when the policy ends, they owe rent and they still have not been paid.
"We're in the mindset that the worst is yet to come," she said.
Local journalism is essential.
Give directly to The Spokesman-Review's Northwest Passages community forums series -- which helps to offset the costs of several reporter and editor positions at the newspaper -- by using the easy options below. Gifts processed in this system are not tax deductible, but are predominately used to help meet the local financial requirements needed to receive national matching-grant funds.
Subscribe now to get breaking news alerts in your email inbox
Get breaking news delivered to your inbox as it happens.
---