News > Spokane
Dry Fly Distilling is making and distributing a hand sanitizer – 'Spokanitizer' – to the community
Tue., March 24, 2020 For Overcast Innovations shop manager Bill Hart, it has been difficult to find hand sanitizer – a product integral to ensure the safety of his employees – at local stores during the coronavirus pandemic.
When Hart saw Dry Fly Distilling's Facebook post announcing release of its "Spokanitizer" to the local community Monday, he drove to the distillery's tasting room, at 1003 E. Trent Ave., in hopes of picking up some of the hand sanitizer.
"I wanted to make sure my shop was covered," Hart said, as he picked up three, 8-ounce bottles of hand sanitizer for himself and employees. "It's great they are giving back to the community."
Hart was among those who stopped by Dry Fly Distilling on Monday to obtain bottles of the "Spokanitizer" from the distillery's founder, Don Poffenroth. Employees and volunteers handed out the product free of charge to people lined up in cars in a parking lot adjacent to the distillery's tasting room.
Dry Fly Distilling also had stations available for people to fill their own bottles.
"It's fantastic they are doing this," said Patty Duncan, who stopped by Dry Fly Distilling to pick up a bottle.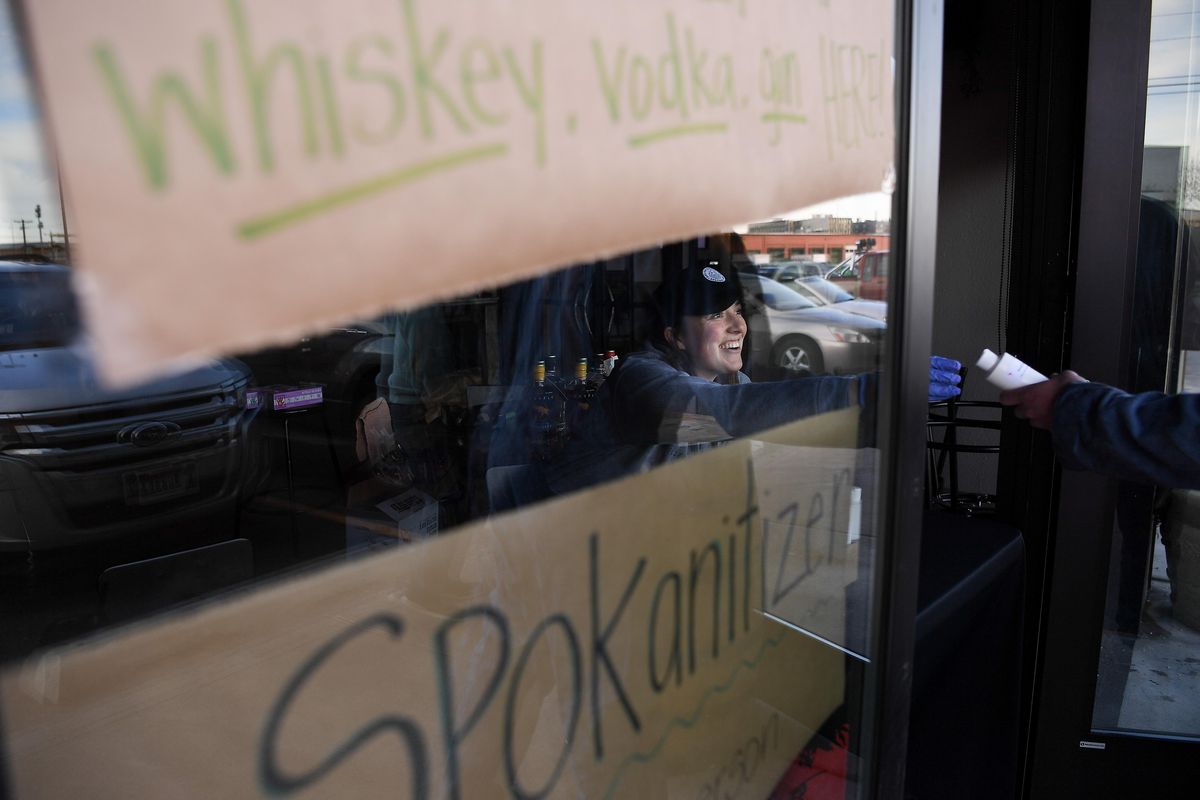 Alexandra Tallas, left, a bartender at Dry Fly hands out Spokanitizer, the company's COVID-19 hand sanitizer on Monday, March 23, 2020, at Dry Fly Distilling at 1003 E Trent Ave in Spokane, Wash. The distilling company was handing out free containers of the antibacterial concoction and filling containers brought by patrons. Don Poffenroth, co-owner and co-founder of Dry Fly Distilling, said that patrons should reuse containers and bring them back to Dry Fly for refills up to 8 fluid ounces. (Tyler Tjomsland / The Spokesman-Review)
Dry Fly Distilling received approval last week from the Alcohol and Tobacco Tax and Trade Bureau and the Food and Drug Administration to create an ethanol-based hand sanitizer, which also contains glycerin, hydrogen peroxide and essential oils.
Dry Fly Distilling's phone has been ringing off the hook with people looking for the hand sanitizer since the company announced it would be creating the product. It has also fielded about 500 to 600 emails from people requesting pickup of the product, said Terry Nichols, Dry Fly Distilling's vice president of sales and marketing.
Dry Fly Distilling – which has produced around 6,000 to 7,000 bottles of the hand sanitizer –distributed its first batch to health care providers, retirement and nursing homes, city workers and first responders, Nichols said.
Dry Fly Distilling's beverage distributor, Odom Corp., restaurateurs and other industry partners assisted in bottling.
Several local businesses, such as Maid Naturally and Shadow Works, donated supplies to make the hand sanitizer. Oaksdale-based Wisota Farms provided grain used to create the product.
Community members also donated glycerin and bottles for the hand sanitizer, and that was helpful because of sparse supply chains, Nichols said.
Dry Fly Distilling is intending to keep creating and distributing the "Spokanitizer," Nichols said.
"The Spokane community has been great," he said. "We just want to help out."
Local journalism is essential.
Give directly to The Spokesman-Review's Northwest Passages community forums series -- which helps to offset the costs of several reporter and editor positions at the newspaper -- by using the easy options below. Gifts processed in this system are not tax deductible, but are predominately used to help meet the local financial requirements needed to receive national matching-grant funds.
Subscribe now to get breaking news alerts in your email inbox
Get breaking news delivered to your inbox as it happens.
---