News > Spokane
Nervous brides: Coronavirus gatherings ban affects upcoming nuptials in town
March 28, 2020 Updated Mon., March 30, 2020 at 6:46 a.m.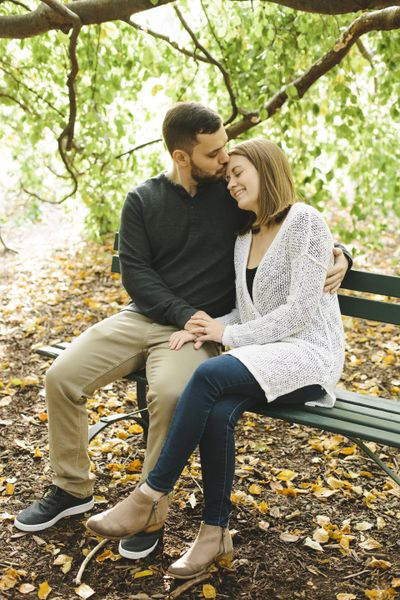 Heather Nelson doesn't have the typical pre-wedding jitters.
Her concerns aren't about the flowers or the guests or her dress. They're about the coronavirus.
With her May 16 wedding date fast approaching, everything seems up in the air.
"I was pretty laid–back about it until last night when they released that any gatherings over 50 be canceled," Nelson said of Gov. Jay Inslee's March 15 order.
And Nelson isn't exactly a stranger to tense situations. A Spokane County firefighter who is engaged to a fellow firefighter, Nelson is on the frontline as emergency responders prepare to deal with a growing number of people infected with coronavirus. She said she feels good about her preparedness, professionally, and has been given the information she needs.
She's less sure about her wedding.
For now, her planned 150-person wedding ceremony at the Ridge at Rivermere, an outdoor venue overlooking Riverside Park, hasn't been canceled. But she may have to take action if the ban is extended.
Luckily for Nelson, she enlisted the services of Nikki Gradoville, owner of Nikki Gradoville Wedding and Events. Nelson said Gradoville has gone above and beyond to calm her nerves and has put in place a plan of action.
"Once you cancel, you can't take that back," Nelson said. " We're going to just keep staying the course and hope that it gets better. … It makes sense, but it doesn't make me feel any better."
Gradoville said her clients take an average of eight months to plan their wedding and spend an average of $25,000 to $35,000 on the big day. For now, Gradoville's telling couples to wait and see. The contingency plan, should Inslee extend the ban, is postponement, not cancellation.
Nelson said she's lucky: She would only be out a deposit with her vendors and most are small local businesses who signed on for her new date. Nelson completed most of her planning when she and Steven Hand first got engaged, on a trip to Mexico last May. The majority of her guests are local, but Nelson's family members are flying in.
Nelson has been following message boards with other brides who are weighing difficult decisions.
"On one hand, if you go through with doing your wedding, and you're asking a lot of people to congregate in a situation like this, are you being selfish, or are you not taking everybody else's interest into account?" Nelson said. "But on the other side, it's like, 'What if it's all resolved and there was no reason to cancel and the loss of money financially?' "
Samantha Moyer was able to marry her now-husband Andrew Moyer just in the nick of time. When the two wed at the Spokane County Courthouse at 5 p.m. on March 16, the judge told them they would be the last courthouse ceremony before coronavirus shut down many courthouse proceedings. For their pictures, they decided to wear something less than traditional: masks.
"We just thought it would be something to remember this time," Samantha Moyer said. "And also just to kind of bring some humor into it all of wearing the mask and kind of making fun of the whole situation to, you know, everybody is serious about it – which it is a serious thing, don't get me wrong – but we still need to have a little humor."
The bride and groom had been planning on dinner at Wild Sage Bistro following the ceremony, but the restaurant was closed, so they got reservations at Clinkerdagger instead.
Not all brides have been as lucky as Nelson and Moyer. Paige Orendor's wedding was set for April 11 at the McGinnity Room, and she had no choice but to postpone the wedding she had been planning for about a year. The new date is set for Aug. 15, and she said other than her DJ, she's been able to reach all of her vendors and get them on board with the new plan.
Still, the experience is surreal. March 19 was supposed to be her bridal shower, which she canceled, as well.
"It didn't feel right anymore to do that. It's crazy how close we were to everything, and then it all just – it's gone, essentially," Orendor said.
Jaime Johnson, owner of Jaime Johnson Events, said she had a client scheduled for March 19, but they were able to reschedule for early June.
"I am asking my clients to move forward with grace knowing they fear losing hard-earned money, but reminding them now is the time to stay calm and explore all our options and to get creative versus panic," Johnson said in an email.
Bailey Riley, owner of Bailey Riley Photo, said she had clients who were coming from Oregon for engagement photos and a boudoir shoot canceled.
"I'm kind of freaking out, I'm not going to lie," Riley said. "I converted my bedroom into a studio to use for my clients."
Riley said she is lucky because her next wedding isn't until June 6. Crystal Madsen, owner of Crystal Madsen Photography, is in the same position. A saving grace is that Spokane's wedding season isn't in full swing until May.
Rick Welcy, owner of New Beginnings DJs, said the ban hadn't affected any of his weddings, but he still took a hit: Riverside High School canceled its prom.
Though marriage brings to mind romance, there also are practical considerations, said Vicky Dalton, Spokane County auditor.
"It is a civil contract between two individuals," Dalton said. "With that comes responsibilities and benefits. Marriage is about being able to inherit, marriage is about obtaining benefits such as pensions or medical coverage, being covered by the spouse's insurance."
Dalton gave the example of one of the people becoming sick, and if there is no legal relationship, next of kin would be able to make medical decisions.
"If there's any kind of friction between the partner and family, that partner could be kept away from the sick individual," Dalton said. "There's just a lot of benefits that go along with marriage and in this time of crisis could become incredibly important for those individuals."
Though the building is closed to the public, people can still make appointments with Dalton to obtain their marriage license by calling (509) 477-2270. Dalton said they should leave a message, and someone will get back to them.
Local journalism is essential.
Give directly to The Spokesman-Review's Northwest Passages community forums series -- which helps to offset the costs of several reporter and editor positions at the newspaper -- by using the easy options below. Gifts processed in this system are not tax deductible, but are predominately used to help meet the local financial requirements needed to receive national matching-grant funds.
Subscribe now to get breaking news alerts in your email inbox
Get breaking news delivered to your inbox as it happens.
---