News > Spokane
Bans on funerals, Masses cost Spokane cathedral confession, meals for the hungry, employees, much else
Sun., March 29, 2020 Pope Francis asked Catholics worldwide to pray the rosary together last Thursday, but Rev. Darrin Connall didn't join them.
At the hour of that global prayer for countries facing the novel coronavirus pandemic, Connall was burying a friend – the kind of active church member whose funeral Mass would have easily filled Our Lady of Lourdes Cathedral with 700 mourners, under normal circumstances.
But these aren't normal circumstances.
After giving her life to the cathedral, Charlotte Phelps and her family did not get that ceremony, Connall said.
She died the same day Bishop Thomas Daly of the Diocese of Spokane canceled Masses and soon after Gov. Jay Inslee banned gatherings statewide. So, only 10 people were allowed to attend Phelps' funeral.
"It's stunning," Connall said.
Phelps cleaned the priests' quarters, cooked for them, gave communion at Mass and spent hours counting the collection every Monday. Her husband was the cathedral's deacon for many years.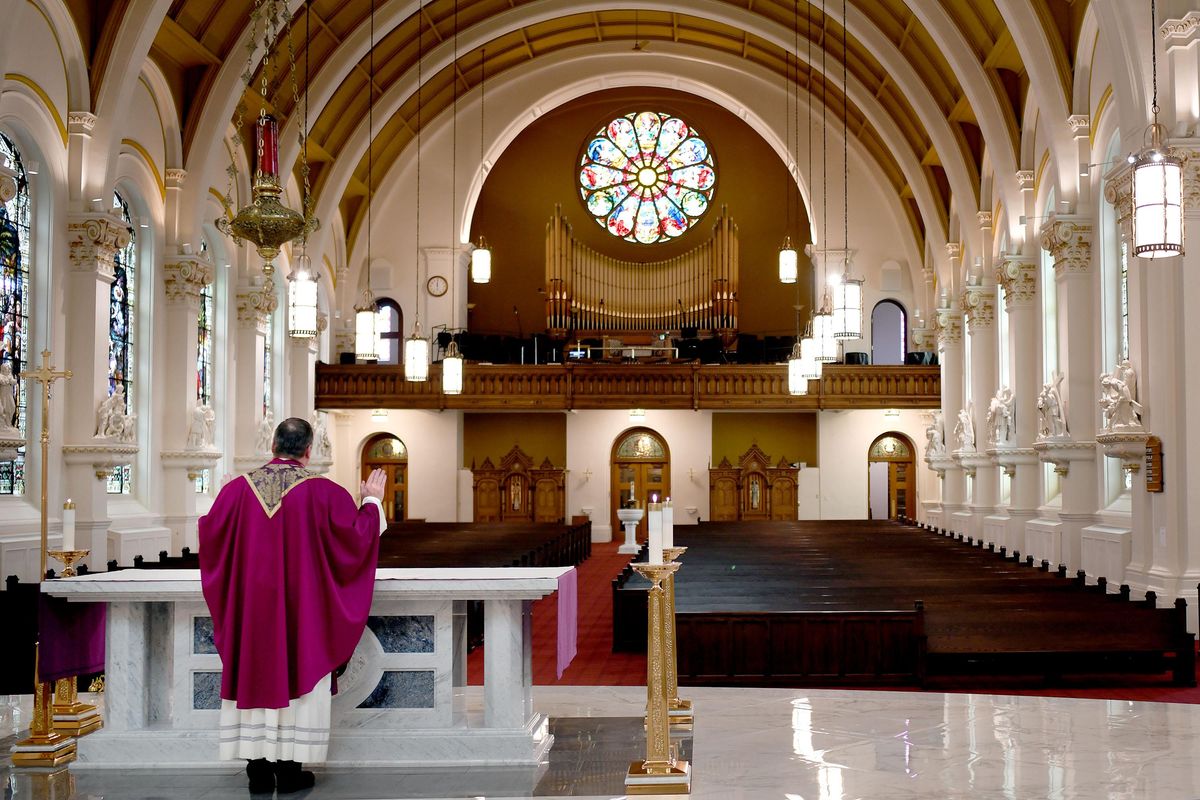 Father Connall conducts mass without a congregation at the Cathedral of Our Lady of Lourdes due to the coronavirus restrictions in Spokane on Friday, March 27, 2020. The mass is available through live streaming. (Kathy Plonka / The Spokesman-Review)
With no collection to count and all gatherings banned, Our Lady of Lourdes and Holy Cross Funeral and Cemetery Services, which helped bury Phelps, have taken a blow that is more than just spiritual, though it's definitely that.
There's also a difficult financial cost Connall and others fear could harm the cathedral's spiritual mission going forward.
The cathedral has half the money it normally does, and what remains can only sustain the church for a few weeks, Connall said.
Our Lady of Lourdes operates on a huge campus with old buildings, and there's constant maintenance.
"You can't run the cathedral without money," Connall said. "But I also know people have to have money in order to give money. People are losing jobs, their 401K has been cut in half and people are scared."
So this month, the cathedral's administrators laid off 15 musicians. They found themselves unable to pay the cathedral's $40,000 annual insurance premium. They turned the boiler off. A steampipe just went out in the old hall and they can't afford to fix it.
Due to concerns about the virus' transmission, they also put an end to offering over 2,000 sandwiches every month to feed the poor and, this week confessions have been shut down despite Lent being a season of repentance.
Rituals surrounding death also have been slashed. After 30 years as a priest, Connall has anointed hundreds of people as they die. Now he can't.
"People still want their priest when they're dying," Connall said.
In a normal situation, a priest would go to a hospital room, say prayers, read scripture, dip his thumb in blessed oil and make a cross on the dying person's forehead and hands, ensuring their suffering is not in vain, but a share in the suffering of Christ.
Now, only the youngest priests have been designated to make these visits. They will wear an N95 mask and anoint patients with a Q-tip, which must be burned after.
Services at Holy Cross Funeral and Cemetery Services have been gutted. Only a week after Phelps' funeral, quarantine measures have intensified so that no immediate family are allowed at funerals at all, said executive director Rick McClean.
It's cheating families, Connall said.
"Think of people who have been married 50, 60 years, to not stand by the grave of their spouse," McClean said.
The Catholic funeral home – and the only nonprofit funeral home in Spokane – bought camera equipment so people can see their loved one's burial online. Sometime this week they'll hold their first virtual committal, a ritual that involves prayers and burial.
But money is so tight due to shutdowns, they have had to lay off four employees, including the cemetery counselor who helped Phelps' family through her limited burial.
The home is shortening everyone's hours and letting their grounds overgrow so it can support two of its executives who need to stay home with their five children and two foster children, respectively.
"People say there are three events in life everyone will remember: births, weddings and funerals," McClean said.
So he can't understand why there are cars on the roads and many more than 10 people in grocery stores, yet funerals have been sacrificed.
This period will leave devastating effects years down the road, lead funeral director Greg Finch said. Not being there for the final prayers will leave wounds of grief gaping open.
"It strikes me to my core," Finch said. "This goes against everything we've dedicated our lives to."
Some might find ceremonies repetitive, executive administrator Lisa Barber said. But it's what families want. When people are confused by loss, counselors at the funeral home can lead people through a process that makes sense – from vigil to funeral Mass to prayers and burial during committal.
"They need that closure," Barber said. "They went to grandma's funeral and this is what we did. Now we're going to dad's funeral and this is what we're doing. But they're being told we can't do that."
To an extent, the gap is one Catholics are feeling every Sunday that passes without receiving the Eucharist, Connall said. Catholics believe bread and wine become the body and blood of Christ.
And Connall sees a greater hunger for spirituality than ever, even in those who are normally lukewarm in their faith. His live-streamed service yesterday had more viewers than he'd expect in person.
"After 9/11, churches were packed and confession lines were long," Connall said. "That first Mass back here on Sunday is going to be like Christmas or the Easter we can't have."
Local journalism is essential.
Give directly to The Spokesman-Review's Northwest Passages community forums series -- which helps to offset the costs of several reporter and editor positions at the newspaper -- by using the easy options below. Gifts processed in this system are not tax deductible, but are predominately used to help meet the local financial requirements needed to receive national matching-grant funds.
Subscribe now to get breaking news alerts in your email inbox
Get breaking news delivered to your inbox as it happens.
---