News > Spokane
Downtown library opens as temporary homeless shelter
March 30, 2020 Updated Mon., March 30, 2020 at 7:23 p.m. With an injection of state funding and local ingenuity, the downtown Spokane Public Library opened as a temporary shelter for adults experiencing homelessness on Monday to support the region's response to the COVID-19 pandemic.
City officials and service providers transformed the library's main floor into a temporary shelter in the span of about a week to allow for social distancing at shelters, which will now begin sleeping overnight guests at least 6 feet apart.
City crews worked late last week to clear the library's first floor for shelter. Over the weekend, city workers rebuilt a first-floor men's bathroom into a women's shower.
"Even during an emergency like we're experiencing right now, we want to make sure that our vulnerable population has access to resources and the services that they're used to getting, but also some of them may be connected for the very first time," Mayor Nadine Woodward said during a tour of the library on Monday.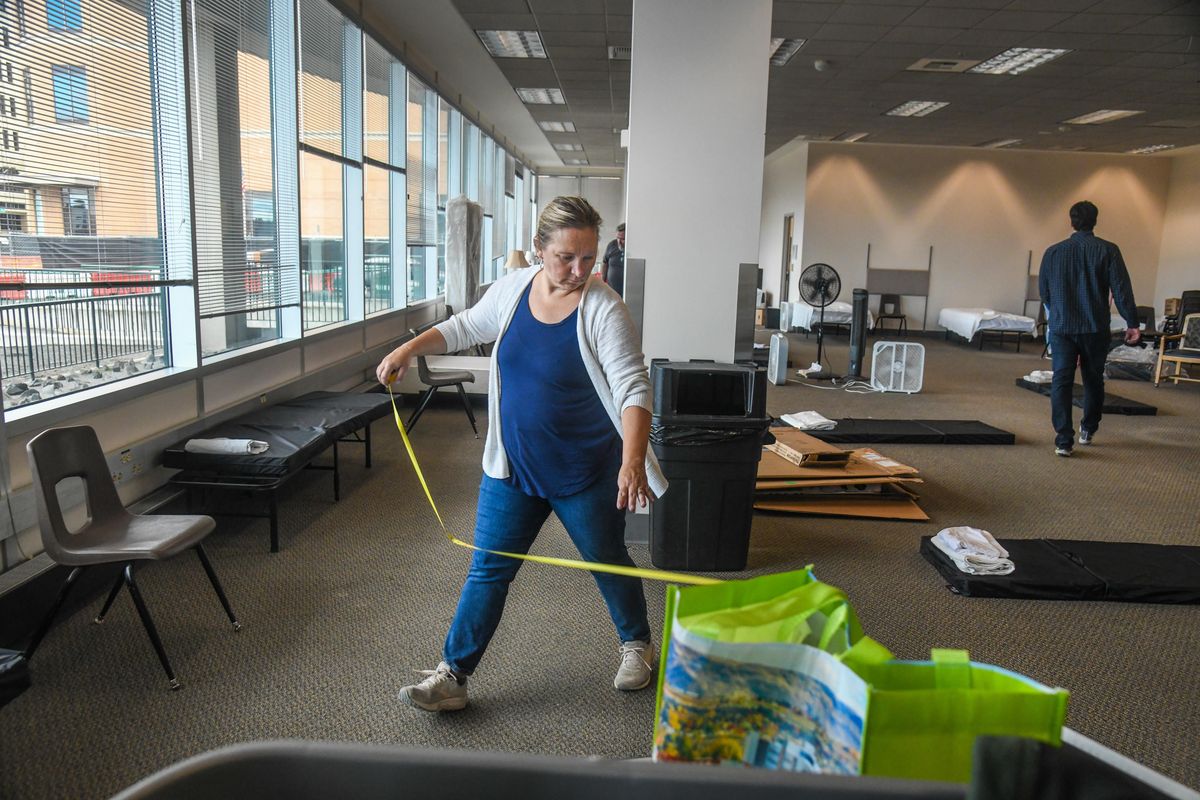 Fawn Schott, CEO of Volunteers of America, measures 6 feet of distance between sleeping mats, Monday, March 30, 2020, at the temporary shelter for the homeless in the downtown Spokane Public Library. (Dan Pelle / The Spokesman-Review)
Jewels Helping Hands will sleep about 60 women and men in its portion of the library, while Hope House will accommodate about 40 women. Both will operate 24/7 and continue to operate their existing shelters.
The library will be monitored by two security officers, while uniformed Spokane Police officers assigned to the downtown precinct will make hourly checks on the facility.
The social distancing measures at city shelters were ordered by the Spokane Regional Health District and Health Officer Bob Lutz, who has warned that the homeless population is especially vulnerable to COVID-19.
Homeless shelters are often crowded, and many people experiencing homelessness have underlying health conditions that make them more susceptible to the virus's effects.
Many shelters, like Family Promise, Union Gospel Mission and the House of Charity, have already implemented social distancing at their facilities. Under guidance from the health district, shelters citywide have also been monitoring the body temperature of guests as they enter and screening for COVID-19 symptoms.
There have not yet been any positive tests for COVID-19 in city shelter patrons or staff members, said Tija Danzig, program director for the city Community, Housing, and Human Services Department.
City leaders have pledged to continue to assess the need for emergency shelter and could look to open additional temporary sites if necessary. Typically, demand for shelter wanes as the weather warms, but officials say it's too early to predict if that trend will continue during the coronavirus pandemic.
And while Gov. Jay Inslee's "Stay Home, Stay Healthy" order does not apply to homeless shelters, Danzig said the city will work with providers to offer the financial and logistical support necessary to operate 24/7.
The library was preferred because it is centrally located and already owned by the city and its main floor contains several large rooms that are separate, conducive to the health district's goal of limiting gatherings to fewer than 50 people.
The downtown branch of the library was already closed in preparation for a two-year renovation project. To prepare it for use as a homeless shelter, officials had to clear out remaining library materials that had yet to make it into a storage facility.
The agreement to use the downtown library as a shelter lasts until May 15, but could be extended if necessary.
The Jewels portion of the library will include an outdoor space and handwashing stations. One of the provider's two portable showers will be parked outside. It will continue to distribute meals.
A men's bathroom will be used as a shower room by Hope House, which also has a laundry facility in the new shelter. Both providers have designated common areas.
Two small rooms have been designated as temporary isolation spaces for people who may have COVID-19.
The city is spearheading the effort on behalf of the entire county, which was the beneficiary of $1.5 million in emergency funding for housing relief as part of the $200 million emergency COVID-19 funding passed by the state Legislature and distributed by the state Department of Commerce earlier this month.
"It is really important that the city was able to step up so quickly and identify ways for us to keep people safe despite the need for social distancing," said Lisa Brown, Commerce Department director.
Local journalism is essential.
Give directly to The Spokesman-Review's Northwest Passages community forums series -- which helps to offset the costs of several reporter and editor positions at the newspaper -- by using the easy options below. Gifts processed in this system are not tax deductible, but are predominately used to help meet the local financial requirements needed to receive national matching-grant funds.
Subscribe now to get breaking news alerts in your email inbox
Get breaking news delivered to your inbox as it happens.
---