A&E
Coeur d'Alene's Amber Fiedler wasn't America's 'Idol,' but she's quite the talent
UPDATED: Sun., May 3, 2020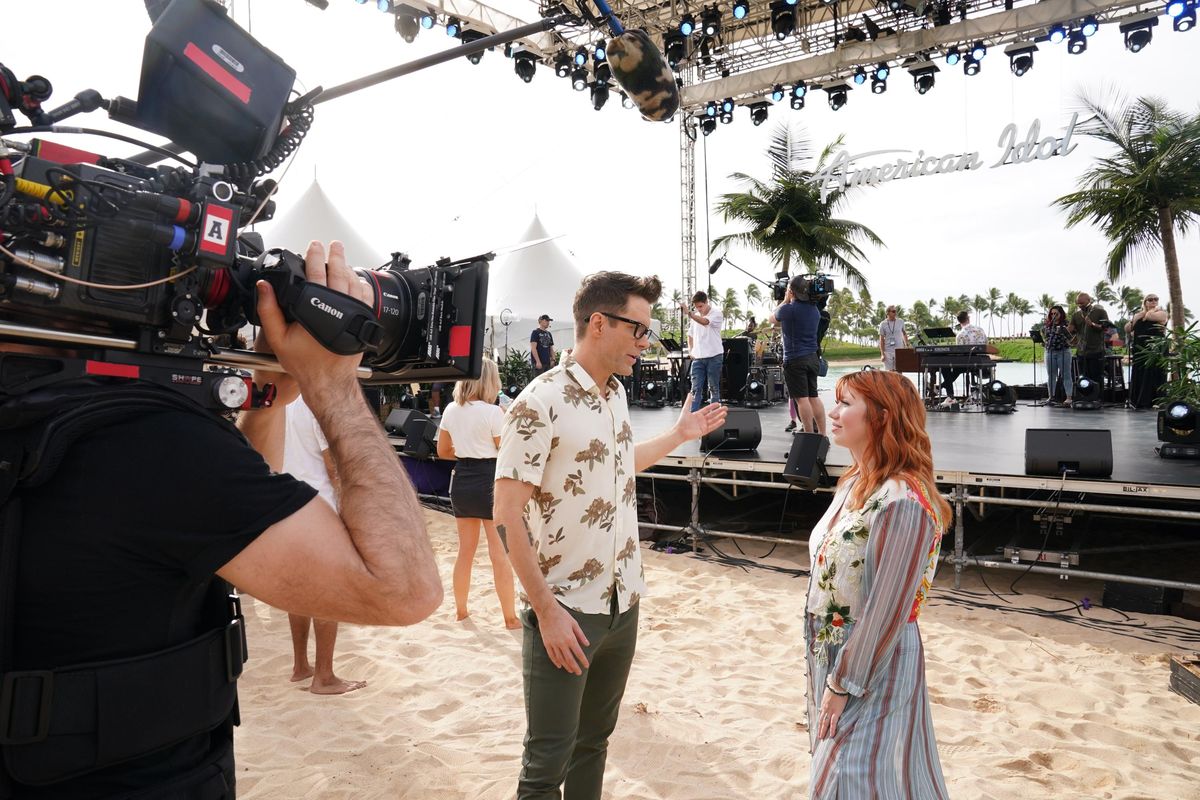 Bobby Bones talks with Amber Fiedler of Coeur d'Alene during filming of "American Idol" at Aulani, A Disney Resort & Spa, in Ko Olina, Hawaii, on April 5. (Karen Neal / ABC)
Surreal doesn't begin to describe what Amber Fiedler has recently experienced. At this time last year, the dynamic redhead decided to carry her first child to term and give her up for adoption.
When "American Idol" traveled to Spokane last August to look for possible contestants, the actress-singer decided to try her luck again auditioning for the TV show.
Fiedler, 24, trekked to Seattle to audition in 2018 for "American Idol" but failed to make the cut. "I lasted until the third round in Seattle but didn't make it further than that," Fiedler said while calling from her Coeur d'Alene home.
When Fiedler heard "American Idol" was eyeballing talent just 35 minutes from her home, she decided to give it a shot again even though she was about to give birth.
"I was very pregnant, and my anxiety level was through the roof," Fiedler recalled. "I tried not to freak out in Spokane or seem like a fan girl in front of the judges, who just sat there and looked perfect. I tried to stay calm and sing as best as I could."
Not only did Fiedler execute, but she also was much savvier the second time around with "Idol." In 2018, Fiedler – who has appeared in a number of Spokane Civic Theatre productions such as "Catch Me If You Can" in 2015 and "The Rocky Horror Picture Show" in 2016 – belted out show tunes in Seattle.
"They liked my singing, but singing musical theater songs didn't help me," Fiedler said.
So Fiedler was wise enough to give "Idol" what it wanted last summer: unadulterated pop. "You and I" by Lady Gaga and "All I Want" by Kodaline were better fits for Fiedler.
When the judges gave Fiedler the news that she was going to the next round, Fiedler flashed an ear-to-ear smile as raging hormones coursed through her body.
"It was amazing," Fiedler said. "I knew I could do it. It was so cool. It meant so much to me since it was 'American Idol.' My grandmom and I watched the show together all of the time."
Fiedler has been singing since she could speak. The charismatic entertainer made her debut onstage in the seventh grade playing Violet Beauregarde in a production of "Willie Wonka & the Chocolate Factory."
"I knew since then that I wanted to perform," Fiedler said. "I'm happiest when I'm onstage, and I was ecstatic about the opportunity with 'American Idol.' When I found out that I advanced out of Spokane, I was so excited."
Fiedler competed in the first round in Sunriver, Oregon, in October while she was 38 weeks pregnant. The judges gave her the news. She was headed to Hollywood. "I was ecstatic," Fiedler said.
However, before Fiedler flew to California, she gave birth to a girl, Nora Rose, on Nov. 16. Fiedler then handed her daughter over to a family in an open adoption.
"She's a little cutie," Fiedler said. "She is with the most beautiful family I ever met. I get to see her. This was how God planned it for me. It was a beautiful thing. It's so cool to give someone so amazing to this wonderful family in Coeur d'Alene."
Two weeks after giving birth, Fiedler was in front of the judges in Los Angeles. Fiedler discovered she had a champion in Katy Perry.
The mega-pop star, who has sold more than 18 million albums and headlines arenas, gushed after Fiedler sang. "I was so thrilled when it was obvious that Katy liked my singing," Fiedler said. "Having her validation made me that much more confident."
Fiedler advanced to the next round in Hawaii in January. "I was so excited not just to compete but to go to Hawaii," Fiedler said. "It was my first time there, and I was blown away. When I wasn't singing, I would go to the North Shore (in Oahu), where I saw a surfing competition. There is no place like Hawaii."
Brooke Wood, the board president and artistic director of Coeur d'Alene's Lake City Playhouse, and her husband, Damon Wood, flew to Hawaii with Fiedler to offer support and share in the experience.
"We're so proud of Amber," Brooke Wood said over the phone from her Coeur d'Alene home. "We have become super close with her over the past three years. We watched her go through some life-changing events."
Wood has directed her in three productions: "Sweet Charity," "A Chorus Line" and "Bonnie and Clyde."
"I played Bonnie and had so much fun working on that," Fiedler said.
Wood gushes when speaking about Fiedler. "She's so talented, and Amber is a genuine person," Wood said. "Genuine people tend to do well onstage, and Amber is such a hard worker."
The Woods, both 41, have opened their home to Fiedler. "She has lived with us from time to time, and we look at her like she's our daughter," Wood said. "So it was so great to go out and support her while she was competing in Hawaii. She did a great job."
Perry felt the same way as she mentored Fiedler, who delivered a spirited performance on the tropical island. She belted out Lake Street Dive's "Good Kisser," which was received favorably by a cheering audience.
However, Fiedler knew she didn't nail it. "It wasn't one of my best performances," Fiedler said. "I was nervous. Afterward, Perry said, 'I'm fighting for you (to advance). I know you can do better.' "
But the news wasn't good. Fiedler failed to move forward and make the top 20. "You've had an incredible journey," judge Luke Bryan told Fiedler. "Since we've met you, you've had a child."
"That's why I'm so emotional right now," Fiedler explained. "All the hormones."
"She's been through a lot," judge Lionel Richie said.
Fiedler departed in tears, but she left quite an impression with the judges and music fans. "The most amazing thing was that after I was eliminated, Katy Perry said, 'I'm still your biggest fan.' All in all, it was a great experience."
Some "Idol" fans questioned via social media whether Fiedler should have advanced. "The response I received was overwhelming," Fiedler said. "It makes me wonder should I go back and try to be on 'American Idol' again, or do I have enough fans to go for it?"
Fiedler did go for it in February when she left her hometown for New York. "We had a going-away party for Amber," Wood said. "It's a bold move to go to New York, but she has so much talent."
After spending 1 1/2 months in the Big Apple, Fiedler returned to Coeur d'Alene due to the novel coronavirus. "I loved the diversity of New York," Fiedler said. "You never know what you're going to see when you walk down the street. There's always something to do. Music is everywhere. There are plenty of auditions. But it didn't make sense to stay. I had to come home, which isn't so bad."
Fiedler is working on her music. "I have an album in the works," Fiedler said. "I've written four songs."
The new tunes represent Fiedler's personality. Her compositions are an eclectic mix of folk, R&B and rock. Fiedler plans to perform live via social media and figure out what she'll do next once normalcy returns.
"I'm excited about the future," Fiedler said. "I'll do whatever I can. I want to perform and get better and build on to what I learned. I picked up so much from 'American Idol.' Lionel Richie was so wise. It was so great to hear him talk about the business. I'm going to put everything I learned and experienced into what I do. It'll be interesting to see what's ahead."
Local journalism is essential.
Give directly to The Spokesman-Review's Northwest Passages community forums series -- which helps to offset the costs of several reporter and editor positions at the newspaper -- by using the easy options below. Gifts processed in this system are not tax deductible, but are predominately used to help meet the local financial requirements needed to receive national matching-grant funds.
Subscribe to the Spokane7 email newsletter
Get the day's top entertainment headlines delivered to your inbox every morning.
---