News > Family
Journey with Joya: Former Spokane Guilds' School turns to online platform to continue services for special-needs kids
Sun., May 3, 2020 When statewide COVID-19 restrictions began, Jessica Burkhart worried her 19-month-old daughter, Journey, with special needs would lose therapy sessions provided by Joya Child & Family Development.
Her concerns soon eased, Burkhart said, as Joya did a fast pivot to video telehealth with Journey's specialists. She has a genetic disorder, STAR syndrome, named under an acronym for signs and symptoms. It caused webbed toes, a tethered spinal cord, mild spina bifida and hearing loss.
"With COVID-19, I was concerned just because Journey has health issues, and I didn't know how we would navigate that whole situation," Burkhart said.
"I was pleasantly surprised when they came to me and said we could continue therapy because Journey has benefited so much from therapy. I am their hands right now."
Formerly Spokane Guilds' School, the center provides early intervention therapy services to children from birth to 3 who have special needs or medical complexities.
For Journey, she needs physical, occupational and speech therapies, as well as special education. On Wednesday, physical therapist Ginette Kerkering and special education teacher Rebekah Edvalson joined mother and daughter over Burkhart's laptop.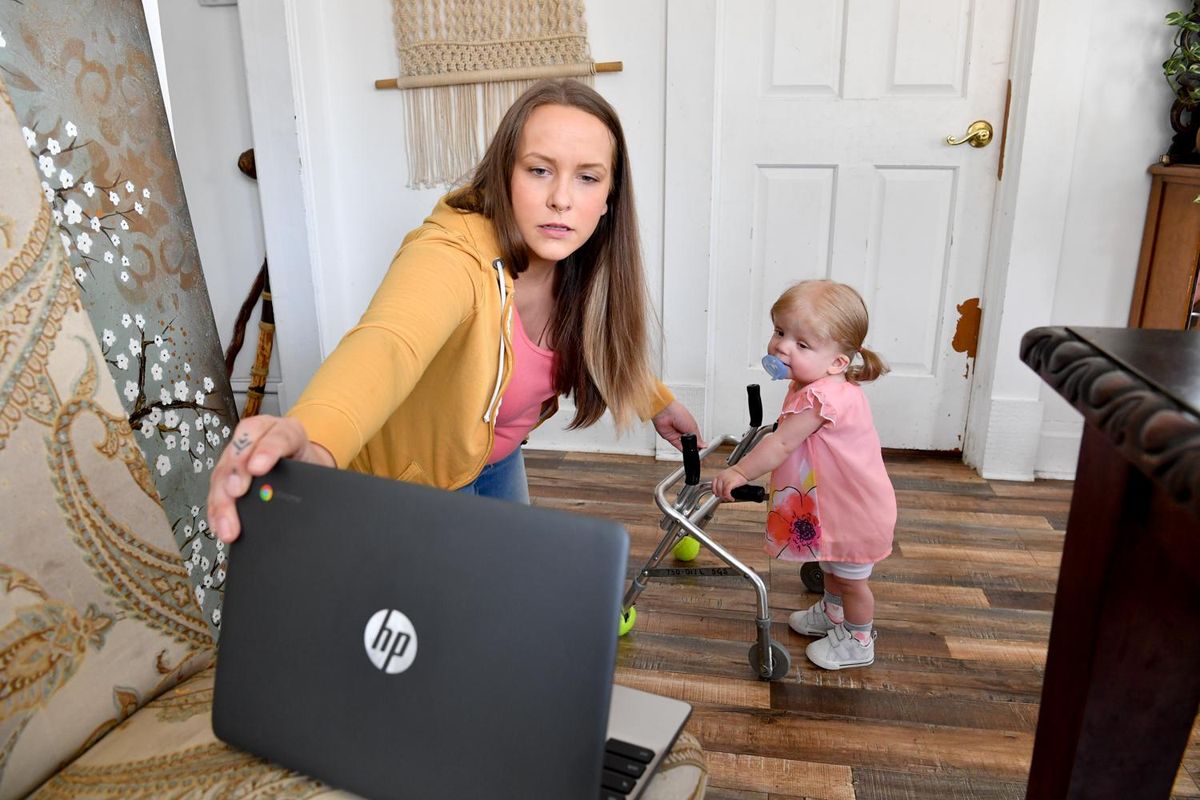 Jessica Burkhart and her 19-month-old daughter, Journey, work through a therapy video session with Joya physical therapist Ginette Kerkering and special education teacher Rebekah Edvalson on Wednesday, April 29, 2020, at Burkhart's home in Spokane, Wash. (Tyler Tjomsland / The Spokesman-Review)
Kerkering said the recent session included time to answer Burkhart's questions about Journey's use of a medical walker to practice walking. Turns out, she wasn't in the correct position.
"We had Jessica just show us over video what was happening, which was great, then we made a couple of suggestions to make it easier," Kerkering said.
Beginning March 13, Joya leaders worked through the weekend on how to continue services based on closures of schools and other anticipated restrictions. By Monday, they'd selected a secure online platform, Thera-Link, which is tied into Joya's electronic records and billing system.
Previously, therapists most often went into family homes, and some group sessions were at Joya. Using Thera-Link, therapists set up home offices and signed up families for telehealth appointments.
Virtual sessions have some limitations because therapy is hands on, Kerkering said, but what has surprised everyone is how parents being coached can, in a sense, be the specialists' hands. For the recent session, Kerkering designed a way for Journey to work on squatting by picking up toys.
"We worked with her today being able to stand, squat down and pick up something, then stand back up again," she said.
"I was talking with Jessica about where to put toys on the floor and how to make it easier for Journey to go get them, then how Jessica can support her with her hands if she needs to."
Financial strains
COVID-19 restrictions have impacted both the way services are delivered and how Joya gets income, and revenue has declined, said Colleen Fuchs, Joya's executive director.
Joya's Penny Drive would have been April 27, but the campaign switched to an online-only fundraiser in May and June. The drive so far has raised $25,000, with a $60,000 goal.
A major revenue source from insurance payments also is down. For its services, Joya bills insurers that include Medicaid and families' private health insurance companies, which provides about one-third of its income, she said. For its telehealth services, Joya is getting some of the insurance-based revenue.
"With the switch to telehealth, we have about 92% of our families participating," Fuchs said.
"While we're still providing services, it's not generating the same level of revenue. We're at about 60% of typical."
About 30% of income comes from donors, she said, and the need is greater now. Joya's therapies are based on all interventions needed for development before school age rather than on what a family can afford, Fuchs said.
"To do that, families often tap out private insurance in the first month or two of the year, and they'd be left paying out of pocket the rest of the year. That's where we depend on donors to help fund that.
"We have a very intensive program because we have a short period of time to make the impact. We're the only neurodevelopment center in Eastern Washington providing intensive, multidisciplinary therapies."
Pluses, minuses
Since Joya embarked on telehealth full time, there have been gains in learning as an organization and as therapists – and in how families show resiliency and flexibility, Fuchs said.
The telehealth services show clear benefits, with a few hurdles, she said. Joya's typical hands-on physical or occupational therapy session is 60 minutes.
"So with telehealth, when you're talking a toddler, it's really hard to engage a toddler for 60 minutes with technology," Fuchs said. "We're usually engaged with them on the floor playing with a purpose."
A physical therapist can ask a mom to feel a muscle tone, but parents don't have the long training experience. "It's a lot of back and forth and asking parents to observe really detailed things that we'd usually know."
What is difficult to do via technology is feeding therapy, she said, so that will return to hands on with lifted restrictions. It helps babies such as those born premature or with prenatal drug exposure coordinate swallowing food and breathing, typically normal reflexes.
"When that's a problem, babies are inhaling milk or formula into their lungs and getting pneumonia," she said.
Overall, the telehealth has worked. "Our families need the support," Fuchs said. "Most people feel stressed by the current situation. Families who have kids with special needs or medical complexities are experiencing that magnified by the stresses they already have."
Kerkering said therapists and families are adapting.
"It takes a lot more work on our part and the families' part to do it because we have to see what they're doing, figure out what's not working and then how to coach them," she said.
"Muscle tone is really hard to do over the computer and some of the finer qualities of their movement. That quality part can be trickier to see. Kids give us a lot of subtle behavior cues that helps us know how they're feeling about a movement."
Kerkering said families are eager to try steps based on the therapists' coaching. Occasional glitches occur, but more often the telehealth session make a difference.
"We've been able to just get eyes on them to see how they're doing," she said.
Sometimes, the families just need to express frustration or excitement. "I'm just really grateful we can do this because I think 10 years ago, we wouldn't have this opportunity because we didn't have the technology."
Burkhart said Journey, who has low muscle tone, has received Joya services since age 2 months. She's learning sign language and getting help with eating. Recent sessions worked to build strength on Journey's weaker left side.
"Ginette instructs me how to hold her, how to position her while she's looking at me on the screen so I can work on strengthening her left arm," Burkhart said.
She said the telehealth is helping Journey while reducing stress for a stay-home schedule with four kids, including an 8-month-old son and older boys, 6 and 9, being home-schooled.
"Honestly, the therapists have done all they can to make the transition easier. They've made it so much better for me."
Local journalism is essential.
Give directly to The Spokesman-Review's Northwest Passages community forums series -- which helps to offset the costs of several reporter and editor positions at the newspaper -- by using the easy options below. Gifts processed in this system are not tax deductible, but are predominately used to help meet the local financial requirements needed to receive national matching-grant funds.
Subscribe now to get breaking news alerts in your email inbox
Get breaking news delivered to your inbox as it happens.
---