News > Spokane
North Idaho churches reopen for in-person services for the first time Sunday amid coronavirus pandemic
May 3, 2020 Updated Sun., May 3, 2020 at 6:59 p.m. People chatted as they waited for Candlelight Christian Fellowship's first in-person service in more than a month to begin Sunday morning.
The sanctuary was dotted with groups of people, presumably separated by household.
"I'm excited and cautious," said Paul Van Noy, pastor of the Coeur d'Alene church. "We just want to serve the community to the best degree we can. I know there's so many people hurting who need hope."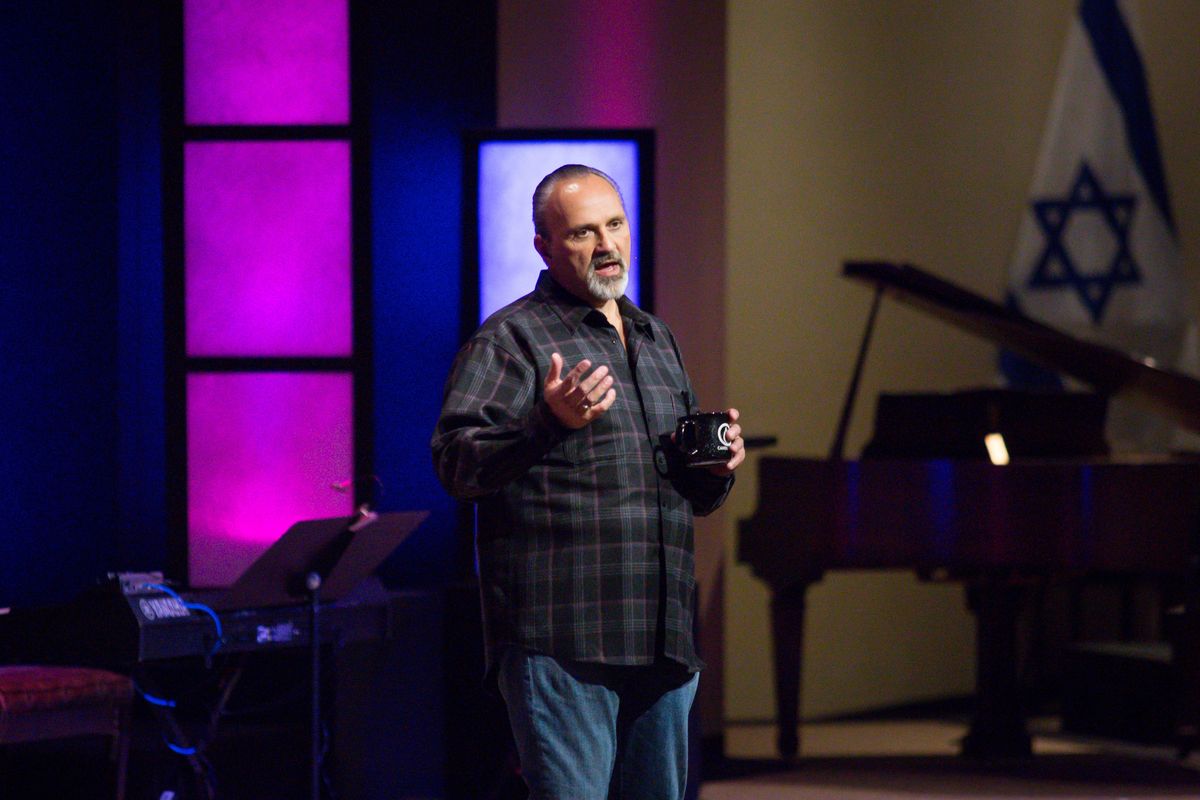 Candlelight Christian Fellowship's Paul Van Noy, who is both the senior and founding pastor at the church, opens a morning service at Candlelight Christian Fellowship in Coeur d' Alene, Idaho on May 3, 2020. It was the first in-person Sunday services since statewide COVID-19 restrictions were eased in Idaho, and the congregation mainly followed social distancing guidelines such as leaving space between different family units. (Libby Kamrowski / The Spokesman-Review)
Sunday marked the first opportunity for Idaho churches to meet in person since Gov. Brad Little issued a stay-home order last month.
While some churches quickly put together a plan to follow state guidelines, others decided to delay holding in-person services for a few weeks.
Candlelight took a survey of church members earlier in the week to see how many planned to attend each in-person service, hoping to avoid overcrowding. The church also postponed some Bible studies and Sunday schools, and will continue offering Wednesday night services online only until May 20.
Churchgoer Aletha, who declined to give her last name, was "thrilled" to be back at church.
She was a little "apprehensive" but said people would feel that way no matter what date was set for restrictions to be lifted.
"You just trust that God will take care of you and take proper precautions," Aletha said through her mask.
At the 9 a.m. service, a few more people showed up than expected, but Van Noy said he was pleased to see people practicing social distancing on their own.
"I realize that there's different feelings about this," he said of holding in-person services. "We're sensitive to people that are nervous and want to stay home or sensitive to people that want to wear a face mask, and those that don't."
"As believers, love is others-centered," said Erick Koenig, facilities administrator.
To reconnect with congregants after the absence, Van Noy decided to approach Sunday's service a little differently.
"Normally, I would deliver a Bible study, and today I just want to have a talk with everyone and let them talk to me," he said.
He opened the service by asking who had been watching online. Hands shot up around the room.
"I hope that I haven't been in the studio teaching a camera," Van Noy said to the congregation, drawing laughs.
Melanie Dupree was one of the first to ask a question. She asked him to clarify doctrine from a previous message.
After the service, Dupree chatted with friends.
"It's way different watching online than in-person," she said. She missed being with people and hearing their oohs and aahs during the message.
"The Lord tells us we're supposed to worship together," Dupree said.
She said she missed her church family but "my heart has been here with everybody."
Another question was whether congregants should take the COVID-19 vaccine when one is developed, a topic Van Noy had touched on in a previous message.
"First of all let me say, I am not a medical physician," he said. "Personally I am a no-vaxxer."
However, Van Noy didn't want to take a position on the anticipated COVID vaccine specifically, citing the fact that one is far from being ready for public use, among other reasons.
The pastor then discussed how happy he was to be able to communicate with state leaders.
"I've never worked harder in my life with our officials," Van Noy said.
He then held a moment of applause for the president and state leadership.
"I think when we closed down we did the right thing because we didn't know," Van Noy said. "We do know this, that COVID-19 is not what we thought it was. It didn't kill millions of people."
In Kootenai County as of Sunday afternoon, there were just over 60 cases of COVID-19, with just over 2,000 in Idaho. Nationwide, there were over a million cases with more than 65,000 deaths, according to the CDC, and health experts have credited social distancing and stay-home orders with reducing the number of confirmed cases of the virus.
At Real Life Ministries in Post Falls, congregants exited the church in droves wearing Real Life-branded face masks after the 9:45 a.m. service. The church, which has thousands of members, held four services in Post Falls and three in Coeur d'Alene on Sunday.
The church did not allow The Spokesman-Review to speak to congregants or photograph the service, but the service was livestreamed.
Jim Putman, the church's senior pastor, gave an installment of the church's current series, "Contagious: Fear or Faith. What are you carrying?"
He opened the service by saying, "At a time like this we need to be thinking about what is true, what is real. Not just the physical world we see – there is a spiritual reality."
Other North Idaho churches such as Community of Christ Church, Lake City Church and Community United Methodist Church plan to reopen later this month but did not hold in-person services Sunday.
Reporter Rebecca White contributed to this story.
Local journalism is essential.
Give directly to The Spokesman-Review's Northwest Passages community forums series -- which helps to offset the costs of several reporter and editor positions at the newspaper -- by using the easy options below. Gifts processed in this system are not tax deductible, but are predominately used to help meet the local financial requirements needed to receive national matching-grant funds.
Subscribe now to get breaking news alerts in your email inbox
Get breaking news delivered to your inbox as it happens.
---