News > Spokane
100 years ago in California: Admitted wife-slayer 'Bluebeard' Huirt leads searchers to body of Montana woman
Mon., May 4, 2020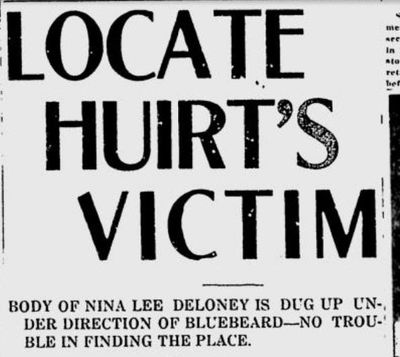 Searchers in California, guided by the trembling finger of Walter Andrew "Blubeard" Watson, uncovered the body of Nina Lee Deloney of Eureka, Montana.
"Bluebeard" (aka James Huirt) had agreed to lead searchers to the shallow grave of Deloney, one of his many wives, and one of several he admitted murdering.
"There's the gulch," he said from his ambulance, which was leading a procession of police cars and "curiosity seekers" in Imperial County. "There's the ledge."
He was still feeble from a suicide attempt while in custody.
"Bluebeard" exited the ambulance and pointed to a rocky bit of ground. Deputies with shovels began to dig and seconds later "the shrouded form of the dead woman was taken from a small grave."
"Watson, who was self-possessed until the body was found, collapsed when it was uncovered and had to be assisted to the ambulance," said a correspondent.
He was cooperating under terms of a plea deal in which he would plead guilty to murder in exchange for a sentence of life imprisonment, in lieu of a death sentence.
One report out of Los Angeles said he had admitted to deriving "intense mental satisfaction from killing the women and always experienced a sense of relief on their death."
Several of his wives were from Spokane, including at least two that he had admitted murdering.
Local journalism is essential.
Give directly to The Spokesman-Review's Northwest Passages community forums series -- which helps to offset the costs of several reporter and editor positions at the newspaper -- by using the easy options below. Gifts processed in this system are not tax deductible, but are predominately used to help meet the local financial requirements needed to receive national matching-grant funds.
Subscribe to the Coronavirus newsletter
Get the day's latest Coronavirus news delivered to your inbox by subscribing to our newsletter.
---