Nurses – surely the unsung heroes of today's coronaviral world – come in all varieties. They have different levels of training, different specialties and different acronyms to describe their profession. One thing they all have in common: They aim to make life a little better for patients and their families.
WHO NURSES ARE AND WHERE THEY WORK
Nurses in the U.S.
3.3 million
Average age
43.7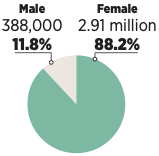 As of 2018, the most recent year for which data is available
FIVE LEVELS OF NURSES
Typical duties may differ from clinic to clinic or from state to state
Nursing Aides or Assistants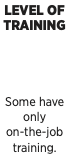 Nursing assistants may or may not have a degree or certification. In fact, some assistants may be nursing students. A Certified Nursing Assistant will have a certain amount of training.
TYPICAL DUTIES
• Checking vital signs
• Serving meals and helping patients eat
• Helping patients get into or out of beds and wheelchairs
• Helping patients get dressed or use the toilet
• Performing patient hygiene care
• Relaying information to nurses

---
ADN: Associate Degree in Nursing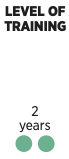 A Licensed Practical Nurse might have one year of training at a vocational school or community college. A nurse with an Associate Degree will have completed two years of study with some supervised clinical experience as well. An ADN would need additional certification to become an RN.
TYPICAL DUTIES
• Administering injections or starting intravenous drips
• Performing therapeutic massage
• Preparing patients for surgical procedures
• Maintaining patients' medical records
• Changing bandages and dressings
• Communicating patients' needs to medical staff

---
BSN: Bachelor of Science in Nursing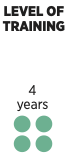 Most – but not all – Registered Nurses have four-year bachelor's degrees and have passed a nursing exam. Many of the nurses staffing medical offices, clinics, urgent care centers, hospitals or long-term care facilities are RNs. RNs are highly sought after for work in intensive care units.
TYPICAL DUTIES
• Operating specialized medical equipment
• Empowered to make what are called nursing diagnoses, which may deal with a patient's comfort, relief or risk
• Can supervise work of nursing assistants and Licensed Practical Nurses
• Educating patients and family members for further care once a patient returns home

---
MSN: Master of Science in Nursing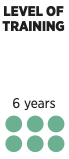 Advanced Practice Registered Nurses have postgraduate training in a specific field of study and may have additional clinical practice. An MSN may be required for some higher-level nursing supervisory positions or health policy experts.
TYPES OF ADVANCED-DEGREE NURSES
• Nurse Practitioner, who may have many of the same duties as a doctor
• Certified Registered Nurse Anesthetist, who works closely with doctors in an operating room
• Clinical Nurse Specialist, who may work in fields like cardiology, obstetrics, oncology or neurology
• Certified Nurse Midwife, who can deliver a baby – if there are no complications

---
DNP: Doctor of Nursing Practice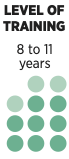 Sounds like an oxymoron, but one can become a Doctor of Nursing Practice, achieving expertise in a practice-oriented leadership role. Alternatively, a nurse could earn a Ph.D. – a degree that's more research-oriented. Increasingly, Nurse Practitioners have DNPs.
TYPES OF THINGS A DNP MAY DO
• Make diagnoses and set up a course of treatment for a patient
• Play a lead role in managing the care of patient populations or in administrating a nursing or health care organization
• By 2025, all Certified Registered Nurse Anesthetists will need to be DNPs.
• Teach